Location
Bru Chicago (Speakeasy Space)
1562 N Milwaukee Ave
Chicago, IL 60622
Description

The Perfect Valentine's Day Date Night. Bring your ID and your open mind to this sensual evening of romantic comedy theater.
"Raw" Valentine's in Black Light
(Chicago-Style)
What are you doing on Valentine's Day?
Blaque Ivory's Lair and Pharaoh Wordsmith host Punany Tribute Show in celebration of our 25th Anniversary. We would love for you to be part of our celebration.
This Chicago-Styled performance is based on Jessica Holter's interactive classic theater The Head Doctor Show. The 25-year-old urban design on Augusto Boal's Theater of the Oppressed was originally created as an artistic platform for self-expression and communication between lovers on difficult topics. This special Valentine's Day experience features live performances of spoken word and poetry, exercises in the power of sensual energy, our famous kissing competition and love confessions and exotic dance to a sexy Punany music track. Get lessons in the art of lap dance, and have no holds barred discussions on love and lust and man vs. toy with Blaque Ivory.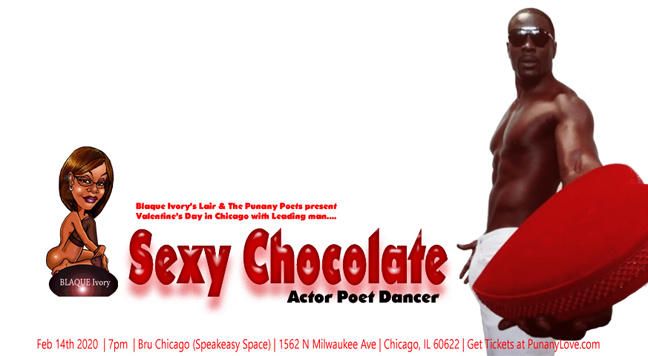 This delicious blend of poetic tales is laid to a baby-making soundtrack that will have you sliding off your seat. Producer, Dwayne Wiggins of Tony Toni Tone'! brings musical Oakland grit to this funky affair. The time-honored Punany scores by Lev Berlak evoke familiar moments in the 25-year history we have come to celebrate. Ol Skool Entertainment pours southern comfort on the musical compilation, you will want to take home to score an encore performance of your own.
*As seen on HBO. Erotic Sketch & Comedy Theater. Adults Only.
25: The Punany Poets Silver Anniversary Tour
This Valentine's Season show is for all adults who are 21 and over. All donations and contributions benefit HIP Inc. and support the careers and goals of the artists you are watching.
* Parking is available nearby.


Venue: This is an intimate space, north of the city, and seating is limited. So, please order your tickets early.
Adults Only
Dress nice, It's a Date Night.
Share this event on Facebook and Twitter.
We hope you can make it!
Cheers,
The Punany Poets @ HIP