Chicago Model Audition for 9th Annual Fashion Show

Sunday, October 14, 2018 from 2:00 PM to 5:00 PM (CDT)
Event Details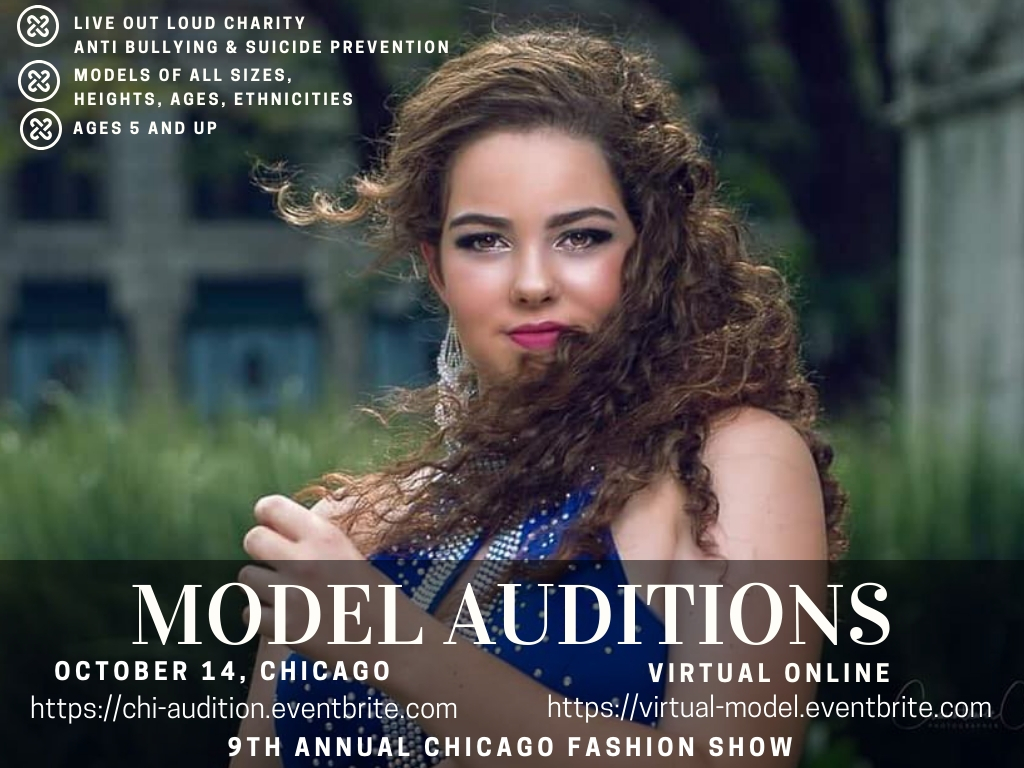 Dear Model, 

This is your 1st step to confirm your participation in the Official Model Audition for the 9th Annual Chicago Fashion Show for Live Out Loud Charity. Please note this year's annual fashion event will be held in downtown Chicago on December 9th, 2018. There is only ONE audition in Chicago (October 14th, 2018) and that is it. There is a virtual audition but we highly recommend models to fly or drive into the in person Chicago audition since we are only casting 60 models for this elite show. We do welcome models of all sizes, heights, ages, and ethnic backgrounds. We are looking for models that want to be true LOLC model advocates that take a stand for our cause, that will bring people to our show so we can educate them on how to save a life through suicide prevention training, and that have compassion for others. LOLC is an incredible organization geared around suicide prevention, anti bullying, and core character development. We host incredible fashion shows that serve the community while also providing a great platform for models to grow, gaine experience, and connections within the industry. Models bring your best walk. We will hold ONE mandatory rehearsal held on November 11, 2018 to train our models. 

As mentioned above we prefer models to audition in person and in doing so they will receive first priority into making it into the show. We do have ONE virtual audition for out of state models that can not attend. Virtual Audition link: https://virtual-model.eventbrite.com
To sign up for the in person Chicago audition: Simply register your name and email address on the ticket link. The ticket is free and confirms your spot in the audition. The audition date/information is below along with the fashion show date/information.  (Please note: parents or model chaperones are more than welcome and do not need to register for a ticket. You simply show up with the model. Only models need to register. If there are siblings or family members that are also wanting to audition as a model in the show, then each person must register under their name even if the same email address is used.)

Chicago Audition Information 
Sunday, October 14, 2018
2pm CST
Palmer House
17 E. Monroe Ave
Chicago, IL 60603
6th Floor- Grant Park Parlor Room 
We will hand out model paperwork. You are to fill this out and turn it into us directly. Be sure to put your cell phone number on the model paperwork because we use TEXT messaging to inform our models of all fashion show updates. Then, we will take your measurements and photo in person. Models are to wear ALL BLACK head to toe: black leggings with a black fitted top and black heels from women and black dress shoes for men. The entire audition process can take 2 to 3 hours. We open the doors at 2pm CST. Do not be late. Our team will be leaving at 5pm ON THE DOT to drive to the next city. We will not accept late models. Everyone is expected to arrive at 2pm on the dot. Before the audition there is an optional Model Boot Camp photoshoot/seminar session with celebrity photographer Carlos Rodolfo Chinchilla (this is from 8am to 2pm and serves as a fundraiser but is NOT MANDATORY yet highly recommended for those wanting to build a serious model portfolio). 


Wardrobe: walk in with age appropriate high heels on or dress shoes for men (age appropriate heels for girls ages 14 and under), wearing all black, and tight fitted clothing. No jeans, flip flops, wedge heels, or gum allowed. Parking is expensive at the Palmer House. Therefore, we recommend using an app called spothero or something similar to find affordable parking in downtown Chicago. Arrive early to find parking.

Other Audition Dates
There will be one Virtual Online Model Audition. It will be a lot harder for Virtual Models to make it into the show since spots will be limited. Virtual Models will be notified after October 20th, 2018 since we will prioritize models that auditioned in person. *Please note you only need to attend ONE audition so if you are auditioning in person in Chicago DO NOT also audition virtually online.

When you audition in person we will ask for six things:
1. To see your runway walk. Arrive with runway shoes on.
2. To take your photo (after we take your meausurements).
3. To interview you asking why you support Live Out Loud Chairty for anti bullying, core character development, and suicide prevention. 
4. LIKE OUR FAN PAGE on facebook: https://www.facebook.com/liveoutloudcharity/ Leave a positive comment under one of our recent posts. We appreciate your support. 
5. Check out our website to learn more about the charity to best prepare you for the in person interview: www.liveoutloudcharity.org
6. Save this a special model link (which we will provide once you have made it into the show).  This link has all your model information from the ticket link to rehearsal dates, model bag essentials so you are prepared for your fittings and big day, news articles, charity info, expectations, locations, and more. It is updated regularly so check it often. 

CHECK US OUT IN THE NEWS
NBC5 CHICAGO NEWS
WAVE 3 LOUISVILLE NEWS
AWARD WINNING PUBLICIST FASHION BLOG
I LIVE IN A MAGAZINE FASHION ARTICLE
DAILY 24 MAIL (BANGLADESH, ASIA)


IMPORTANT INFORMATION
We do ask models to truly advocate for our cause. Therefore, we select models that have been touched by anti bullying, low self esteem, depression, and/or suicide. We ask those models to sell three tickets to our event to not just raise funds but to also raise awareness for our cause. We need models to be true activists for our cause and bring people from their community to hear our message. Our last fashion show had over 460 people in the audience and two tv news outlets arrived and covered the event. Thanks to the hard work our models and volunteers put into this event, we were sold out. Each of our events are about educating the audience members on the signs of depression, how to save lives through suicide intervention steps given during the show, and where to go for help. Our event actually saves lives through the education we provide to audience members and to models. Models play a crucial role not just as volunteers gaining an experience of a lifetime but also as real advocates in their community that work hard to bring family, friends, coworkers, colleagues, and acquaintances to the show to save lives. Our shows are top of the line, professional, offer local, national, and some lolc events offer international exposure. As models you are walking for Live Out Loud Charity while gaining real, qualified experience in the industry with photos to build your portfolio, connections that can help to launch your career, and an opportunity to get you to the next level. If models want to take this a step further we invite them to our Model Boot Camp one day prior to our event or in this case the morning of our audition: https://chitown-mbc.eventbrite.com/ The Model Boot Camp is an optional event held the day before the fashion show and morning of the audition. 

View our suicide prevention video and what our LOLC ambassadors are doing in their community CLICK HERE. 
View our educational suicide prevention video CLICK HERE
View our anti bullying video. CLICK HERE. 


ONE REHEARSAL
NOVEMBER 11, 2018
There will be one Mandatory Model Practice date in Chicago held November 11, 2018.  Each rehearsal lasts 5 hours and the entire 5 hours is mandatory. We want everyone prepared for our professional fashion show.  These serve as rehearsals and model practice time. Sherrie Gearheart will train each model free of charge, as a thank you for giving back to our cause. This training is normally $100 per hour (but is free or charge for our charity event) and will  focus on walking technique and posing in an intense yet very fun model practice.  We do this so our models are confident the day of the show.  To learn more about Sherrie Gearheart and her modeling experience go to www.sherriegearheart.com In addition, the organization will bring outside runway coaches that have an extensive background in modeling to help each model grow. These coaching sessions are offered at a very affordable rate of $20 which includes lunch and the 5 hour training session.  A mandatory model fitting is to be held Saturday, December 8, 2018 the day before the fashion show. Please note some designers will require other dates for fittings so you must attend those should you be selected as a model in our event. Tickets will be turned in at rehearsals or they can be bought online before the first rehearsal. 

*Models that are auditioning virtually must attend the above madatory rehearsal. 

MANDATORY MODEL FITTING & OPTIONAL MODEL BOOT CAMP
The day before our fashion show we have the mandatory model fittings. Models are given specific call times for their designated designers.
Saturday, December 8th, 2018 (this applies to every single model in the show because the model fitting with their designer is mandatory)
Call times depends on designer(s).
Location: Palmer House. Room TBA. 
Plan on the time frame being from 12noon to 9pm to have different call times if you are with more than one designer. We will also hold Model Boot Camp that morning for models wanting to build their portfolio. Model Boot Camp and model fittings happen simultaneously in the same area so it is okay to be sign up. Models that are part of both will still receive the full experience MBC has to offer.

Any concerns contact Sherrie Gearheart via text at 815 914 8602 as she oversees both events and can address any concerns. Reserve the entire day because fittings can take a few hours.

You need to practice walking in the garment, work with your designer, sometimes try on multiple garments until they find the perfect one, and more. Also, if you are walking for more than one designer you may have more than one call time. Please be on time for all of our events. We are very strict with our schedule. 



MODEL BAG
We recommend models to read this article to know what they should bring in their model bag. READ HERE. 


MODEL COMMUNICATION
Ms. Sherrie Gearheart and her core team will give all fashion show updates and inform models of their designer(s), fitting call time(s), or if they have made it in the show via TEXT MESSAGE. If you do not have text messaging on your phone please state this at the audition and email us at info@liveoutloudcharity.org
Also, Sherrie posts fashion show updates and asks models to add her on facebook so they can share the posts and help spread awareness of the show and charity. www.facebook.com/sherrie.gearheart
Questions/Concerns
Contact Person/Producer: Sherrie Gearheart 
Text is the best way to communicate: 815 914 8602
You may call/leave a voicemail or email info@liveoutloudcharity.org

FASHION SHOW DETAILS
When you audition, you may be chosen to walk in our 9th Annual International Fashion Show for Live Out Loud Chairty. Show information is below:
December 9th, 2018 at the Palmer House
Model call time 12noon (this call time is tentative and could be earlier)
Location: Chicago, IL
Ticket link and show details coming soon! Fashion show flyer coming soon!


Please note that everyone involved in this event is volunteering their time, talents, and passions. We thank you for your tremendous support. 



Questions/concerns simply call 815 914 8602 or text us. You may email info@liveoutloudcharity.org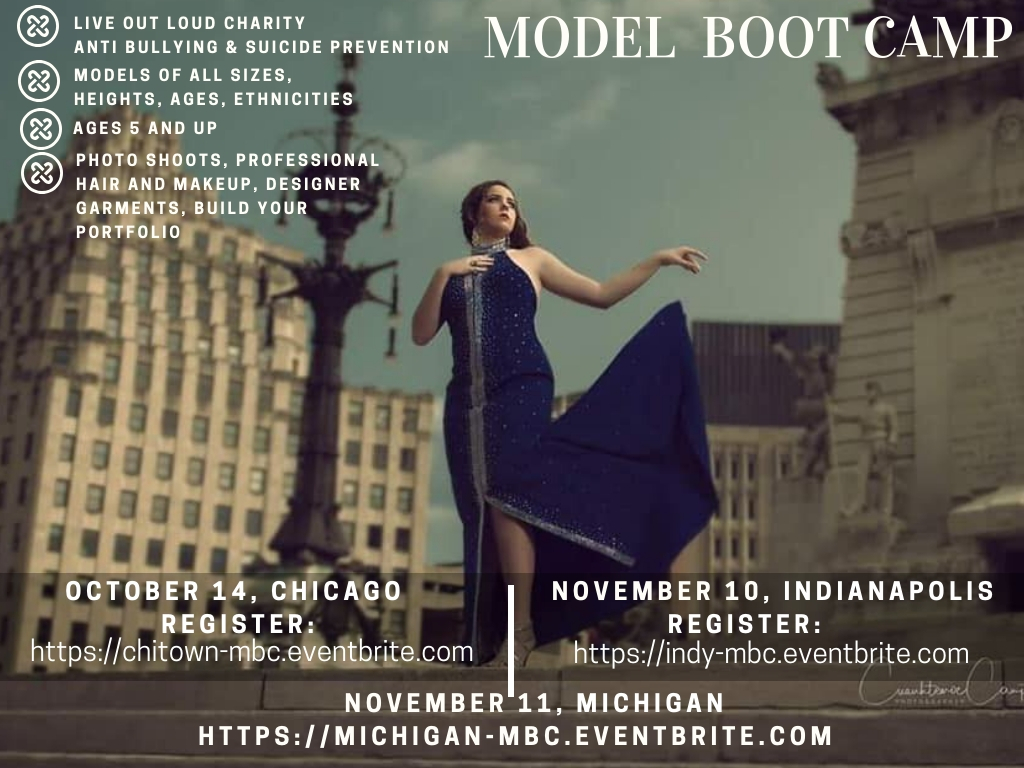 When & Where

Palmer House
17 E. Monroe St.
Grant Park Parlor Room- 6th Floor
Chicago, IL 60603


Sunday, October 14, 2018 from 2:00 PM to 5:00 PM (CDT)
Add to my calendar
Organizer
President & Founder of Live Out Loud Charity & Tiara Magazine, Miss United Nations 2015