CHICAGO - May You Stay Forever Young《少年》
Rex Ren, Lam Sum | 2021 | Hong Kong | 86 minutes | Cantonese with English subtitles
When and where
Location
The Logan Theatre 2646 North Milwaukee Avenue Chicago, IL 60647
Refund Policy
Contact the organizer to request a refund.
Eventbrite's fee is nonrefundable.
About this event
May You Stay Forever Young is finally in the US with screening all across the country. Join us to watch this powerful, truthful film in Chicago to get a sense of what young Hongkongers experienced during the 2019 Anti-Extradition movement. Don't forget to stay behind after the film for a pre-recorded Q&A session with the production team and the actors.
This is part of the nationwide screening tour "不忘初心 Back To Where We Started" organized by We The Hongkongers, a 501(c)3 organization dedicated to promoting the identity and culture of Hongkongers in the U.S.
Summary:
After a young Anti-Extradition Law protester announces she will commit suicide on social media, a group of fellow protestors must race against time to find her before it is too late.
故事概要:
香港爆發反逃犯條例運動,多名年輕人自殺抗議惡法。17歲少女YY在網上預告輕生,引發少年手足們追踪搶救!
榮獲金馬影展奈派克獎,提名金馬獎最佳剪輯、最佳新導演、國際影評人費比西獎!
In June 2019, a series of massive demonstrations took place against the Hong Kong government's attempt to revise and pass the Extradition Law. Many young protesters attempted to commit suicide to validate their opposition. The story takes place on 28th July, a week after the white mob attack in Yuen Long. YY, a 17-year-old girl, announced her attempt to end her life on Instagram. After that, she couldn't be contacted or located. Nam, the 20-year-old "comrade" who met YY at a protest-related arrest frantically searches for her around the Kwai Tsing district where she lives. Her photo and other information were posted on Telegram and LIHKG Forum, urging hundreds of volunteers to join the search. It's a run against time; an emotionally exhausting hunt.
自香港政府為強行通過修訂「引渡逃犯」條例,而出現多次大型示威及武力鎮壓後,多名年輕人先後墮樓自殺,以死明志。7月28日(即721元朗白衣人無差別襲擊市民的一星期後),曾被補的17歲中學生YY在社交媒體Instagram 留言自殺。同樣於抗爭被補的阿南、Louis、Zoe等人,連同朋友、社工,甚至素未謀面的「手足」組成搜救小隊,於YY居住的葵涌區分頭搜索。縱使Telegram上「救命」公海群組與「連登」討論區的網民仗義加入搜索,卻仍大海撈針。地點從葵盛到全城最熱鬧的旺角,均芳踪渺然。與此同時,示威者在烽煙四起的港島區街頭奮力抵抗,更導致搜救小隊出現嚴重分歧。抗爭與搜救之間,少年們猶如陷入進退維谷……
Nominated: Best New Director and Best Editing at The 58th Golden Horse Awards, FIPRESCI Prize at Taipei Golden Horse Film Festival
提名: 第58屆金馬獎最佳新導演、最佳剪輯、台北金馬影展國際影評人費比西獎
Awarded: NETPAC (Network for the Promotion of Asian Cinema) Awards at Taipei Golden Horse Film Festival
獎項: 金馬影展奈派克獎
Event Details:
Date: August 27th Saturday 2:00pm (Admission starts at 1:45pm)
Ticket price: $17
Limited seats | No reservations | First come first served
Tickets are non-refundable.
All net proceeds go to the film distributor and tour organizer "We The Hongkongers"
活動詳情:
日期:8/27 星期六 下午2:00 (入場時間 下午 1:45)
票價: $17
座位有限 | 不設劃位 | 先到先得
門票不設退換。
扣除必要開支,所有門票收益將撥歸於電影美國發行單位及巡映主辦 We The Hongkongers 。
"May You Stay Forever Young" US Tour Edition Merch Presale /《少年》美國版Merch預售
美國限定《少年》紀念品正式開放預售!訂購後,可到指定城市的《少年》放映站領取商品。提交訂購單後,我們會聯絡你收取有關款項。付款方式包括Zelle、Venmo、PayPal。
US Tour edition Merch of the movie "May You Stay Forever Young" is out! You can choose any stop of the US screening tour to pick up the order. Our team will send you a confirmation email with information about the payment. Payment via Zelle, Venmo, or Paypal is acceptable.
請支持《少年》及香港電影創作!
Thank you for supporting "May You Stay Forever Young" and Hong Kong film production.
Pre-sale link/訂購連結:https://forms.gle/m7Xad7fcWFPi5VTE8 (Please add a note in comment for pick up at Sacramento screening)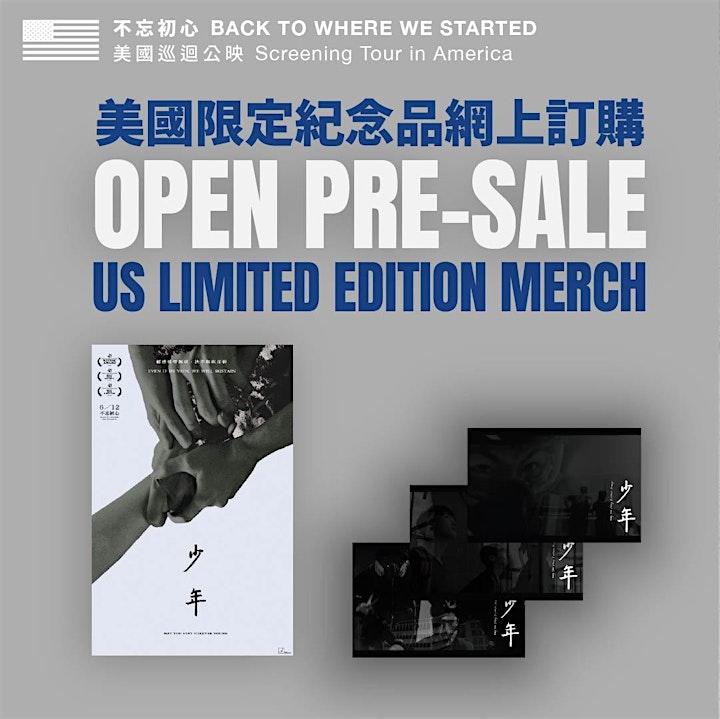 About the co-organizers:
We The Hongkongers is committed to strengthening the Hongkonger identity and promoting the Hong Kong culture among the communities in the U.S. Find everything at linktr.ee/wethehongkongers
Chicago Solidary With Hong Kong