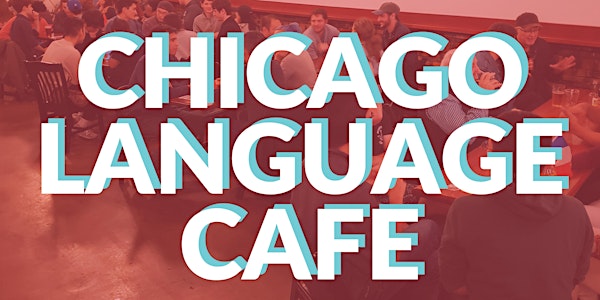 Chicago Language Cafe at Revolution Brewing
Come join us for Chicago Language Cafe! You can make some new friends and practice speaking a language you are learning or already know.
When and where
Location
Revolution Brewing - Brewery & Taproom 3340 North Kedzie Avenue Chicago, IL 60618
About this event
Here is the language list for tomorrow. Don't forget to invite your friends to help fill in some of the languages with only one speaker. Ciao ciao!
Arabic 2
ASL 1
Chinese 4
English 22
French 24
German 12
Greek 2
Hebrew 1
Hindi 1
Italian 7
Japanese 7
Korean 6
Mandarin 6
Norwegian 1
Polish 2
Portuguese 5
Romanian 1
Russian 8
Slovak 1
Spanish 63
Swedish 1
Turkish 1
Come join us for the Chicago Language Cafe meetup at Revolution Brewing on Kedzie! You can make some new friends and practice speaking a language that you are learning or already know. There will be a table for each language represented. Feel free to move around to different tables if you speak multiple languages! We generally have English, Spanish, German, French, Chinese, Japanese, Korean, Portuguese, Arabic, Russian, Italian and ASL tables.
Post in the comments if you're interested in other languages. We will have language signs and flags to signify languages that don't currently have a designated table. This will help you to find some other folks who are looking to learn/teach the same.
Please stick to speaking the language of the table. For example, avoid having a lengthy conversation in English at the Spanish table. Of course, it is always okay to clarify things in English, but in the spirit of the event, try to avoid speaking it as much as possible unless you are at the English table.
If you don't speak any other languages but are still interested in joining us, come help others improve their English! We have people from all over the world who come to practice their English, and they always appreciate having a native speaker to help them.
This is a casual, social meetup with a large number of attendees. You will have the opportunity to practice speaking other languages and meet people from all different cultures and backgrounds, but if you are looking for a quiet, intimate conversational group, you may want to look elsewhere. Translation: Our meetups can get noisy and crowded (and fun!)
Revolution Brewing's taproom in Avondale is a short walk from the Belmont Blue Line stop. They have a wide variety of delicious beers that are brewed on site, as well as snacks, sodas and a few non-beer, gluten-free options. You may also bring your own food. OUTSIDE ALCOHOL IS STRICTLY PROHIBITED.
We allow all ages at the Tap Room, however, any guests wishing to drink alcohol must be prepared to show a valid, PHYSICAL, original ID.
Vaccination cards are not required and masks are optional.
Hope to see you there!
***
*This meetup is inclusive to everyone regardless of age, race, ethnicity, gender and sexual orientation. We want everyone to feel welcome here, and any discrimination or repeated, unwelcome advances are strictly prohibited–No means NO. Offenders will be asked to leave immediately and will not be allowed to return. If you have any concerns, please PM me directly.
Similarly, religious, political, and other ideological conversation is bound to happen. It is even encouraged, as it is through our differences that we learn from one another and grow with each other! However, we ask that you stop any disagreement before it becomes personal and/or non-constructive. Again, if things get out of hand, folks will be asked to leave. Respect one another as fellow human beings, and all will be well.