Chicago is The New Hollywood: Storytelling in a Digital Age
Description
RAISING THE BAR: Pushing the Boundaries of Storytelling in a Digital Age
The future of content is here. In a digital age, where stories are consumed on-the-go and across multiple platforms, the industry is rapidly changing - how do storytellers keep up? Join us for an evening of cocktails and conversation as some of Chicago's top industry experts discuss the future of film, television, and everything in between. Highly recommended for aspiring filmmakers and content creators.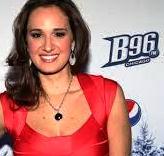 Panel Moderator: Showbiz Shelly of B96 Radio
Sponsored by Cinespace Chicago Film Studios https://www.chicagofilmstudios.com/
Panelists:

Angie Gaffney: Producer (Public Housing Unit, Signature Move) Co-Founder of Stage 18 and President of Black Apple Media. Angie Gaffney is an entrepreneur and producer with experience in film, television, commercials, and theatre. Formerly, Angie was the Executive Producer for The Onion, where she worked to develop their in-house agency, Onion Labs, and managed all branded content campaigns from conception through execution. Currently, Angie works through her own company, Black Apple Media, to develop original, narrative content and cultivate the artists that make it. She's managed numerous independent film and TV productions in the greater Chicago area. Angie also serves as the Co-Founder and Executive Director for Stage 18, a non-profit entertainment incubator and development lab located on the lot of Cinespace Chicago Film Studios. Stage 18 develops local narrative content and connects qualified filmmakers with capital networks. http://www.imdb.com/name/nm4409074/

https://www.blackapplemedia.com/

http://stage18chicago.com/
Ted Reilly: Founder of Chciago Media Angels:

Ted

Reilly

is an American film and television producer and financier. An avid entrepreneur, he works with artists to build businesses around their passion.

Ted

is the founder of Chicago Media Angels, an investment management firm focused on investing in content. CMA credits include

Death: Take 2

, Hollow Body and

Public Housing Unit

. While not fighting fires and pushing boulders up mountains,

Ted

enjoys spending time with his wife and six children.

http://www.chicagomediaangels.com/
Mary Landaverde: Founder & CEO at INDISTRY Media. INDISTRY is the first-of-its-kind, interactive Over-the-Top ("OTT") digital platform that delivers original programming designed to entertain, educate, and inspire the millennial audience through carefully curated content around music, sports and lifestyle entertainment with social purpose. Launching Spring 2017 across multiple devices (mobile phone, laptops, tablets) including the web, INDISTRY's unique interactive technology will allow users to be able to watch, socialize, shop, and interact with the content all on one screen without disruption.
Derek E. Hildebrandt: Vp of Global Strategic Partnerships, Deluxe Entertainment Services Group: Derek E. Hildebrandt is a digital enthusiast with over 20 years in entertainment advertising, marketing, management, business development and production. As Vice President of Global Strategic Partnerships for Deluxe Entertainment Services Group, Derek provides creative, media, production, distribution, and marketing solutions for content owners. His professional career began in the infomercial world working with Amazing Discoveries led by Mike Levey, where he helped develop over 30 infomercials generating over $750m in revenues. Derek later became Executive Producer and Vice President of 3Oh!5 Creative, overseeing the successful development and production of hundreds of DVDs and home entertainment advertising campaigns for the major studios. As Senior Vice President of SpyderLynk, Derek drove business development efforts for the startup mobile marketing company with its patented SnapTag technology. Derek is the Co-Chair for the Producers Guild Mobile Committee and served 10+ years on the Board of Delegates for the Producers Guild of America. In 2010, Derek was awarded the Marc A. Levey Distinguished Service Award in recognition of his significant contributions leading the Guild's mobile related efforts. He is also an active member in the Interactive Peer Group at the Academy of Television Arts & Sciences. Derek resides in the South Bay and is often seen walking his 90 pound pup Buck on the strand.
Kevin Mullens: Movie Producer, Motivational Speaker, Author and Entrepreneur. Kevin Mullens is the Executive Producer of Canal Street. He is also a remarkable entrepreneur in the center of a $200 billion industry. He has been featured in Who's Who and numerous publications. He is the author of many highly successful personal development books available on Amazon. Kevin has helped many people become millionaires in the multi-level marketing industry.
Rhyan LaMarr: Executive Producer, Co-Writer and Director of Canal Street movie. Canal Street releases 2018 and just look at this cast: Bryshere Y. Gray (Empire), Clayne Crawford (Lethal Weapon), John Seda (Chicago P.D, Chicago Fire), Lance Reddick (Bosch, John Wick: Chapter 2, Fringe), Mykelti Williamson (best known for his performance as Bubba in Forrest Gump), James Hector (All Eyez On Me, Bosch, The Strain, The Wire) Kevin Quinn (Disney's Bunk'd) and so many more. Rhyan spent 15 years in LA working almost every aspect of the industry. He has returned to Chicago because of the filmmaking boom here. http://www.imdb.com/title/tt6183104/

Christopher Jennings: Producer (Project Runway, The Challenge, Keeping Up with the Kardashians) discusses producing Canal Street along with Rhyan LaMarr and Kevin Mullens. http://www.imdb.com/name/nm3645881/