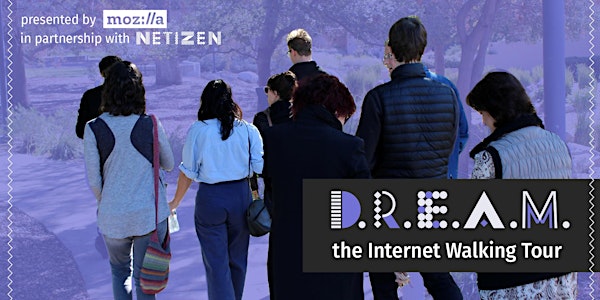 Chicago Internet Walking Tour
In a city like Chicago, the Internet is always all around us—if you know where and how to look. Learn what the internet is and how it works.
When and where
Location
Glessner House 1800 South Prairie Avenue Chicago, IL 60616 United States
About this event
As modern life grows increasingly dependent on the Internet, much of this world-transforming technology remains deeply misunderstood. The parts of the Internet people experience daily via phones and laptops are merely the peripheral edge of a complex global network, one which tends to be simplified into abstract ideas like "the cloud." But in a city like Chicago, the Internet is all around us—if you know where and how to look.
The Internet Walking Tour will reveal just that. Your guide to the physical Internet will be Ingrid Burrington, author of "Networks of New York: An Illustrated Field Guide to Urban Internet Infrastructure" which the Wall Street Journal called "A playful, approachable handbook...its goal is to demystify components of [the] physical internet: not only those spray-painted street messages, but also manhole covers, junction boxes, cable routers and entire buildings whose primary purpose is to do the hidden work of making a wired modern city run."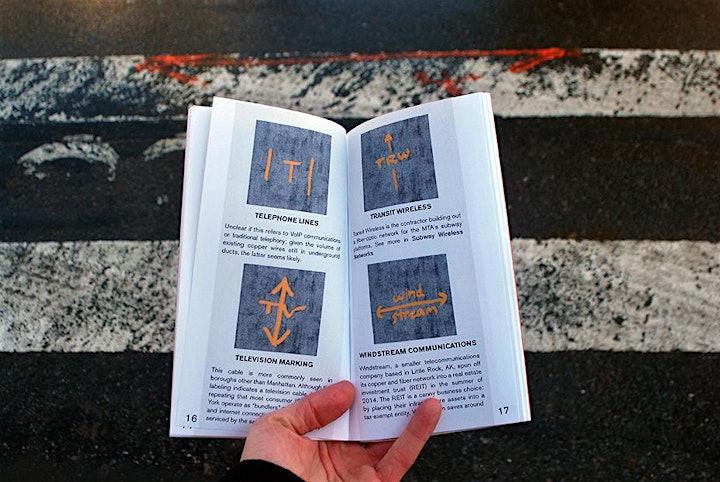 (PHOTO: Kurt Kohlstedt of WebUrbanist)
The Internet is also wireless, packets of data constantly radiate all around us, and your guides to the wireless Internet Nick Briz and Brannon Dorsey will be making the invisible visible. Briz and Dorsey developed the WiFi Data Safari, software that captures and interprets WiFi data. Using their app we'll get a glimpse into the surrounding buildings by peering at their wireless networks, as well as examine the data emanating from passersby devices "spewing out personally identifiable information into the WiFi ether for anyone to capture and use", as Real Life Magazine wrote, the app helps to, "illustrate all the data that anyone—marketers, governments, malefactors—can learn to pick up from the wi-fi radio ether."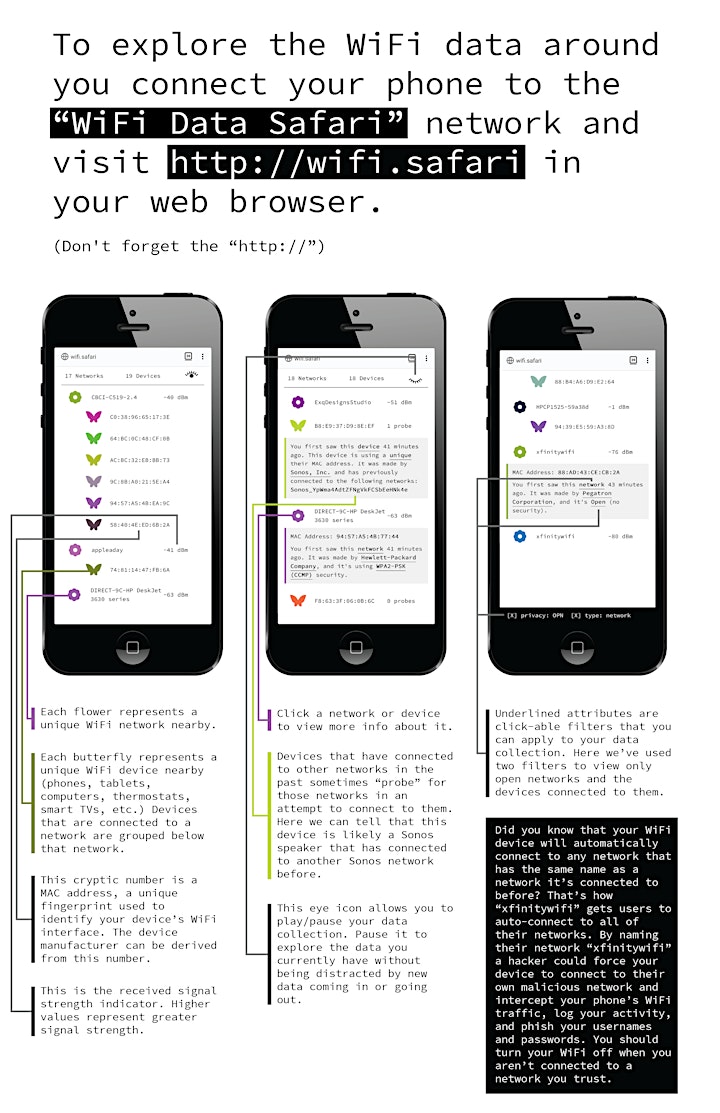 (PHOTO: WiFi Data Safari app developed at Branger_Briz)
The Internet Walking Tour is presented by Mozilla and organized by Netizen along side a series of public conversations called D.R.E.A.M. or Data Rules Everything Around Me. For more information on the rest of the series visit http://dream.netizen.org
The Guides:
Ingrid Burrington writes, makes maps, and tells jokes about places, politics, and the weird feelings people have about both. Much of her work focuses on mapping, documenting, and studying the often-overlooked landscapes of the internet (and the ways in which the entire planet has become, in effect, a "landscape of the internet"). By examining the political geography and embodied realities of living on a networked planet, she seeks to demystify these technologies for non-technical publics and to reframe technology's underlying politics and power dynamics. She is the author of Networks of New York: An Illustrated Field Guide to Urban Internet Infrastructure.
Brannon Dorsey is an artist, programmer, and researcher who uses technology and reproducible electronic media to navigate difficult terrain. He employs open software tools to create experiences that excite and empower individuals and collaborative communities rather than create passive users/consumers. Brannon's work encourages a digital literacy that celebrates the truly profound technological era that we now live while remaining skeptical of the ways that this technology is being used on and against us.
Nick Briz is an internationally recognized new-media artist, educator and organizer. His work focuses on digital culture by investigating the promises and perils of living in an increasingly digital and networked world. He is an active participant in various online communities and conversations including glitch art, net art, remix culture, digital rights, Internet ecology and digital literacy. He's a co-founder of Netizen.org, an Adjunct Associate Professor at the School of the Art Institute of Chicago and the Creative Director of the digital agency Branger_Briz, a collective of artists, strategists, educators and programmers specializing in conceiving and developing custom innovative digital projects for a wide range of clients.