CHICAGO IDLIFESTYLE ULTIMATE BODY WORKOUT SERIES WITH DOCTOR FLEX
Description
CHICAGO IDLIFESTYLE ULTIMATE BODY WORKOUT SERIES WITH DOCTOR FLEX

30 Day Fitness Series Powered by IDLife
Featuring Solomon "Doctor Flex" Pratt, CFT
1/9/17 - 2/1/17
Mondays/Wednesdays
6PM - 7PM
This fitness series is designed to push you beyond your limit and help you achieve the results you desire! Perfect compliment to the Ultimate IDLife Experience Contest.
Be INSPIRED!!!
Be ACCOUNTABLE!!!
Be MOTIVATED!!!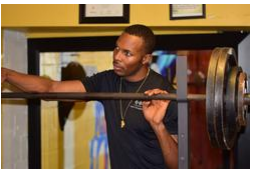 Doctor Flex will provide an 8 Session ULTIMATE BODY WORKOUT designed to burn fat and get RESULTS. Along with strength training and meal planning Doctor Flex brings his passion for fitness and teaches lessons along the way to help you overcome the challenges that life may bring and help you stay committed to you!


RESERVE YOUR SPACE TODAY!
SMALL CLASS FOR PERSONAL ATTENTION AND RESULTS!!!
OPTIONAL EQUIPMENT:
5 AND 8 LB HAND WEIGHTS; 2 LB ANKLE WEIGHTS; MAT
More about the Trainer: www.solomonsgem.com