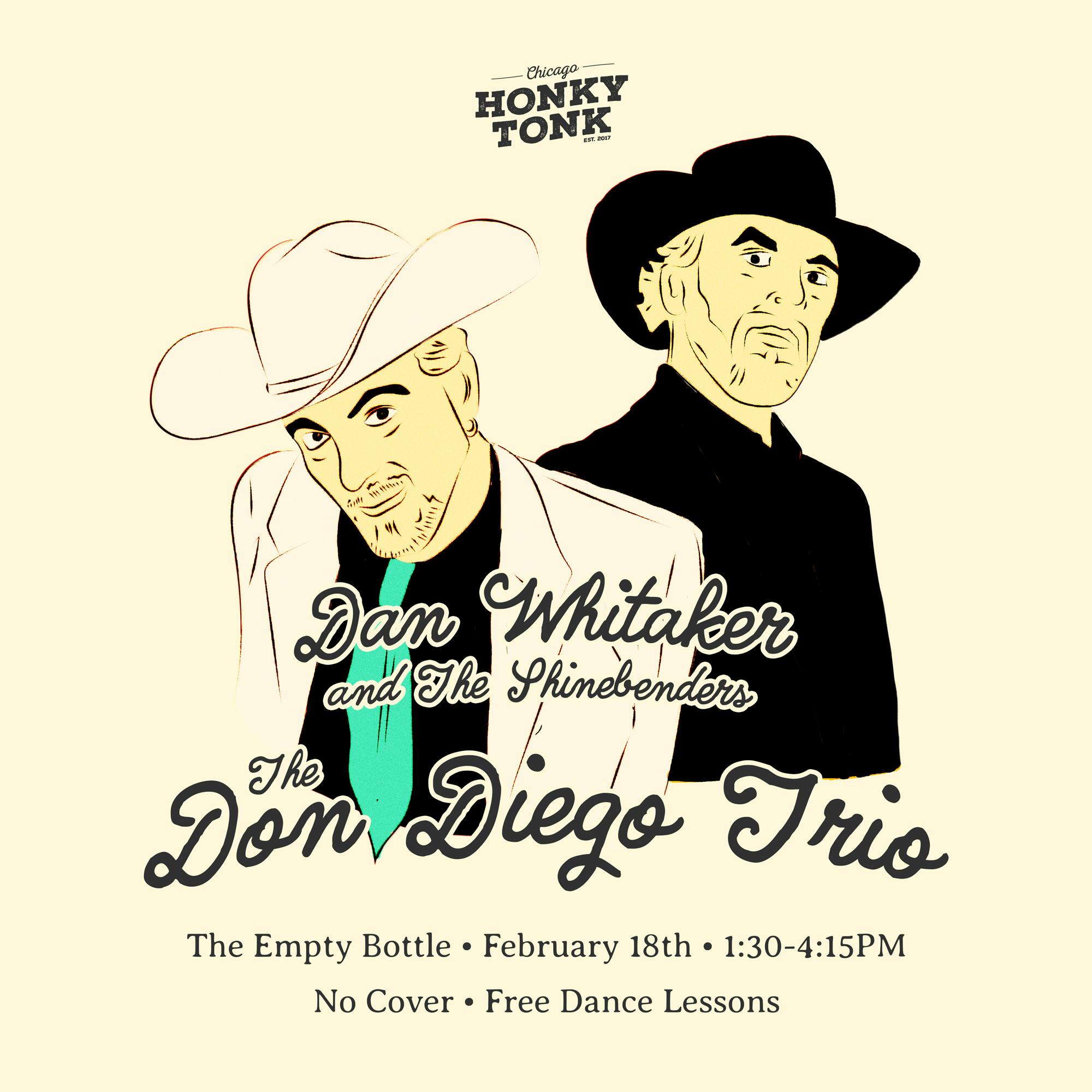 About this Event
DON DIEGO TRIO (Italy)
DAN WHITAKER & THE SHRINEBENDERS
----------
Chicago Honky Tonk is back with another Sunday Matinee show! This time featuring DON DIEGO TRIO all the way from Sicily, Italy and hometown heroes DAN WHITAKER & THE SHINEBENDERS.
Hailing from Sicily, the DON DIEGO TRIO has been nominated for the Ameripolitan Awards as Best Rockabilly Band for the third year in a row and are in the U.S. to attend and play at the awards. Telecaster master "Don" Diego Geraci, after 20 years of continuous activity with the Adels, decided in 2014 to put together his own trio, which blends classic rockabilly, sixties country, and honky-tonk, as well as his own "Italian taste".
Joining Diego on guitar and vocals is Sandro Pittari on drums and Luca Chiappara on double bass. In October 2017 the DON DIEGO TRIO released their fourth album, titled "Greetings From Austin" (El Toro Records - Spain). It was recorded totally live in Austin, at the Ameripolitan Recording Studio, owned by Dale Watson, and it is the most exciting album the band has ever recorded. The album is produced by Mario Monterosso, a longtime friend of DIEGO, (and an excellent guitarist), who now lives in the U.S. and plays in Dale Watson's band. The album features lots of "Ameripolitan friendly" artists like Teri Joyce, Mike Maddux, Chris Casello and Ted Branson.
DAN WHITAKER & THE SHINEBENDERS play a mix of roots music best described as urban honky tonk. Song writer, guitarist, and singer DAN WHITAKER created the SHINEBENDERS to convey his songs in the beloved format formerly known as country music. Since 2004 they've entertained audiences in their hometown of Chicago and throughout the middle US states while supporting their independent releases. THE SHINEBENDERS include fellow Chicago music veterans Tom Mioducki on acoustic guitar and vocals, Earl "T-Bone" Powers on upright bass and Eric "Chase" Niffenegger on drums.
Their latest album, Anything You Wanted To, was recorded by Mike Hagler at Kingsize Soundlabs in Chicago and released Fall 2017. The album brings together western swing, rock and roll, country-jazz and hillbilly songs to create DWSB's one-of-a-kind sound. DAN WHITAKER has been creating independent original music since the mid 1980s in such bands as June Bug Massacre, Great Plains Gypsies, Athletic, The Gyps and Western Grand.