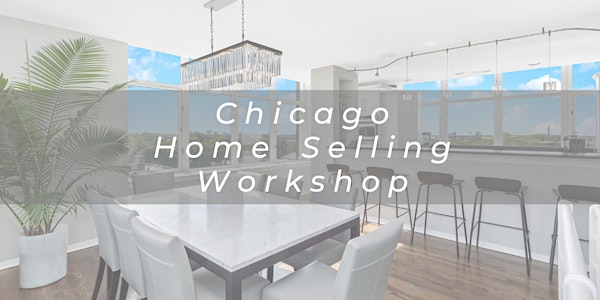 Chicago Home Sellers Workshop - How to Get Top Dollar in Uncertain Times
You'll learn the top steps to take (and pitfalls to avoid) when gearing up to sell your home during these very unsettling times
About this event
*This is a live virtual workshop via Zoom Webinar - accessible using your phone, tablet or computer for your safety and convenience.*
Vital information for any Chicago homeowner considering selling during the times of Covid-19 ... A MUST ATTEND EVENT!!
INSTRUCTOR: Dave Nimick of The Nimick Team, Inc. at Keller Williams // 10-time Five Star Award Winning Realtor as seen in Chicago Magazine // Featured in Forbes Magazine Feb 2019 // Exclusive Agent Trainer for (National Real Estate Service) ShowingTime // 20 Years experience // Average Sale-to-List Ratio of 99.38% // Average Market Time of 32 Days // Dave has helped 20 sets of clients since the stay at home order
*Limited to 25 Attendees
Does this sound like you?
Giving thought to selling but unsure how to go about it due to COVID-19?
Wondering how to best prepare your home for the market to attract today's discerning buyers?
Trying to figure out the best timing for you to sell?
Wanting to know proven pricing strategies that will help bring you top dollar for your home?
Wondering how to effectively market your home during a pandemic?
Hoping to have a smooth transition into your next home?
Struggling to figure out what to do with all your accumulated "stuff"?
Knowing more than one realtor and aren't sure how to go about making the right decision on who to work with?
If you answered yes to ANY of these questions, you owe it to yourself to come to our SELLER WORKSHOP where Dave Nimick will demystify the home selling process for you.
What you can expect to learn:
How to navigate the real estate process during these most uncertain times
How to ATTRACT the right buyers to your home and help them envision living there
How to determine the best timing for you to sell
How to price your home to get the absolute MAXIMUM sales price
How to use virtual marketing strategies and platforms to get more eyes looking at your home
How to navigate the tightrope act of selling and buying at the same time
How to get rid of (either temporarily or permanently) your excess "stuff"
How to choose the right agent
If you're thinking of selling your home now or sometime in the future, this workshop is for you. Learn the proven strategies to get your home sold for the most amount of money, with the fewest hassles, and in the shortest amount of time.
*Note: This will not be a sales pitch! This workshop is intended simply to educate you on the way to achieve the best possible outcome when selling your home. There is no obligation, and it's free to attend!
Select a Date (above) to Register!