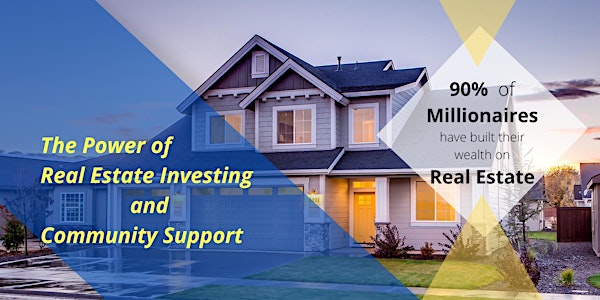 Chicago - Generational Wealth Through Real Estate
See how to smartly and safely invest in real estate with the knowledge, tools, systems and support needed to become financially free!!
When and where
Location
IN PERSON - Address will be provided in confirmation text. IN PERSON Downers Grove, IL 60515
About this event
This is an IN PERSON event in Downers Grove.
*This is a private event for registered guests only. Registered guests are welcomed to bring a friend, family member or business partner with them...just ensure they are registered with their own info*
Join Us for 2 informational meetings & do your due diligence.
Part 1 - Introductory Meeting
Find out...
What's behind their success
Who we are
What we do
How we support budding investors
How our group benefits seasoned investors
...and there'll be some great trainings that will benefit you in your everyday life.
After the Intro, we've found that's when questions usually come up... so we've added a second meeting to get those questions answered.
Part 2 - Q&A Follow Up.
Get Your Questions Answered
Learn more about what made the difference
Why so many people, from different walks of life, are successful
Funding
How to create additional income while learning real estate investing (optional)
How to snag an invite to one of our real estate intensive workshops
We are a COMMUNITY of Real Estate Investors and are looking for like-minded Entrepreneurs!!
What we offer is E.P.I.C.!
EDUCATION
* Whether you're a new investor or you have years of experience under your belt, there is always something new to learn in real estate – but it can be challenging to navigate the multilayered market. Investors should be up to date with their industry knowledge and know the unique risks to help develop their strategy and make sound investment decisions. Education is required for you to grow and refresh your knowledge, build new skills and possibly collaborate with experts in different real estate investing styles.
PROPERTIES
* Community benefits include a leadpipes feature to gain access to the names, addresses, and contact information for motivated sellers, buyers, and private lenders in your area.
INCOME
* Multiple streams of income is no longer a luxury, it's a necessity. Diversifying your investments is widely recognized as a method of building wealth, but diversifying your income streams is just as important. See how you can learn AND earn.
COMMUNITY
* Our communities can be found nationwide from Alaska to Hawaii. We are like-minded individuals, who are working toward bettering financial futures through real estate investing and business ownership. While we all come from different backgrounds, we share a common goal. Learning to invest in real estate and run a business can be challenging, so having an investors network group on the same journey is invaluable.
Not only will you meet local real estate investors that are actively doing deals but learn...
* The 4 levels of real estate investing
* Why and how anyone can pay less in taxes
* How to use social media to improve profits
* Strategies to pay off your mortgage in 1/3 of the time
* How to start earning right away
Additional info on:
* Wealth Building and Management Strategies
* Business and Personal Development
* Study Groups
* Property Tours
* Local & Nationwide Community
We're sharing knowledge & providing support helping others grow and succeed. THIS IS WHY WE ARE DIFFERENT!! Your Success is Our Success!
If this is you, see how this opportunity can change your life.
When you realize your essential job is no longer essential, it's time for a new community!
We will contact you by phone or text 24 hours before the event, to confirm and verify attendance.