CHICAGO FILM + MEDIA SUMMIT

Sunday, October 20, 2013 from 10:00 AM to 6:00 PM (CDT)
Event Details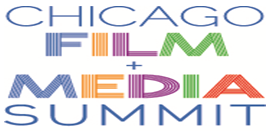 Sunday, October 20, 2013
10:00am- 6:00pm
Presented by the City of Chicago Department of Cultural Affairs and Special Events (DCASE) Film Office and co-organized by 2DS Productions, Beverly Ridge Pictures, Chicago Acting in Film Meet-up, Chicago Film Office, Chicago Filmmakers, Chicago International Film Festival, CIMMfest, Cinespace Film Studios Chicago, Filmworkers, Fletcher Chicago, IFP Chicago, Illinois Film Office, Kartemquin Films, Midwest Independent Film Festival and Ocean Pictures. 
A NEW FILM INDUSTRY CONFERENCE
PANELS | NETWORKING | FILMS
Chicago Cultural Center, 77 East Randolph Street, Chicago
*Registration opens Monday, September 30, 2013.  ADMISSION IS FREE.  Space is limited.  Advance registration is encouraged.*
All panels take place on Sunday, October 20, 2013
PRODUCERS SERIES: Producing: The Chicago Way
Doc Trailers That Get You Funded!
10:00am
First Floor Garland
Fernanda Rossi collaborates with filmmakers in all areas of storytelling, from development to fine cut. Author, international speaker and story analyst, she has doctored over 300 documentaries, scripts and fundraising trailers, including two nominated for Academy Awards©. She will discuss how to take the guess work out of making the best trailer to get the funds you need to make your documentary.
Speaker: Fernanda Rossi, Author of Trailer Mechanics
10:30am
Claudia Cassidy Theater
Everyone can agree: Chicago is a city that gets things done. It's equal parts big talk and even harder work. It simply can't take no for an answer. Chicago sounds an awful lot like a producer. In this panel, a diverse group of producers with ties to the city talk about what it takes to make a successful film and build a successful career, as well as what they like about "the city that works.ʺ
Panelists: Albert Berger, Nebraska, Little Miss Sunshine; Zak Piper, The Interrupters, Life Itself; Bob Teitel, Barbershop; Christina Varotsis, Money Is Money, Division 19, How to Catch a Monster; and Laurel Ward, Ice Harvest.
Moderator: Steven A. Jones, The Harvest, Henry: Portrait of a Serial Killer, Mad Dog and Glory, Wild Things
Programmed by IFP Chicago with sponsorship from the Academy of Motion Picture Arts and Sciences.
"I Gotta See That!" – Feature Trailers That Bring Them In
11:30 am
First Floor Garland
Dan Asma, owner of the prominent Hollywood feature film trailer house, Buddha Jones, works with major film studios, as well as indie clients. His work leaves an indelible impression and includes such memorable campaigns as No Country for Old Men, The Hangover, and Inglorious Bastards, among many others. Dan's trailers are designed to excite, provoke and ultimately compel the viewer to see the actual movie ...  and they do just that.
In his presentation, Dan pulls you into his world and performs an autopsy, exposing the inner workings behind his powerful trailers.
Speaker: Dan Asma, Buddha Jones
Decoding Distribution: From VOD to DIY
12:00pm
Claudia Cassidy Theater
FESTIVALS, THEATRICAL, VOD, DIY . . . remember when the goal was to get your film in theaters and your audiences' butts in seats? Those were the days. Or were they? A depressed economy, increased globalization and a studio system focused on blockbuster hits has all but strangled access to the traditional indie distro pipeline. But emerging markets and technologies are giving filmmakers direct lines to their audiences. So how do you create a successful distribution plan when the options are all over the map? Moderator Milos Stehlik leads a group of theatrical distributors, sales agents, festival programmers and other experts as they dissect the dizzying new world of distribution.
Panelists: Andrew Carlin, Music Box Films; Ryan Werner, independent film and marketing consultant; and Luke Marchetti, FilmBuff  
Moderator: Milos Stehlik, Facets Multimedia
Talent Casting for Producers and Directors
12:45pm
First Floor Garland
Learn how to find talent for your film project. Grace McPhillips of The Chicago Acting in Film Meetup moderates this panel covering the casting process for filmmakers, including online casting services, working with a casting director, casting name talent, rising Chicago talent, and diversity casting. Filmmakers will also learn about casting from the actor's point-of-view and good contract etiquette.
Panelists: Jason Teresi, Breakdown Services; Mickie Paskal and Jennifer Rudnicke, PR Casting, Public Enemies, Stranger Than Fiction, Sirens; Paul Fleschner, The Origins of Wit and Humor and The Drunk; Juan Ramirez, writer/director of Israel in Exile and actor in Missing Persons
Moderator: Grace McPhillips, Chicago Acting in Film Meetup (CAFM)
PRODUCERS SERIES: Financing Your Film in the Age of Celebrity Crowd Funding
1:30pm
Claudia Cassidy Theater
Crowd funding or co-pro?  Pre-sales or private equity? There have never been more options for financing your film. Join a panel of financiers, experienced filmmakers, and crowdfunding experts as they discuss available options and potential funding pitfalls for independent filmmakers.  This panel is a must for both narrative and documentary filmmakers who are searching for the magic mix of funding sources for their next project.
Panelists: Albert Berger, Nebraska, Little Miss Sunshine; John Bosher, Chicago Overcoat; Duncan Cork, Slated
Moderated by Carrie Holt De Lama, President, IFP Chicago
Programmed by IFP Chicago with sponsorship from the Academy of Motion Picture Arts and Sciences.
Building Storyworlds Through Transmedia: A look into a writer's room built for the 21st Century
2:00pm
First Floor Garland
Designing immersive projects that mix storytelling, play, and technology require new kinds of processes and creative teams. Attempting to balance story development and software development can be a challenge. Meanwhile, shifts in media consumption and the democratization of technology have turned those formerly known as the audience into their own media companies, able to push buttons and publish for the world to see. Join Lance Weiler as he pulls back the curtain on two of his latest projects in an effort to share their development process. Launching later this fall, Body/Mind/Change (http://bodymindchange.ca) a collaboration with David Cronenberg, TIFF and the CFC media lab, explores biotech implants and artificial intelligence while enabling participants to step into a storyworld where science fiction becomes science fact. The second project, entitled Lyka's Adventure (http://connectedsparks.com), tells the story of a robot scientist from another planet stranded on Earth who is powered around the world by the imaginations of students prior to being launched into space by NASA.
Speaker:  Lance Weiler: Writer, Director, Experience Designer
Case Study: The Harvest
3:00pm
Claudia Cassidy Theater
In this fascinating case study, these long time collaborators will be joined by actor - and former Chicagoan - Michael Shannon, producer Kim Jose of Elephant Eye Films (All the Real Girls and Old Cats) and first time writer Stephen Lancellotti. The filmmaking team will dissect the perils of putting together a "low-budget" indie thriller in today's fractured marketplace. From conception through the ongoing search for distribution, this frank conversation covers both the art and business of putting together this film, why they decided to shoot in New York instead of Chicago and how Hurricane Sandy almost ended it all. The Harvest will have its World Premiere Saturday, October 19, 2013 at the Chicago International Film Festival.
Panelists: Director: John McNaughton, Henry: Portrait of a Serial Killer, Mad Dog and Glory, Wild Things; Writer: Stephen Lancellotti, The Harvest; Producer: Steven A. Jones, Henry: Portrait of a Serial Killer, Mad Dog and Glory, Wild Things; Cinematographer: Rachel Morrison, Fruitvale Station, Tim and Eric's Billion Dollar Movie, and, Any Day Now, Actor: Michael Shannon, Man of Steel, Take Shelter, Boardwalk Empire, Bug
Moderator, Tony Fitzpatrick, Artist and Author of Bum Town
Building Audience and Creating Impact through Documentaries (and how to raise the funds to do it) 
4:00pm
Garland Gallery
To maximize your impact as a documentary filmmaker, it is important to build relationships with broadcasters, funders, community organizations, and other constituents as early as possible.  Join industry leaders for a frank discussion about how to create partnerships, navigate relationships, and raise funds in today's complicated world to maximize the impact of your film.
Panelists:  Cynthia Kane, Al Jazeera America; Emily Verellen, The Fledgling Fund; Lois Vossen, ITVS/Independent Lens
Moderator: Justine Nagan, Kartemquin Films
Exploring the Opportunities of the Exploding Web Series Format 
4:00pm
First Floor Garland
Web series has lowered the cost of entry into the entertainment world. Opportunities abound to create, promote, and sell your work, but with so much content out there how do you make the most of this fantastic new format?
Panelist: Brett Blake, The Onion; Scilla Andreen, Indie Flix; Chef Homaro Cantu, Youtube series; Naomi Lennon, Naomi Lennon Management; Brendan McMorrow, Above Average; Katie Thomas, Teachers
Moderator: Mike McNamara, Midwest Independent Film Festival
Keynote Address
5:00pm
Claudia Cassidy Theater
One of the most successful and respected creators/producers of crime dramas, Dick Wolf is the man behind the "Law & Order" franchise as well as the current network series, "Chicago Fire," filmed entirely in Chicago.  Mr. Wolf is a two-time Emmy® Award winner (Outstand Drama Series for "Law & Order"), a Grammy® Award-winning producer and a New York Time best-selling author for his debut novel, "The Intercept."  "Law & Order" ran for 20 seasons, tying "Gunsmoke" as the longest-running drama on television and earning a record-tying 11 consecutive Outstanding Drama Series Emmy® nominations.   
Limited seating is available for this keynote address.
As announced by Mayor Rahm Emanuel's office.
Chicago's Festival of Festivals
10:00am-5:00pm
Randolph Square
Chicago is home to a large number and diversity of film festivals. This festival of festival provides a buffet of offerings you can expect to find at the participating festivals. Stop by anytime to see shorts programmed by a diversity of local film festivals. Participants include:
Chicago International Film Festival
Chicago International Movies & Music Festival
Chicago International Social Change Film Festival
Chicago Underground Film Festival
Latino International Film Festival
Midwest Independent Film Festival
Polish Film Festival in America

 
The CHICAGO FILM + MEDIA SUMMIT Planning Committee is:
Bill Ryan – 2DS Productions; John Bosher – Beverly Ridge Pictures; Katia Gomez – Chicago Acting in Film Meetup; Grace McPhillips - Chicago Acting in Film Meetup; Steve Scholz - Chicago Acting in Film Meetup; Jill Thiel - Chicago Acting in Film Meetup; Pam Tierney - Chicago Acting in Film Meetup; Mimi Plauche – Chicago International Film Festival; Brenda Webb, Chicago Filmmakers; Gary Kuzminski – CIMMfest; Dave Moore – CIMMfest; Reid Brody – Filmworkers; Carmine Cervi –CIMMfest/BulletProof Film; Ilko Davidov –CIMMfest/BulletProof Film; Alex Pissios – Cinespace Film Studios Chicago; Daniel Moore – Directors Guild of America; Tom Fletcher – Fletcher Chicago; Stan Glapa – Fletcher Chicago; Nicole Bernardi-Reis – IFP Chicago; Carrie Holt de Lama – IFP Chicago; Betsey Steinberg – Illinois Film Office; Justine Nagan – Kartemquin Films; Mike McNamara – Midwest Independent Film Festival; Laurel Ward – Ocean Pictures; and Chicago Film Office
Sponsors
Organizer
Chicago Fashion Office- Department of Cultural Affairs and Special Events (DCASE) for the Creative Industries
The City of Chicago is home to more than 400 fashion industry professionals and 300 independent boutiques.  The City's fashion intiative supports the fashion community living and working in Chicago through Fashion Focus Chicago, the Chicago Sidewalk Sale & Runway Show and other educational programming.  Visit us at Fashion Focus Chicago for more information.
----------------------------------------------------------------------------------------------------------- 
Accessibility:
The following services are available for persons with disabilities:
Accessible entrance, 77 E. Randolph St.
Accessible restroom facilities
Wheelchair loans, see information desk for availability
ASL interpreters are provided with 72 hours notice
Assisted Listening Devices available for public event
----------------------------------------------------------------------------------------------------------- 
Public Transportation:
El: Pink, Orange, Green, Brown, Purple to Randolph; Blue to Washington; Red to Lake. 
Bus: 3, 4, 6, 10, 14, 26, 143, 144, 146, 147, 151, 157.
Metra and South Shore to Millennium Station. 
For more travel information, visit www.transitchicago.com
Parking:  Millennium Garages
Parking details: Park near the conference! Garage locations are Millennium Park Garage and Millennium Lakeside Garage at 5 S. Columbus Drive, Grant Park North Garage at 25 N. Michigan Ave. and Grant Park South Garage at 325 S. Michigan Ave.
Packages: $30 all-day parking /Millennium Park Garage and Millennium Lakeside Garage (regular rates apply at Grant Park North & Grant Park South Garages)
Purchase Options: pay at parking location; call 312.616.0600
Website Link: www.millenniumgarages.com
CHICAGO FILM + MEDIA SUMMIT