Description
On this Creative Women's Co. event we want to get you in the kitchen! :)
CREATIVE WOMEN'S CO. x GET ME IN THE KITCHEN INVITES YOU A PRIVATE COOKING EVENT
If you want to learn knife skills and gourmet techniques, go to the "other guys." But if you are looking to have a kick-ass time, learn some easily replicable, amazingly tasty home-cooking recipes and have an awesome "night out" experience, then you really need to come to our event with the guy behind Get in The Kitchen!
It doesn't matter if you know how to cook, want to know how to cook or even if you couldn't give a flying fork about cooking. You're gonna have a darn-tootin' good time no matter what!! We'll cook, socialize and drink some of whatever adult beverage you decide to bring. Other cooking schools are stuffy and focused on technique and gourmet cuisine. Here at Get in the Kitchen! we say "fork that shitake mushroom and Let's have some fun!" So, come on over, bring your favorite bottle of wine, spirit or even a freakin' keg for all we care. Relax, help us cook a great meal and have an amazingly fun night out at one of our cooking parties. Just Get in the Kitchen! Cooking. While. Awesome.
---






WANT TO BE OUR SPONSOR? See our opportunities for you here.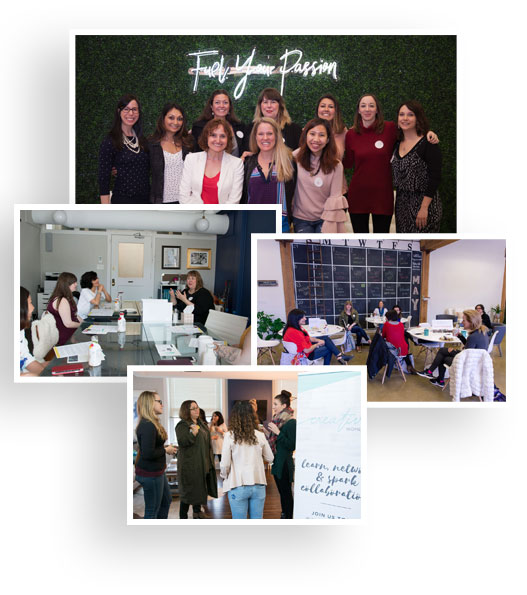 ---
Event FAQS
What's the fee is for? This fee covers your vision board materials, coffee/tea plus snacks at the event, and 2-hours of learning and a great company with creative women entrepreneurs in the area. Not a member yet? Sign up here.

Tickets are non-refundable but can be transferred.
---
Creative Women's Co. is a series of intimate gatherings for creative women entrepreneurs to connect with each other on a personal level, learn together and spark collaborations.

Building and fostering genuine relationships among creative women entrepreneurs can be challenging. At Creative Women's Co. we believe that it all started at a personal level connection. We value intimate networking events as a way for us to get to know each and everyone who attend the events. Our events are less like meeting up with random professionals but a gathering to see friends, learn together and create collaborations.

WEBSITE | FACEBOOK | INSTAGRAM | Request Access to Facebook Group