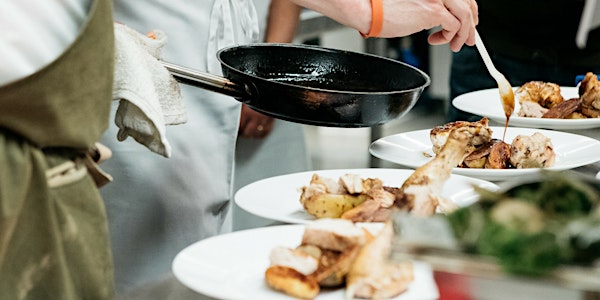 Chicago Cook-Off Awards: A Sensory Culinary Experience
When and where
Location
Chicago Cultural Center 77 E. Randolph Chicago, IL 60601
Description
**We can't wait to see everyone tonight!
The Chicago Cultural Center has two addresses. The best entrance for our event is 77 - 78 E Randolph.
If you are a VIP ticket holder, you get access an hour early, so your doors open at 5:30 PM.**
Join top chefs, companies, philanthropists, and foodies at a fun-filled evening benefiting Culinary Care.
Our mission is all about creating fun experiences around food, and our fundraisers are no exception! This year's evening entertainment is our very own Chicago-based Chopped-style cooking challenge. You'll get to take home some awesome cooking skills and a digital cookbook with all the recipes. As a VIP ticket holder, you'll even get a chance to "taste the competition" before you head watch all the action.
This won't be your average chicken-dinner gala. Watch the sizzle reel here -- https://www.cookoffawards.com/
Speakers will include Kevin Brown (CEO, Lettuce Entertain You Enterprises), Carl Allegretti (Managing Partner, Chicago, Deloitte), Sarah Burke (Director Corporate, Foundation, and Affiliate Giving, Northwestern Memorial Foundation), Mark Reisenauer (SVP, Oncology, Astellas), Joan O'Neill (Culinary Care donor since 2014), among others.
Culinary Care is a local nonprofit helping cancer patients live happier and healthier lives through food. Proceeds from the evening will support Culinary Care's meal program, which delivers free restaurant-prepared food to patients and their families. Founded in 2013, Culinary Care has delivered more than 7,000 meals!
VIP tickets include pre-event access where you'll taste select dishes from the competitors and enjoy reserved seating during the awards, open bar, and the post-event dessert reception.
General Admission tickets include access to the awards, open bar, and the post-event dessert reception.
"I LOVE this event. Everyone I bring always has an amazing time!" - Michael Kasdin, 2015 - 2017 guest, Foley & Lardner LLP
***** This event is 21+ ******
--
The Nominees Are ...
Competing in the Uncle Ben's Low Sodium Category:
Barings led by Chef John Manion (El Che Bar and La Sirena Clandestina)

Robert H. Lurie Comprehensive Cancer Center of Northwestern University led by Chef Tim Davidson (The Boarding House)

Katalyst Technologies led by Chef Rick Tramonto (Restaurant R'Evolution, Tramonto Restaurants)

Uncle Ben's led by Chef Chris Thompson (Coda Di Volpe)

Perkins + Will led by Chef Aaron Cuschieri (The Dearborn)
Competing in the Seeds of Change Vegetarian Category:
Seeds of Change led by Chef Devon Quinn (Eden)

Jewel-Osco led by Chef Josh Katt (KitchFix)

IMC led by Chef Austin Fausett (Fisk & Co.)

ParkerGale led by Chef Johnny Besch (BLVD)

Shire led by Chef Cory Morris (Boleo)
Competing in the Low Fiber Category:
tastytrade led by Chef Marcos Campos (Black Bull and Beatnik)

Energy BBDO led by Chef Ian Davis (Band of Bohemia)

Midwest Dairy led by Chef Michael Spiewak (The Heritage)

Edlong Dairy Technologies led by Chef James Lintelmann (Baptiste & Bottle)

Nuveen led by Chef Zach Walrath (The Florentine)
Competing in the High Protein / High Calorie Category:
Milhouse & Milhouse Charities led by Chef Danny Grant (Maple & Ash and Etta)

The Escape Pod led by Chef Chris Gawronski (Acanto, The Gage, Coda Di Volpe, The Dawson, Beacon Tavern)

Braintree led by Chef Jacob Verstegen (LondonHouse Chicago)

Katalyst Technologies led by Chef Matt Ayala (Cochon Volant)

Much Shelist led by Chef Todd Stein (The Bristol)

IMC led by Chef Kevin Cuddihee (TWO Restaurant)