Description
Click register on the upper right, then follow prompts to enter your promotional code for a free pass.

Angelbeat is hosting this comprehensive morning IT seminar, with keynotes by Cisco on cloud security - click here for the latest news on protection from the Nyetya Ransomware attack - and Synercomm on pro-active penetration testing/ethical hacking. There are two other technical briefings from Glue on network management and Mist on WiFi performance. Great content on today's (and tomorrow's) top technology issues, covered in just a few hours..

Scroll down to see the full agenda and click on links to see company information and speakers' biographies. Click here to download presentation guidelines that are followed by all participants, which makes the program so worthwhile for technology professionals, business executives, etc.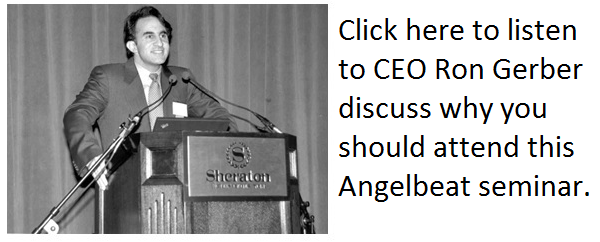 As one Walmart attendee states, "Of all the seminars I attend, your format is by far the best. Brief informative talks from vendors, followed by one-on-one time at their booth to find out more. I am out of the office for less than a day yet I have access to all the different solutions. This year I will follow up with two vendors." As another IT Director commented, "Thanks for hosting a very informative meeting with vendors that tied in well; it was an integrated picture of technologies that work together to create a complete infrastructure solution for the workplace."

Join your peers from United Airlines, BP, Walgreens, Equity Residential, Leo Burnett, BMO Harris, US Cellular, Transit Authority, Andrews University and many more organizations who are confirmed attendees.

Every attendee receives a full hot breakfast, complimentary WiFi, plus 3 CPE credit hours towards your CISSP or other certification. There are drawings for $100 gift cards and other prizes, at both the start and end of the event (must be present to win). There will be an identical event this fall in the O'Hare region so stay tuned for Angelbeat updates.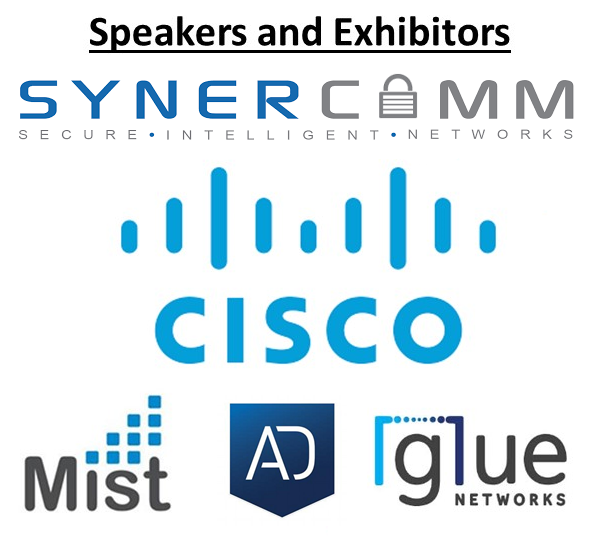 Agenda

7:40 - 8:45: Registration Begins, Full Hot Breakfast and Coffee Served, Exhibit Area Open with Product Demonstrations, Time For Peer Networking/Interaction

8:45 - 9:30: A New Frontier in Cloud Security: The Secure Internet Gateway, with Cisco's Advanced Malware Protection + Cisco Umbrella
As networks become more decentralized and users connect directly to the internet and cloud services, security must evolve. It has to protect users wherever they work, and it has to shift to the cloud.

Learn from world renown Cisco consulting systems engineer Natasha Taymourian about the industry's first Secure Internet Gateway, Cisco Umbrella, and how it can address the enterprise security challenges of today's mobile, cloud-era, such as Ransomware.

9:30 - 10:00: The Modernization of Security Assessments, Penetration Testing and Staying One Step Ahead of CyberCriminals with Synercomm
Organizations of all sizes are increasingly using offensive, pro-active and continuous measures such as penetration testing/ethical hacking to uncover (and then close) vulnerabilities in their IT infrastructure - before they can be exploited by a cybercriminal. Such actions are increasingly important as traditional network boundaries disappear, cloud computing grows exponentially and new threat vectors emerge.

During this technical presentation by cybersecurity expert Scot Berner, which includes several live demonstrations, you will learn about the various types of penetration testing, get specific recommendations on modernizing your security assessment methodology, keep one step ahead of hackers, and avoid a breach.

10:00 - 10:20: Multi-Vendor Network Infrastructure Complexity; How to Simplify with Glue Networks
Typical networks have become increasingly complex and require constant attention, especially when there is a multi-vendor architecture/configuration.

To greatly simplify network management, Glue Networks created Gluware, a software-based orchestration platform that reduces life cycle costs and boosts network agility. Richard Long from Glue Networks will demonstrate how network operations teams can simplify tasks like switch management, ACL, QoS, firewall rules and many other time consuming functions. Gluware makes the network work for operations - not the other way around.

10:20 - 10:40: Smart Wireless for the Smart Device Era with Mist Systems
Wi-Fi isn't new. But how we use wireless has evolved substantially in recent years thanks to new smart devices, new applications, new wireless technologies - and new user expectations. As Wi-Fi has become more prevalent, it has also become more business-critical.

This makes it essential to simplify Wi-Fi operations and ensure a consistent and reliable Wi-Fi experience across all users. At the same time, Bluetooth Low Energy (BLE) has emerged as a nice complement to Wi-Fi, delivering high value indoor location-based services. With BLE, there is an untapped opportunity to better engage with employees and customers. The key questions then is "How do you build a modern wireless network designed to address the above?"

In this interactive session, Dan Kennison of Mist will discuss this topic in more detail, covering how to:

- Design, implement, and operate a modern wireless network that takes advantage of both Wi-Fi and BLE
- Leverage machine learning and cloud technologies to minimize wireless OPEX through automation
- Use proactive insight and predictive recommendation to ensure a great experience for all Wi-Fi users
- Eliminate physical beacons and site surveys with enterprise-grade BLE
- Explore real use cases for indoor location services like wayfinding, proximity messaging, and asset tracking

Coffee Break, Product Demonstrations and Exhibit Area Open, Peer Networking

End of Event, Raffle Prize Drawings for $100 gift card and other great items!

FAQs

What are Angelbeat's privacy and optin/optout policies
Each attendee acknowledges/understands that financial support from Angelbeat sponsors allows him/her to attend this event at no cost, and that the sponsors will be given your contact information 2 days after the event for follow-up email and telephone communications. All sponsors are required to provide you with an opt-out option, allowing you to be removed from their database

However each attendee can opt-out of sponsor follow-up by informing Angelbeat staff at the event, or by emailing Angelbeat immediately after the event, but before Angelbeat releases the attendee list to the event sponsors.

If you have any questions regarding Angelbeat's privacy policies and how your contact information is used, please contact CEO Ron Gerber directly at 516-277-2057 or at rgerber@angelbeat.com.

Who might be available to receive the special Promotional Code and free pass
There is a special promotional code, that will allow you to attend for free, that is limited and only available for end user IT professionals who work in the telecom/network/storage/security/data center/desktop/purchasing departments of corporations (private and publicly-held, large and small), universities, school districts, government agencies, hospitals/healthcare providers, pharmaceuticals, insurers, manufacturers, retailers, financial services/banks, real estate, legal/accounting/services, transportation/logistic firms, etc. and use, support, approve and/or are involved in or influence the decision to buy the products and services offered by our sponsors.

Reporters from major newspapers, websites and other media outlets are eligible for a free pass and must submit in advance their media credentials to the event organizer for approval.
All other individuals who are not end user, IT professionals must pay the registration fee.

In all cases Angelbeat reserves the right to accept or reject a registration at its sole discretion.

What are my transport/parking options getting to the event
Detailed driving directions will be sent out to all attendees one week before the event. There is

What is the dress code
Suggested dress is business casual.

What if you have special dietary needs/restrictions
If you have special dietary needs/restrictions, then please email Angelbeat below. We will do our best to accommodate any and all requests.

What if I am a government employee and cannot accept free meals and/or win raffle prizes
If you are a government employee and cannot accept free meals, then you can pay Angelbeat $35/person, to cover the cost of meals. Please contact the event organizer at registration@angelbeat.com to arrange payment.

Each sponsoring company/exhibitor handles its own raffle prize drawing; Angelbeat itself has nothing to do with these prizes and attendees are not automatically entered for any raffle prize drawing. Since each attendee must individually signup to win a raffle prize, then government employees (who are not eligible to win these prizes) can simply not signup for the drawing.