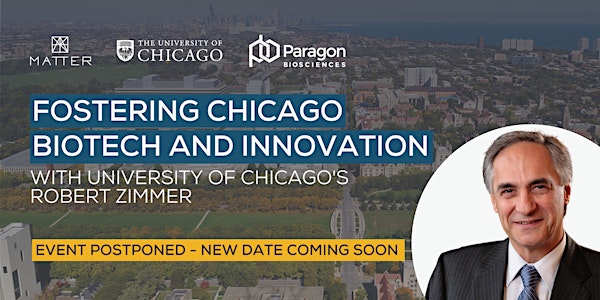 Chicago Biotech and Innovation with University of Chicago's Robert Zimmer
University of Chicago Chancellor Robert J. Zimmer discusses Chicago's biotech, startup and innovation scene.
About this event
This event is postponed and will be rescheduled in the near future.
Join University of Chicago Chancellor Robert J. Zimmer as he sits down with Paragon Biosciences Founder, Chairman and CEO Jeff Aronin to discuss Zimmer's work building the university's technology translation and commercialization capabilities, a potentially generationally-significant step in the city's progression as a hub of life science technology and entrepreneurship.
An accomplished mathematician and higher education administrator, Chancellor Zimmer served as president of the University of Chicago for 15 years before transitioning to the role of chancellor, trustee and president emeritus in September 2021. Recognizing the need for a significant translation and commercialization engine that integrated the university's rigorous approach to education and research and leveraged its affiliations with Argonne National Laboratory, Fermilab and the Marine Biological Laboratory, Zimmer led a multi-year effort to reshape the university's capabilities in this area. This included attracting faculty and staff with entrepreneurial expertise, establishing a fund aimed at commercializing research, building a community-facing incubator and integrating innovation and entrepreneurship activities across the university. Known for bringing molecular engineering to the university, deepening the university's engagement both at the local and global level and his steadfast defense of freedom of expression, Zimmer's work has positioned the University of Chicago as a recognized leader in innovation and entrepreneurship.
Agenda:
2:00-3:00pm CT | Fireside chat
3:00-3:30pm CT | Networking and discussion*
*After the program, join us for networking and discussion via Zoom breakout rooms. If you wish to join, make sure to opt in when you register.
ABOUT THE SPEAKER:
Robert J. Zimmer
Chancellor and President Emeritus, University of Chicago
Robert J. Zimmer was appointed as University chancellor, president emeritus and a trustee of the University in September 2021. He also holds a faculty appointment as the Edwin A. and Betty L. Bergman Distinguished Service Professor in the Department of Mathematics. His research focuses on the field of geometry, particularly ergodic theory, Lie groups and differential geometry. He served as president of the University of Chicago from 2006-2021 and as provost of Brown University from 2002-2006. A member of the University of Chicago faculty and university administrator for more than two decades before moving to Brown in 2002, Zimmer previously held the positions of chair of the mathematics department, deputy provost and vice president for research for Argonne National Laboratory. Zimmer earned his B.A. (1968) from Brandeis University and his M.A. (1971) and Ph.D. (1975) from Harvard University. He has honorary degrees from Tsinghua University, Colby College and Brandeis University.
ABOUT THE MODERATOR:
Jeffrey S. Aronin
Founder, Chairman and CEO, Paragon Biosciences
Jeffrey S. Aronin has decades of experience developing innovative global biotech and healthcare companies. His keen ability to identify ideas and scientific innovations with the highest potential to change lives and improve the world has made Mr. Aronin one of the most impactful and successful leaders in the life science sector. As an entrepreneur and scientific visionary, Mr. Aronin launched multiple companies, where he advanced science and helped patients. These companies earned numerous U.S. Food and Drug Administration therapy approvals for patients with unmet needs. Today, Mr. Aronin founded and chairs seven bioscience companies under Paragon Biosciences.
Established in 2017, Paragon Biosciences is a life science innovator that creates, builds and funds biology-based companies in cell and gene therapy, adaptive biology and advanced biotechnology. As chairman and chief executive officer of Paragon, Mr. Aronin and his team are focused on solving some of society's most challenging problems. Paragon founded Castle Creek Biosciences, CiRC Biosciences, Emalex Biosciences, Evozyne, Harmony Biosciences, Qlarity Imaging and Skyline Biosciences, and maintains a consistent flow of incubating companies. Since 2017, Paragon and its partners have invested more than $1.3 billion in its portfolio companies to address unmet needs through life science breakthroughs.
His passion for bringing talented teams of scientists and business executives together to advance science earned him numerous distinctions and life science honors as a most influential leader in healthcare, most inspirational leader in healthcare, innovator of the year and entrepreneur of the year, among others.
Giving back to the life science community, Mr. Aronin founded the premier healthcare innovation hub – MATTER – one of Chicago's most remarkable, philanthropic venture-innovation successes where he serves as chairman. He serves on several corporate and civic boards including Discover Financial Services, The Aspen Institute and the International Board of the Weizmann Institute of Science and is a member of The Commercial Club of Chicago. Mr. Aronin is a mentor to students and young professionals and is a frequent lecturer at the University of Chicago's Booth School of Business and Northwestern University's Kellogg School of Business.
About the organizer
At MATTER, we believe collaboration is the best way to improve healthcare. The MATTER collaborative includes more than 700 current and alumni startups from around the world, working together with dozens of hospitals and health systems, universities and industry-leading companies to build the future of healthcare. Together we are accelerating innovation, advancing care and improving lives. For more information, visit matter.health, follow us @MATTERHealth and join our mailing list.