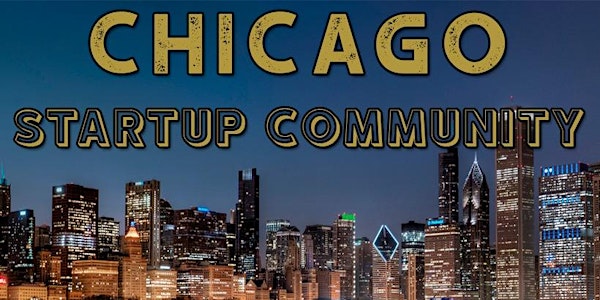 Chicago Biggest Business Tech & Entrepreneur Professional Networking Soriee
Chicago Biggest Business Tech & Entrepreneur Professional Networking Soriee
By THE PROFESSIONAL NETWORK
Date and time
Monday, June 26 · 6:30 - 8:30pm CDT
Location
Adamus Restaurant & Lounge 10 South Wabash Avenue Chicago, IL 60603
About this event
Chicago Biggest Business Tech & Entrepreneur Professional Networking Soiree
Meet Like Minded Entrepreneurs, Techie, Founders & Professionals
Sharing Ideas, Building Relationships & Forming Partnerships
Event Is Being held Per CDC Guild lines As Applicable At The Time Of The Event.
Mandatory Face Masks
Temperature Checks
Guided Spots For Social Distancing
Gloves & Sanitation As Needed
* Please Read to Term & Conditions At Bottom
Calling All: Tech Startups ! Entrepreneurs ! Bussiness Owners ! Professionals ! Free-lancers, policy-makers, game-changers, and heroes!
Starting Summer 2023 with Chicago's Best Professional Networking Affair. Please join us for an evening of creativity, inspiration and passionate conversations.
Join & raise a glass - make connections with co-founders, partners, coaches or core team members for your start-up- meet fellow professionals and mingle with makers of great and big ideas - take home treats from growing community and some business cards.
Please use @TechWebTalks to share your comments/pics for this event.
Ambiance:
- Name Tags will be provided to everyone who attends. We request you put your name and industry on your name tag.
- Make sure you bring enough business cards.
- The dress code is Business Casual.
For Sponsorship & Business Queries - Forwardyourcareer@gmail.com
RSVP AS MARCH 1ST
First Name Last Name
Adil Shafique
Dimitry Borochin
Mehreen Javaid
Steven Leung
Erik Brown
karen walker
Patrick Koeller
Ketan Shah
Narvie Nelson
Heidi Macomber
Heidi Macomber
Alejandro Gonzalez-Cibrian
Jasmine Guy
Nora Darvirris
Kendall Vaughn
Cristina Gorostieta
Patrick Koeller
Amber Taylor
Scott McLain
Mohit Bathija
Scott Sargis
Eric Yan
Amy Ali
jungmfr@gmail.com jungmfr@gmail.com
David Dalka
Vishal kumar Bhagchandani
Mary Murphy
Serge Te
Krishna Adusumilli
Ashish Raj Police
Myeko Burkes
Myeko Burkes
Oral Sekendur
Myeko Burkes
Myeko Burkes
jim kocourek
Whitney Lee
Whitney Lee
Oral Sekendur
Kyle Larson
chris keleher
Madhuri Nanda
Lizhu Shi
Gordon Dymowski
Maria Conforti
Shana OConners
Ross Sadler
Ryan Dincher
Alex Mechlin
Isabel Hutchison
Claire Pluard
Ammara Hashmi
Chiadi Onwuka
terrene jackson
John Nelson
Jessica Toles
EMILY Zamudio Zamudio
Prashant Prakash
Jeff Lambert
Gautam Krishnan Amaravati Suresh
Christina Glasper
Perizat Amantaeva
Le Jalen Huff
Yedi Mulya Permana
Peter Pellizzari
Dom Hines
Darris Lewis
Ivette Sango Wa Muluta
Nate Ridgeway
Lavanya Santhana krishnan
Lavanya Santhana krishnan
Michael Murphy
Michael Wormley
Kim Hale
Chris Hale
Tatyana Parks
Arielle Ambra-Juarez
Brandon Tobin
Olga Burdukovskaya
Kaitlin Lindquist
Eitann Mallin
Joshua DArcy
Angela Reese
Partha Sarathi Dutta
Christiana Monyok
Tarang Gandhi
Dilara Rustamzada
Joe Petramale
Eso Akunne
Christina Cecchin
Guerin Holtermann
Vinoth Arunagiri
Aanchal Bhushan
Dana Ellbogen
Gustavo Mier
Gustavo Mier
Brian Hellgeth
Manish Miglani
Victor Manzanilla
Jeffrey Mazza
Divit Chandan
Ryan Schick
VILIN HEGDE
Ross Sadler
Justas Uzusienis Tellez
Katie Quinn
Stephen Rothschild
Jeyhun Nasibov
Nikhil Mehta
Heather Becker
John Jones