Chicago 48HFP - Screenings

Multiple Dates
Event Details
Each year, the 48 Hour Film Project (48HFP), the world's largest timed filmmaking compeititon, visits nearly 90 cities, challenging teams to complete an entire film from writing and casting to filming and editing in 48 hours.  This year's challege to 'Show Your Stuff' takes place in Chicago from July 29 - July 31, 2011
At the conclusion of the film weekend, submitted films will be screened for the public at The Logan Theatre, 2646 North Milwaukee Avenue on August 2nd and 3rd 2011.  Screening Groups are defined as follows: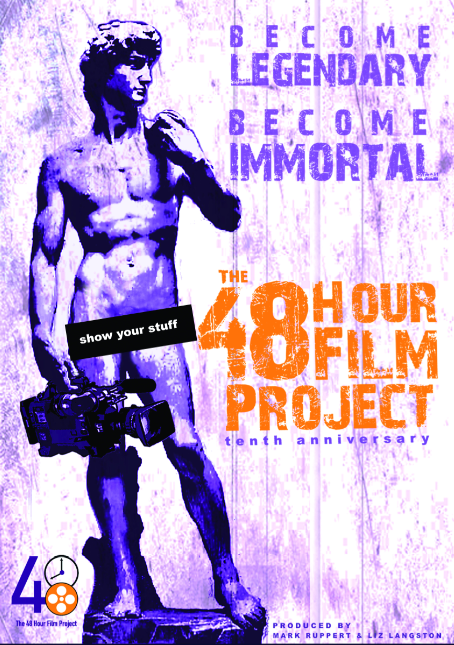 Screening Group A
9 Point 5, Terry Jun 
945 Productions, Nikki Hassinger 
A is for Amateur, Jason Beaumont 
A-EYE Productions, George Kolerich 
Andrew Ryan Productions, Alex Brown 
Goo Warn Mane, Ben Kostelnik 
Half Naked, Timothy Skau 
Juice Wagon, Marc Nardoni 
Kick A Rock, Sergio Torres 
Kids With No Money, Eric Galicia 
Situational Irony, Joseph Conway 
Studio 847, Alex Pont 
Super Best Friends, Jason Gardner 
Team Chi-KINO, Andrew Friend 
Ai Wisconsin, Rubin Whitmore
Screening Group B

Be Creative Studios, Ben Casey Scott
Carry_out productions, Joshua carlascio
Chase, Chase Norris
Cinaesthetic Films, Michael Nowicki
CinémaLabs, James Giberson
LAB3 INC., Lori Bohner
Mugshots Production, Christopher Mugavero
Murmur Productions, David Soto
Nevaeh Film Productions, Benjamin Radut
Nitestar Productions, Jerry Vasilatos
The Video Magazine, DENISE GORDON
Throw Me A Peanut, Scott Anderson
Tower Guard Production & Anecdote..., Honeyleen Hodges
Cosmic Sneeze, Kevin Manning
Red Rabbit, Ryan Wood
Screening Group C

Cowbell Crusaders, Daniel Stauffer 
Daydream Team, Abhishek Pillai 
Dirty Borders, Sean Dove 
Eye Poppy Films, Dave Hudson 
Fair Enough Films, Nathan Fisher-Koeln 
paved wave productions, chris jarvis 
play with squirrels, Raneath Sokha 
POPera, Marcel Morin 
Rascals & Rogues, Kerry Shaw Brown 
Running on E, Jyll Christolini 
wingman productions, fred uhter 
Up and Over, Duran Johnson 
Wretched Jester Films, Bryen Hensley 
You're the Man, Frotto, Cory Byers 
The Tenderfoots, Reba Conda-Eschmann
Screening Group D

Figments of Imagination, Michael Palmaira 
Flashlight Pictures, William Ptacek 
Flying-J Studios, Ed Sochacki 
Fumo Productions, Anthony Fumarolo 
g.o.t. films?, Burt Bilharz 
Scout Stories, Steve Douglass 
SCR, Samuel Ryan 
Scratch Pad, Dave Harding 
Serious Film Professionalz, Chris Davis 
Shot Time Productions, Jimmy Boratyn 
Team Thunderslam, Ronald Widerberg 
Drama King Productions, Kabah Conda 
Tip Your Bartender Films, David Kendall 
Unicorn Gynecologists, Kenny Reed
Whether you're a participant or a passerby, this is an excellent opportunity to watch never-before-seen short films and support the Chicago Filmmaking Community at large!  So spread the good word! 
See you at the movies!
Amanda Peters
Chicago Producer
48 Hour Film Project
amanda@whyfour.com

Where

The Logan Theatre
2646 North Milwaukee Avenue
Chicago, IL 60647


Multiple Dates
Add to my calendar
Organizer
Chicago 48 Hour Film Project
Chicago 48HFP - Screenings