Chicago 48HFP - 2014 Screenings

Tuesday, August 26, 2014 at 6:30 PM (CDT)
Event Details
Each year, the 48 Hour Film Project (48HFP), the world's largest timed filmmaking compeititon, visits roughly 125 cities, challenging teams to complete an entire film from writing and casting to filming and editing in 48 hours.  The 2014 film weekend took place in Chicago August 22nd-24th
At the conclusion of the film weekend, submitted films will be screened for the public at the New 400 Theaters, 6746 N Sheridan Road, on August 26th, 27th and 28th 2014.  Screening Groups are defined as follows: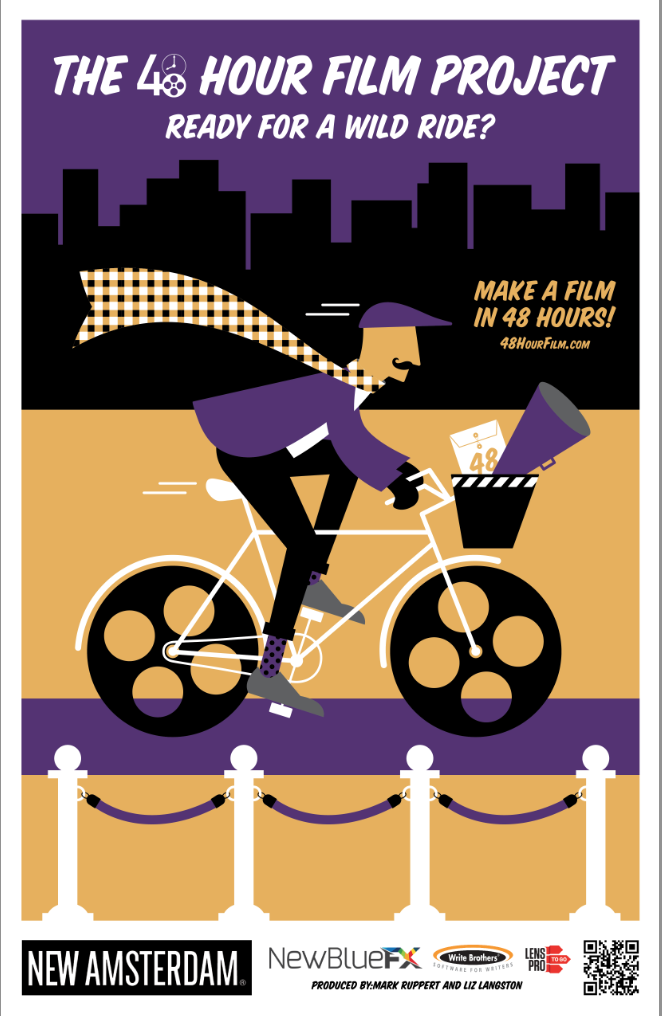 Screening Group A
AMPT Films, Eddy Torigoe
Chooch Patrol, Christopher Dorsano
Flim Flam Films, Joe Barlow
Good Bee Films , Roman Polanski
GTV Films, Jason Santo
InsomniacDemoniacs , Michael Lepri
JB, Gerald Baggot
Team Outcast, Shirin Caiola
The Survey Corps, Christopher Dea
Wolfen Films, Joseph Greene
XLV3, Dirk Fletcher
Screening Group B

#FlatlinedFilms, Joseph Miller
A Bright Afternoon, Spiro Siavelis
Insurgent Productions, Andrew Friend
Kick A Rock, Sergio Torres
Maniacal Moving Images, Ben Davies
Monkey Eye Productions, Alexander Rott
R Underground, Bryen Hensley
Racine silent Ninjas, Benjamin Ehnert
SGS Releasing, Patrick O'Sullivan
Team Cinestone, Logan Stone
Team Rad, Jordan Biagomala
Screening Group C

Back 40 Productions, Mitch Apley
Beer cheese soup, Jerry Treml
CDM Productions, Nick Meriage
Focus Pocus, William Harris
Gesso, Nancy Khurana
Goodbye Horses , Burton Bilharz
Hard Times , charlie ensslin
Kickster Productions, Eric Abud
SBME Team (prelim), Sandra Baskin
Suburban Productions, Katlin Mulligan
Team Sexy, Winston Linn
Screening Group D

45 Films, Christopher Antolak
C12, Kevin Longstreth
Chicago Filmmakers In Action, Stephen Patterson
CinemaSolo, Bill Dyszel
Eight-Twelve Productions, Art Medina
Fair Enough Films, Nathan Fisher-Koeln
Figments of Imagination, Michael Palmaira
Golden Smelt Productions, Jeff Harder
MacGuffin Productions, Wayne Hsiao
Nihai Productions , Mihai Cavaliere
Team S'mores, Alex Srednoselac
Visual Disturbance Productions, Michael Liacone
Screening Group E

Caffeine Induced Films, Shawn White
Elegant in the Room, Jason Beaumont
Friends with Films, Charlie Hunt
Hobo Spaceship, Jaclyn Lerash
ICB Lombard, Scott Grenke
Midwest Mad Hat Productions, Thomas Awrey
Pogo Productions, Paul Gall
Saved by the Bell, Joe Carey
Scorpigator Films, Anthony Comito
St.Vitus Film, Tony Papaleo
Team Macroloon, Alex Braun
The Farrow Boys, whatever that means, Kevin Hricik
Whether you're a participant or a passerby, this is an excellent opportunity to watch never-before-seen short films and support the Chicago Filmmaking Community at large!  So spread the good word! 
See you at the movies!
Amanda Shapiro
Chicago Producer
48 Hour Film Project
amanda@whyfour.com
Organizer
Chicago 48 Hour Film Project
Chicago 48HFP - 2014 Screenings