Chicago 48HFP - 2012 Screenings

Daily Event
Event Details
Each year, the 48 Hour Film Project (48HFP), the world's largest timed filmmaking compeititon, visits roughly 125 cities, challenging teams to complete an entire film from writing and casting to filming and editing in 48 hours.  This year's challege took place in Chicago from July 27 - July 29, 2012
At the conclusion of the film weekend, submitted films will be screened for the public at the historic Patio Theater, 6008 W Irving Park Road, on July 31st, 1st and 2nd 2012.  Screening Groups are defined as follows: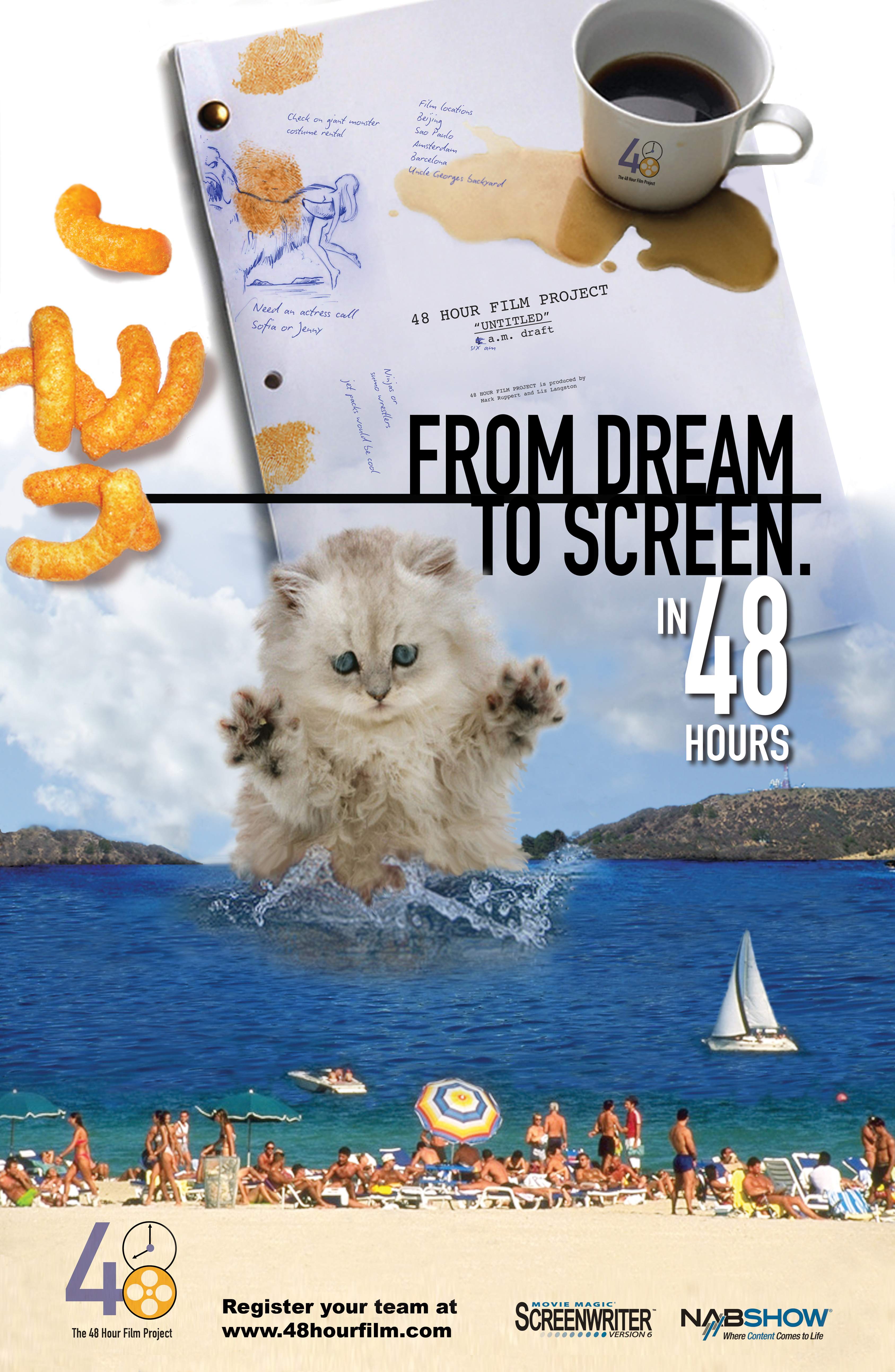 Screening Group A
812 Productions, Michael Cabrera
A.I. Crazy Ranch, Jezse Galan
AlphaBang Collective, Rubin Whitmore
Andrew Ryan Productions, Alex Brown
Another 48 Hours Production, Eugene Cabanban
Back 40 Productions, Mitch Apley
Big-Little Comedy, Andrew Hempfling
Carry-Out Productions, Joshua Carlascio
Catington Station, Dave Harding
Cephaloprod Films, Amanda Holland
Champagne Jelly, Chase Pozan
Daydream Team, Abhishek Pillai
Deaf Pillows, Nick Thompson
DeepEnd Imagery, Asa Davis
Screening Group B

Director's Cut, Dennis Latimer
Dirty Borders, Timothy Weidelman
DISTILLED, william starzyk
Doing It Live, Raneath Sokha
Euro Pony Phony Crew, David Ryzner
Eye Poppy Films, David Hudson
Fair Enough Films, Nathan Fisher-Koeln
Figments of Imagination, Michael Palmaira
Flashlight Pictures, William Ptacek
Flying-J Studios, Edwin Sochacki
Friends with Films, Charlie Hunt
Full Measure Productions, Arin Westerbeck
Garage Pictures, Irwin Dammers
Giant Spider, Brandon Sears
Screening Group C

GiuntaCreative, Dave Giunta
Group Mind Films, Jason Beaumont
H.A.M., Brian Salazar
JMY Productions, Matthew Scott
JP and Peter's Fantastic Team, John O'Rourke
Kick A Rock, Sergio Torres
Kids With No Money, Eric Galicia
Little Cloud Productions, Lauren Frost
Paved Wave Productions , chris jarvis
Lovely Surreal, Renato Velarde
Lowcarbcomedy, Zoran Gvojic
MBC Prod, Robin Berthier
Midnight Hour Entertainment , Kyle Niemer
Visual Disturbance Productions, Michael Liacone
Screening Group D

Lemonade Stand, Samantha Gardner
Nicholas Wagner, Nicholas Wagner
p3 cinema, Jon Phillips
Peace & Fjord Productions, John Duszynski
Rascals & Rogues, Ritch Wedeking
Re-Plant Productions, Jerry Akellian
Revolutionized ARTS, Leo Flores
Rollsaco, Rob Conrad
S'Mores Production, Alex Srednoselac
Safety First!, Yadhira Arroyo
Scout Stories, Steve Douglass
Shot Time Productions Inc., James Boratyn
Situational Irony, Joseph Conway
Solamente Cafe, Juan Castaneda
Screening Group E

Special Moose Effects, Patrick Holland
Tall Tale Productions, Mike Eisenberg
Nevaeh Film Productions, Benjamin Radut
Team Outcast, Shirin Caiola
TeaTime Pictures, Tim Troemner
The crew , Brittany Hubbard
The Red Snack, Michael Gabriele
There Is Cruise Productions, Whitney Price
Tier 5, Winston Linn
Tiny Opus Productions, Tim Paisley
Tortoise de Force, Tim Maxwell
Urban Grind TV, John Daniel
Weekend Warriors, Kalle Jogisoo
wingman, fred uhter
Whether you're a participant or a passerby, this is an excellent opportunity to watch never-before-seen short films and support the Chicago Filmmaking Community at large!  So spread the good word! 
See you at the movies!
Amanda Peters
Chicago Producer
48 Hour Film Project
amanda@whyfour.com

Organizer
Chicago 48 Hour Film Project