Description
Welcome! In coordination with the Chicagoland IIBA, we are very excited to host the second professional development day specifically geared toward business analysts. This will be a fantastic opportunity for you to expand your skills set, learn about the latest industry trends, and network with your colleagues. You will also be eligible to claim up to 6 CDUs and PDUs for attending. We are happy to be able to bring this value-packed event to Chicagoland.
The theme of Chicagoland Business Analysis Development Day (ChiBADD) 2018 is Learning to Fail in Order to Grow, Adapt and Succeed. Two tracks are available over the course of the day: Trends in Business Analysis and Perspectives on the BABOK 3.0. The BA role has become more prominent, and the ever changing requirements and opinions of what a business analyst is has importance in the success of major projects. Enterprises depend on business analysts to propel products and projects while connecting team members. This event focuses on the future of the business analyst role, while giving educational advancement as well.
Our title sponsor, ASPE, has set up a courtesy room block under their name at the Tremont Chicago Hotel at Magnificent Mile. Please contact the property sales and reservations manager, Bev Tautalatasi, at 203-536-0060 to make your reservation today!
Stay tuned as we continue to announce more additions to our program for ChiBADD 2018! Get to know our speakers and check out their biographies by clicking here!
Keynote - Beth Mund: Lessons Learned from NASA; When Failure IS An Option

Beth will provide specific strategies that NASA implemented in order to be prepared for and work through pretty much any anomaly. The best part is that Beth STILL uses these strategies in her personal life and you can, too. From hearing this powerful narrative, audience members will leave not only inspired, but validated to know that even our nation's best (astronauts and the folks who work to support them) are required to constantly learn, be prepared for anything, possibly fail, and adapt to change. As she presents this, NASA will still be, continuously navigating their partnerships with commercial space programs (SpaceX, Blue Origin, Virgin Orbit, etc.) in order to stay successful. We are not alone in this challenge!
Don't Throw Out The SDLC Baby With The Bath Waterfall: Update It and Combine It With The PLC
Gezinus Hidding/Jim McGee/Scott Stribrny

As the world has been moving towards Agile/Scrum, Waterfall is increasingly viewed as the "old" way of doing things and not applicable anymore. But, both Agile/Scrum and Waterfall rely on the same conceptual steps in the Project Life Cycle (PLC) and the System Development Life Cycle (SDLC). Agile/Scrum and Waterfall simply traverse those steps in different sequences and in different combinations. This presentation separates PLC steps from SDLC steps, so you can recognize them for what they are and can recombine them in different combinations, as relevant for your particular project. This presentation also introduces an important new step to the SDLC, namely architecture. When Royce defined the SDLC in 1970, Architecture was not widely recognized. Finally, this presentation covers implications for Business Analysts and their responsibilities.
Work Hard, Play Hard
Nadine Millner - The Business BA
Professional business analysts constantly expand their toolkit and respond to new trends to enhance their ability to work productively and towards better value delivery. Engaging in productive play introduces an array of tools that can help the business analyst produce better outcomes whilst building relationships ad enhancing engagement and collaboration with stakeholders. Benefits of play must be appreciated to create a positive "public relations" argument to its use. Play can be successfully used with low costs but high stakeholder buy-in return. Different types of play are explored, together with examples of application in the business analysis context. Supplies and resources are examined to enable business analysts to take advantage of games for work purposes. Business requires innovation and creativity. As participants in the development of a business, an analyst needs to keep their own levels of creativity and innovation up and act as a thought-leader within the business analysis practice using enhanced, diverse tools and techniques.
Getting Down to the Bone: Techniques to Define Minimum Viable Product
Jen Kalz - Skyline Technologies
The only way to truly understand if a product is providing value is to get a working solution in the hands of the end users, sooner than later. So how do you do this without stakeholders asking for everything in the first pass; especially with the established mentality that there will never be a "Phase 2". How do you help Product Owners decide when there is enough value to release the product for additional feedback. In this presentation we'll work through techniques that will assist you in guiding Product Owners through their decision making of Minimum Viable Product features.
Inexpensive, Easy-to-Use SaaS Tool for the BA
David Heidt - DePaul University
Today's SaaS marketplace is providing a new breed of analysis and modeling tools applications so BAs can be productive in minutes and easily collaborate with colleagues and stakeholders. The SaaS marketplace's pay-as-you-go licensing model and easy export features have dissolved barriers and risks associated with having a company's information locked into a proprietary platform. David will walk attendees through examples of top SaaS tools available on the web that BAs can start using today!
Managing Difficult Business Owners
Gary Rush - MGR Consulting, Inc.
Are your clients always ready and willing to work with you; with each other? Eliciting Requirements from business owners who don't work well together is difficult at best. Projects can be sabotaged by default or by a client who feels left out, ignored, unheard, or disagrees with the direction of the project. Teambuilding may not be defined as part of the role of a Business Analyst, but if you can't develop engaged and collaborative clients to deal with the good, the bad, and the ugly, how successful will you be? To manage conflict and develop cohesive and collaborative clients, you need to turn a gaggle of people into a cohesive team. This session will give you tools to begin turning clients into allies making requirements elicitation effective and engaging.
The Practical Agile BA
Tyna Heath - Heath Consulting
As more and more organizations move towards Agile processes, it is more important than ever to understand how the business analyst streamlines the requirements gathering process to ensure efficient and practical delivery of business solutions. Proper project initiation is the crucial first step. By understanding the business stakeholders core business needs, the financial benefit expected from the completed product can be successfully achieved. Once a product backlog has been defined, day-to-day facilitation of business decisions with the project team and product owners will be critical. To successfully fill the Agile BA role and properly support all Agile processes, a business analyst will need to develop key analytical and facilitation skills.
Beyond the Techniques, Tools to Get Stuff Done
Kurt Wondra - Skyline Technologies
These days, there are many easily accessible and oftentimes cheap (or free) online tools which can help BAs get stuff done. Whether you need to groom a product backlog, manage and share spreadsheets, document process and data flow diagrams, put together How-To documentation / SOP protocols, there's plenty of tools out there to help with just that. In this presentation, we'll briefly touch on a few tools any good BA will want to have in their back pocket for their next project.
Adapting to Transitions
Patricia Coffey - Cedibus, LLC (former CIO of Allstate)

The pace of change continues to accelerate. Not only will individuals today work in multiple jobs, they will likely have multiple careers as well. Knowing how to transition easily and successfully is a key skill for the future. In this roughly 45-minute interactive session, participants will learn about common feelings and behaviors during transitions and strategies to thrive amidst the chaos. Participants will interact with fellow table mates during the session.
Pretty In Pictures - Decisioning Made Visual
Lora McCoy - BIS - Technology for Your Information
Familiar with BPMN? Did it change your process modeling world like it did mine? Yet still, at times, I found my models being too deep or unwieldy. This was fairly typical when decisions were drive by complicated rules, which can be very difficult to represent within BPMN. Documenting the Business Rules to support the decisioning processes has also typically been tedious and presented in a way that rules owners find difficulty focusing on them for validation. Like Mighty Mouse, here DMN comes to save the day. DMN, or Decision Modeling Notation, is a fairly new technique that has just recently received more widespread attention. Join me to learn how your BPMN process models can be simplified and your Business Rules can make it in pictures.
Product Management is the New Business Analysis
Dave Saboe - AIM Speciality Health
Many organizations are calling upon Business Analysts to step into Product Owner and Product Manager roles. Will you be ready for this next step in your career? Come to this interactive session to explore the role of the Product Manager and understand how this can be the next evolution of the Business Analyst. You'll understand the mindset shift needed to be successful as a Product Manager, learn how you'll need to adapt, and get hands-on experience with new tools and techniques.
FULL CONFERENCE SCHEDULE: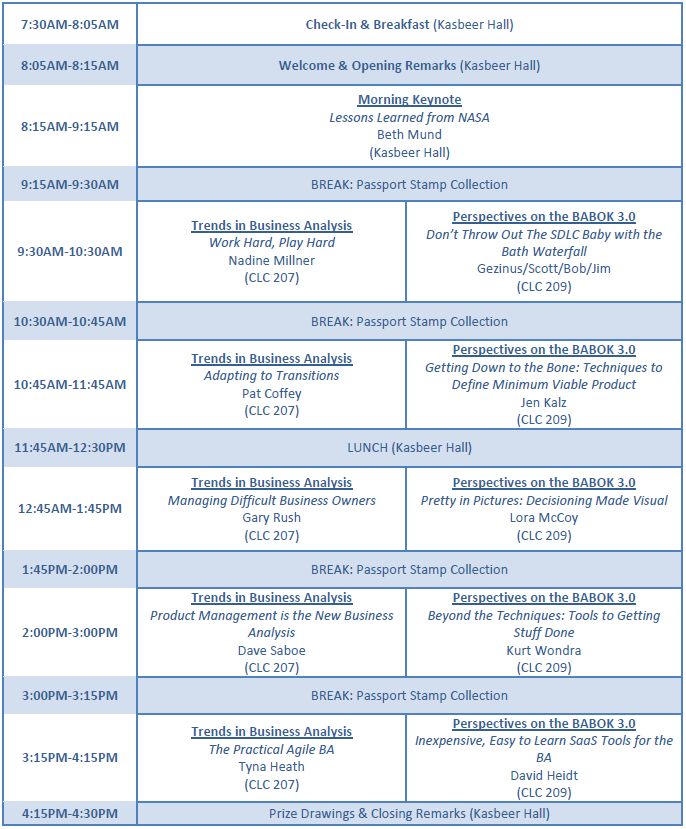 If you are interested in becoming a speaker or sponsor for this conference, or another one of our nationwide BADD conferences, please contact our organizers!
THANK YOU TO OUR 2018 SPONSORS!