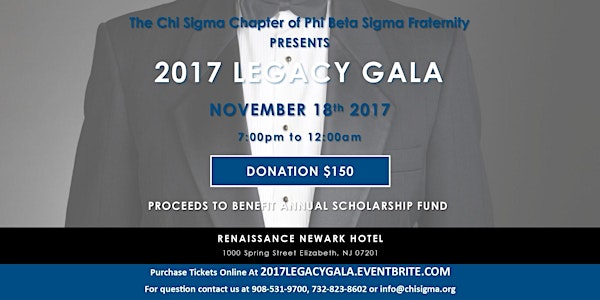 Chi Sigma, Northern NJ Graduate Chapter of Phi Beta Sigma Legacy Gala 2017
When and where
Location
Renaissance Newark Airport Hotel 1000 Spring Street Elizabeth, NJ 07201
Description
Join the Chi Sigma Alumni Chapter of Phi Beta Sigma Fraternity, Inc. and Sigma Community Enrichment Initiative (S.C.E.I.) for the 2017 Legacy Gala. This biennal event serves as a premier fundraising event to help underwrite several community focused activities that both the Chi Sigma Chapter and SCEI are internationally known for today.
---
What began in the early 1980s, the Chi Sigma Alumni Chapter of Phi Beta Sigma Fraternity, Inc., would host the annual "The Chi Sigma Dance" which was later renamed the "John Rice Memorial Scholarship Ball" after our beloved deceased Bro. Rice. In 2015, after several years of dormancy, the event was relaunched and rebranded as "The Legacy Gala" to honor of Sigma brothers who helped reactivate Chi Sigma in 1973. On November 18th, we will once again be honoring those early trail blazers that have shaped the Chi Sigma Chapter to become the premiere alumni chapter that it is today.
This will be the 41st installment of what is now a flagship biennual event in Northern New Jersey. This event permits Chi Sigma and SCEI to continuously produce impactful events, provide dedicated mentoring to youth and young adults and serve as a foundation for youth empowerment in Northern New Jersey and surrounding areas. The brothers of the Chi Sigma Chapter in collaboration with our 501(c)(3) SCEI have successfully raised and dispersed over $200,000 in scholarships to young minority men in the Northern New Jersey communities that we serve. In addition, through our Sigma Beta Clubs, the auxiliary organization of Phi Beta Sigma Fraternity, Inc., we mentor the youth and teach life lessons through weekly meetings, continuous mentoring and leadership retreats. Lastly, our annual Christmas Day Community Service Event has expanded to where we are able to feed over 500 families, donating toys, and clothes in the holiday spirit at two separate locations.
Come enjoy a night of dinner, dancing and festivities all while helping us to continue delivering upon our promise to the community and young men that we support.
---
Your $150 Donation Includes:
Live Entertainment

5 Hour Premium Open Bar

Hot and Cold Cocktail Stations

Plated Dinner (vegetarian option available)

Complimentary Parking

The opportunity to contribute to the local Community and the minority youth males that live there!
We also have a group room rate. When booking your room ask for the Sigma Community Enrichment Initiative S.C.E. I rate.