Event Information
Location
Multicultural Arts Center
41 Second Street
Cambridge, MA 02141
Cambridge Hip Hop x Multicultural Arts Center present Wonderland a Hip Hop film screening and panel conversation on Hip Hip and Placemaking.
About this event
ABOUT THE WONDERLAND FILM:
When people go to their grandmother's house, they take for granted that it's still there. Paul Willis grew up in a neighborhood that is now gentrified. Those childhood memories of people, places, and moments are forever captured in the music. "When folks who didn't grow up here think about us, if they think about us, they are quick to point out the things they think we lack or things they think are challenges. They don't see our homes and neighborhoods through our lens," says Willis. He continues, "due to the pandemic, the importance of home has been magnified as we all spend more time there. We want every child, regardless of neighborhood, to know that their home holds beauty and value."
Every neighborhood is a wonderland through the eyes of a child. Our project buildings are castles, and our sidewalks are yellow brick roads that lead to adventure. We are heroes, villains, sidekicks and love interests. We are fully developed characters with hopes and dreams of our own. We shape our storylines through our resilience and creative brilliance. And despite the constant change and the inevitable end of the chapter, our imagination spills ink on blank pages. This project uses art to create a conversation about home through digital storytelling, music and community engagement.
For more on the music and the film, here's a link to the Wonderland album: https://paulwillisishiphop.bandcamp.com/album/wonderland
Here's a Sacramento Bee article about the project: Art in a pandemic: Sacramento hip hop artist's new album is a personal exploration - https://www.sacbee.com/news/local/sacramento-tipping-point/community-voices/article249605133.html
Panelists: 
1. Savina Martin, Activist and Organizer
2. Amanda Shea, Poet, Educator and Artivist
3. Collin Knight, CEO and Founder, Live Like A Local Tours Boston
4. Paul Willis, Emcee and Educator *moderator
Run of Show:
6:00pm-6:05pm Welcome/Introductions
6:05pm-6:10pm Housekeeping and Overview of Program Schedule
6:10pm-6:45pm Wonderland Film Screening 
6:45pm-7:30pm Hip Hop & Placemaking Panel
7:30pm-8:40pm Community Conversations - an open dialogue with all attendees
8:10pm-8:30pm Closing Remarks and Networking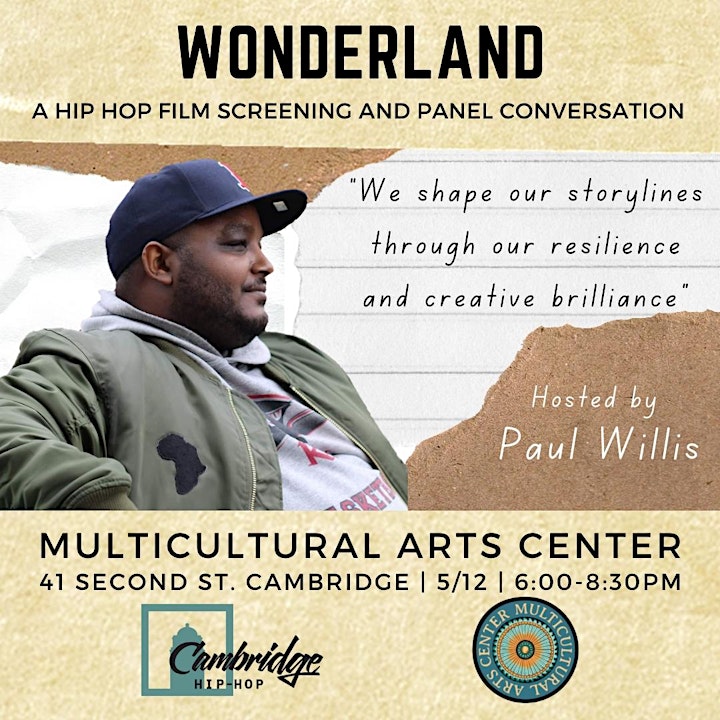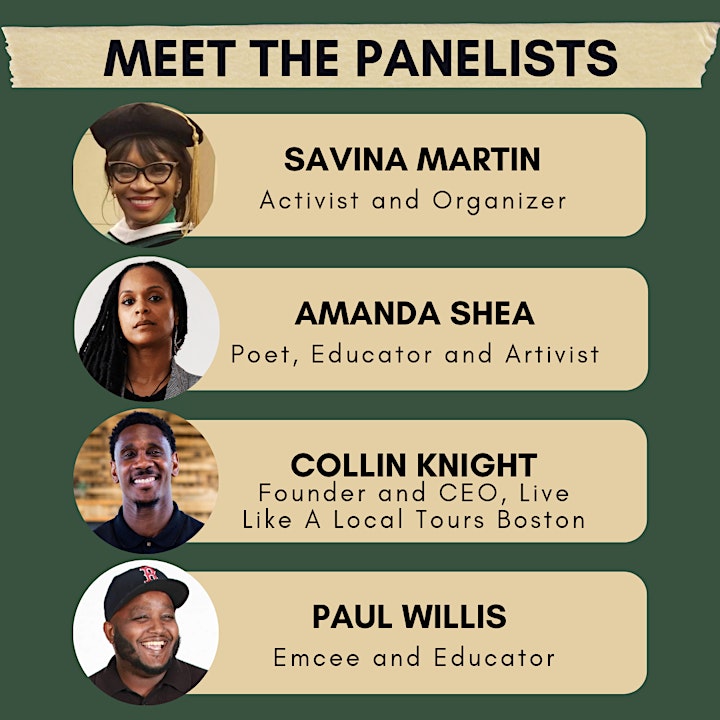 Date and time
Location
Multicultural Arts Center
41 Second Street
Cambridge, MA 02141