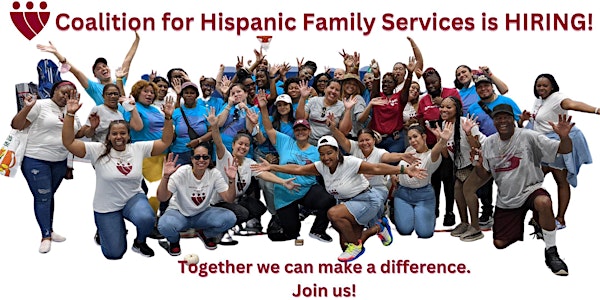 CHFS Child Welfare Job Fair
Are you committed to supporting families in communities of color? Commit 1 hour of your day to attend our Job Fair and learn more .
When and where
Location
Coalition for Hispanic Family Services 315 Wyckoff Avenue 4th Floor Brooklyn, NY 11237
About this event
Coalition for Hispanic Family Services (CHFS) is a community-based, family-focused organization of color providing an array of services to children and families in North Brooklyn and Western Queens. For over 30 years CHFS has worked with vulnerable populations that include children in foster care, seriously emotionally disturbed children, as well as youth and families at risk of abuse and neglect. CHFS supports the strengthening of families in communities of color through the provision of family support, mental health, youth development and school-based services. The provision of accessible, high-quality services to these vulnerable populations is central to our holistic approach of strengthening families in a culturally competent manner.
We are currently hiring child welfare professionals interested in foster care, family support, family treatment and rehabilitation and Fair Futures youth development work, as posted on our website under the Career Opportunities page.
Current available positions include:
FAIR FUTURES/LOS CAMINOS
Fair Futures Coach
Fair Futures Supervisor
Middle School Education Specialist
Elementary Education Specialist
Employment/Housing/Career and College Specialists
FOSTER CARE AND ADOPTION
Parent Advocate
Case Planners
Family Team Conference Facilitator
Foster Care Supervisor
Assistant Director of Home Finding
Home Finder
Trainer of Trainers KEEP & PTC
Case Aide
Behavior Specialists
PREVENTIVE SERVICES
 Family Support (FS) and/or Family Treatment and Rehabilitation (FTR)
Solution Based Casework Coordinator
FTC Facilitator
CASAC Case Worker
FTR Case Planner
FS Case Planner
Case Aide
FTR Supervisor
Candidates of all diverse backgrounds with the drive to serve children and families in underserved communities are encouraged to apply. Experienced child welfare professionals seeking leadership opportunities are also encouraged to apply. We seek candidates who support our values of diversity and multicultural inclusivity as well as family-centered practice.
The schedule for the Child Welfare Job Fair on October 27th, 2022, will be as follows:
Every hour on the hour, at 3:00, 4:00, 5:00, and 6:00 PM, we will host an introductory session where you will learn more about CHFS, it's history and vision. You will meet and dialogue with CHFS leadership, hear from middle managers and direct service staff and learn more about the CHFS work experience. All interested candidates will meet in the fourth-floor conference room. The introductory session will be inclusive of a light meal and soft beverages. After attending orientation, every candidate will have the opportunity to follow-up with their identified programs/positions of interest in separate rooms located throughout Coalition's offices. We ask that candidates come with curious minds, a willingness to ask questions, and an open-mindedness to consider what your path could be if child welfare is the next step on your professional journey. We invite you to share resumes, cover letters, and business cards. You must register on Eventbrite to attend this event.