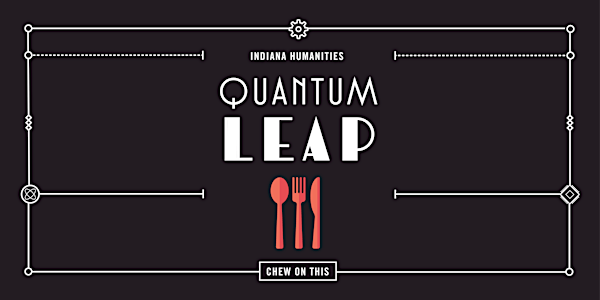 Chew on This: Are You Sure?
When and where
Location
Various Locations (Indianapolis)
Refund Policy
Contact the organizer to request a refund.
Description
ABOUT THE EVENT:
Stephen Colbert coined the term "truthiness"—the idea that something may seem or feel true, even if it's not—in 2006. It's an idea that seems to be at the heart of our culture in 2017. We're now living in a post-"truthiness" era, where fake news circulates easily (and "real" news can be dismissed if we don't like what it tells us). Urgent debates—is climate change real? are GMOs dangerous? should I vaccinate my child?—are all, when it comes down to it, about the nature of evidence and the ways we decide if it is reliable and valid.
How do we know if something is true? What counts as evidence? How we answer these questions as individuals and as a society affects the choices we make—everything from how we read the news and vote, to how we choose the foods we eat and make healthcare decisions, to how our leaders set policy for the economy, the environment and more.
Join Indiana Humanities on Tuesday, May 9 as we ask the question "Are You Sure?" during a special Quantum Leap-themed Chew on This. Sign up for one of a dozen sites around the state, where you'll share a meal and a fun yet in-depth conversation with other curious Hoosiers. Each table will be led by an expert facilitator, someone who grapples with questions about evidence, truth and validity every day. Your ticket price includes your meal and an unforgettably rich experience. Facilitators include:
Andy Cullison, Prindle Institute for Ethics at DePauw University
(CANCELLED)

Jane Ellery, Wellness Management, Ball State University
(Vera Mae's Bistro | Muncie)

Jonathan Elmer, English, and William Hetrick, Neuroscience, Indiana University
(CANCELLED)

Mel Fox, Indiana State Museum and Central Indiana Science Outreach
(Rooster's Kitchen | Indianapolis)

David Hoppe, Writer and Editor
(Dish Restaurant | Valparaiso)

Alan Johnson, Vincennes University--Jasper
(CANCELLED)


Jason Kelly, IUPUI Arts & Humanities Institute
(Ambrosia | Indianapolis)

Stephen J. Ruberg, Advanced Analytics & Global Statistical Sciences, Eli Lilly and Company
(Repeal Resturant | Indianapolis)

Winni Sullivan, Religious Studies, and Elaine Monaghan, Media Studies, Indiana University
(Feast | Bloomington)

Susanne Wasson, Dow AgroSciences
(CANCELLED)

Deanna Wooley, IPFW Department of History
(JK O'Donnell's | Fort Wayne)
Indiana Humanities is proud to partner with Yelp on this statewide event.
TICKET INFORMATION:
Conversations will take place at different locations around Indiana. When selecting your ticket, please pay careful attention to the restaurant cuisine, your dietary preferences/restrictions (vegetarian, vegan, etc.), as well as your preferred facilitator. Your ticket will serve as your entrance to the restaurant. Your ticket price includes a meal, non-alcoholic drink, and tax and tip at one of the locations.
About Quantum Leap
Quantum Leap explores and celebrates the spirit of possibility and problem-solving that occurs when we bridge the humanities with science, technology, engineering, math and medicine. www.IndianaHumanities.org/QuantumLeap
About Indiana Humanities
Indiana Humanities connects people, opens minds and enriches lives by creating and facilitating programs that encourage Hoosiers to think, read and talk. www.IndianaHumanities.org