Description

What do we want to achieve?
We want...
people in later life to be actively engaged in making positive change happen.

local people to be informing local and national campaigns, consultations and decisions.

to facilitate people being involved in activism and co-production of services that impact on later life experiences.

to support a programme of local activism, building on the strength, knowledge, skills, and influence of individuals and groups.
What is a 'Later Life Assembly'?
We want to provide the opportunity for people to meet, share some food together and learn about how they can make a positive change for themselves and other people in later life.
We will to use the gatherings to inform individuals about the campaigns that national Age UK is running and help people to get involved.
We will also support local activities on local issues. This could be as simple as signing a petition, sharing a social media post or writing a letter, right up to meeting with decision-makers to try and encourage them to consider older people more carefully.
Ultimately, providing we can find funding and/or sponsorship to support them, we have an ambition to set up a 'Later Life Assembly' in…
Chester
Northwich & Winsford
Rural
Ellesmere Port & Neston
Frodsham.
When will each 'Later Life Assembly' first meet?
We are holding the first, pilot, 'Later Life Assembly' on 29th May, 2019, in Chester.
If this is successful, we will then seek funding and or sposnorship to set-up a Later Life Assembly in the other areas.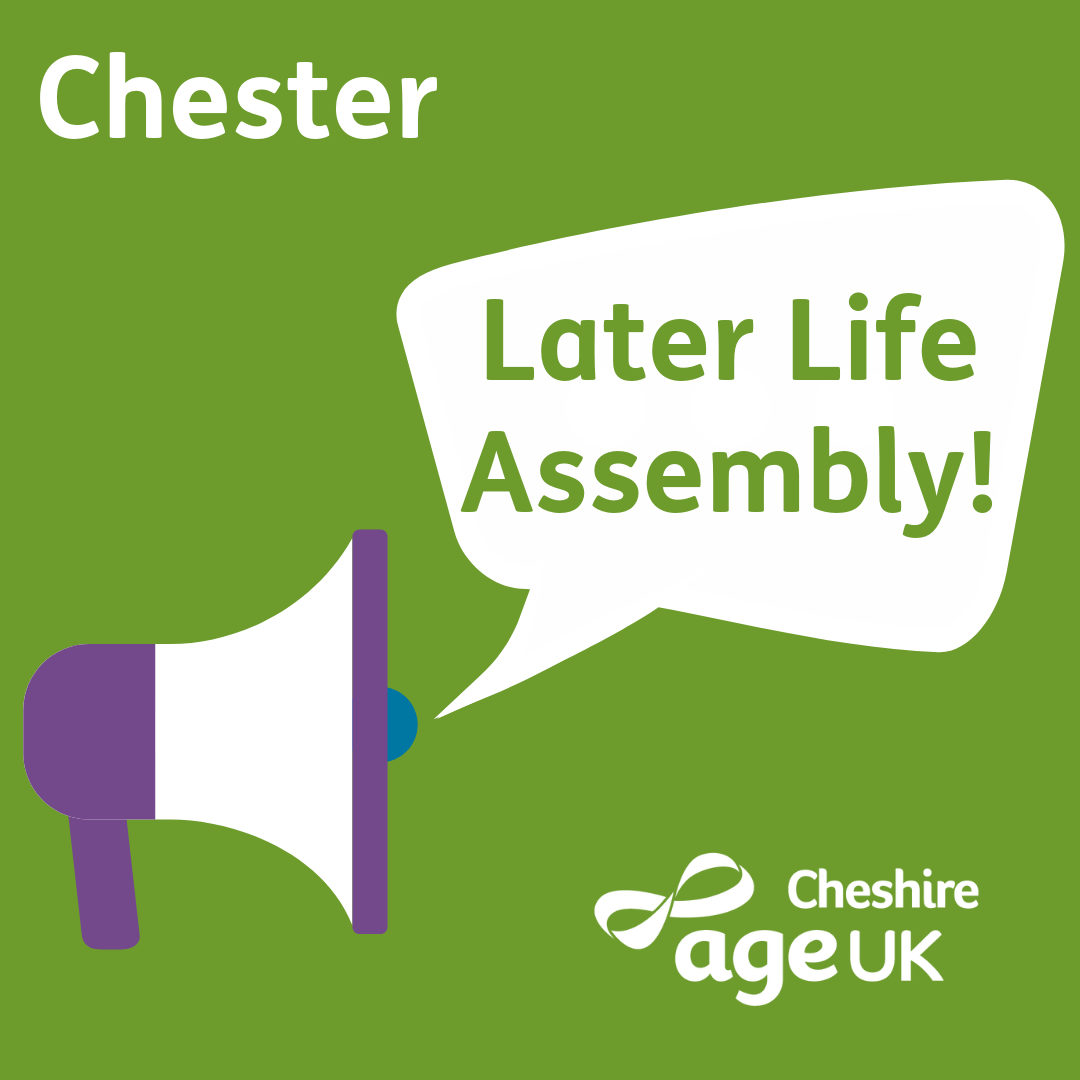 What will happen at the Chester Later Life Assembly?
Each Assembly will begin with a speaker, we'll then have some food together before discussing what we want to influence and how we might go about doing that. Then we will make plans for how we are going to make change happen.
This 'Chester Later Life Assembly' event will begin at 11:30am and will finish at 2:30pm - a light lunch will be provided.
At the event, Debra Alcock Tyler has agreed to be our speaker. Debra has been the CEO of the Directory of Social Change since 2001.
DSC believes that charities are one of the best vehicles for people to come together to make the world a better place and therefore DSC tries to help charities to do that. DSC is the largest provider of information and services about anything at all to do with leading or running a charity – there is almost nothing they don't know about how to help the sector – campaign, raise funds, govern ourselves.
DSC also campaigns on issues they think are important to the charitable sector. Debra is the author of Tough at the Top – a guide for CEOs in the third sector; the Pleasure and the Pain – how to work with people in our sector; Murder in Management – how to manage people in our sector. She is currently working on the next in the series: It's a Battle with the Board'. Debra does not does not earn any money from these books – all the proceeds go to the charity.
We hope that this is a really exciting programme, that will result in us working together to make positive change happen.
What are you waiting for? Get involved and book your place at the first Chester Later Life Assembly!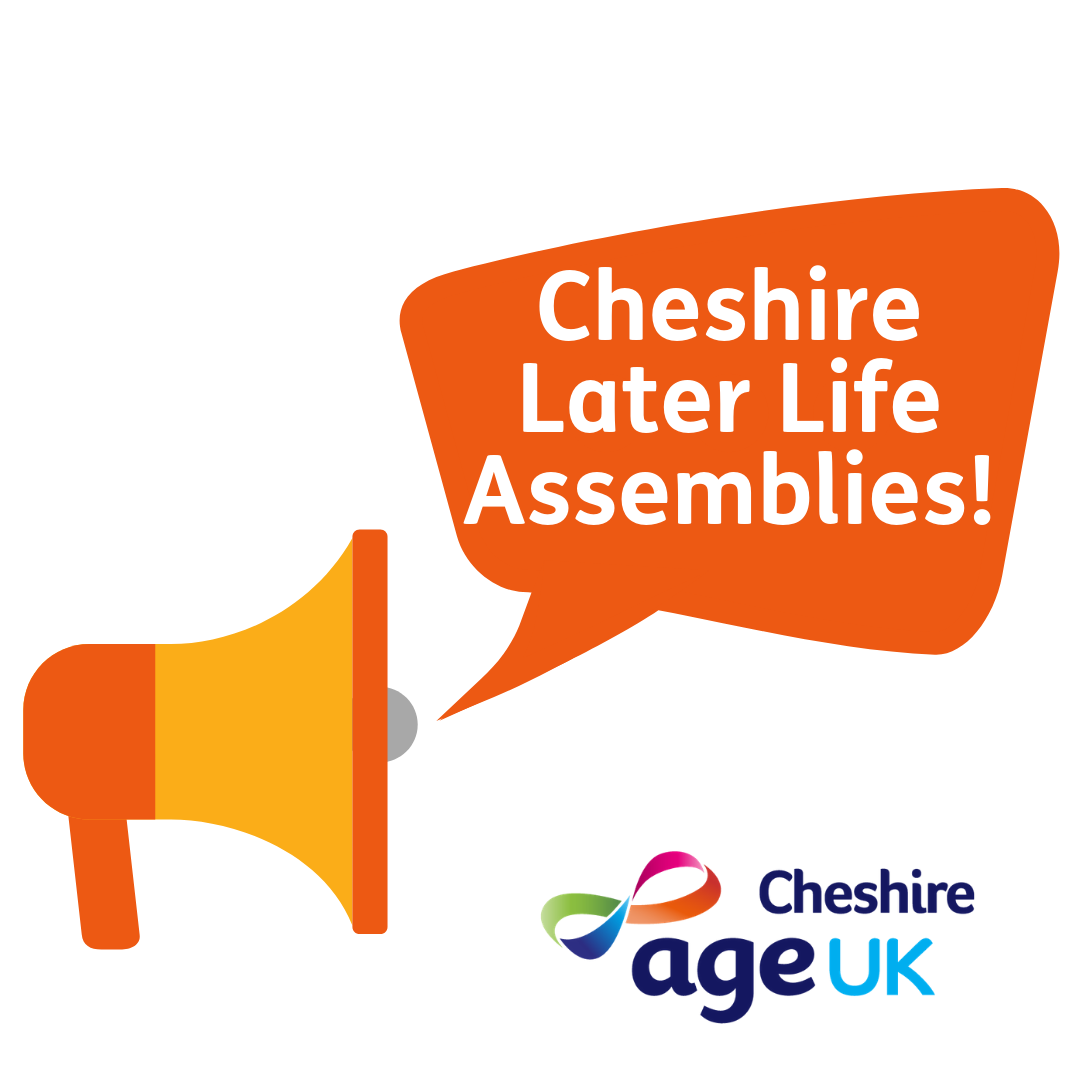 FAQs
How can I contact the organizer with any questions?
You can e-mail ChesterLaterLifeAssembly@ageukcheshire.org.uk or call 01606 305030.
Do I have to bring my printed ticket to the event?
No, but please do make sure that you do book a ticket so that we can arrange the appropriate catering.
Where is the nearest car park to the event?
Little Roodee, Chester, CH1 1SL
Opening hours: 24 hours
Tariff (arrivals before 6pm): £5 - upto 12 hours and £8 - over 12 hours
Total spaces: 452
Disabled spaces: 4
If you require a more accessible parking space closer to the venue, please email ChesterLaterLifeAssembly@ageukcheshire.org.uk or call 01606 881660.
What if I have specific dietary requirements?
Please email ChesterLaterLifeAssembly@ageukcheshire.org.uk or call 01606 881660.