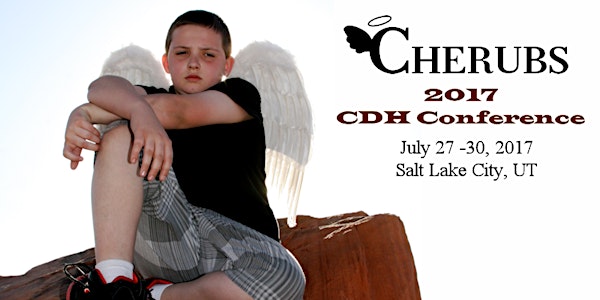 CHERUBS 2017 International CDH Conference
Sales Have Ended
Ticket sales have ended
Please contact us to register. josh.hensley@cherubs.org
Event Information
Location
University Guest House & Conference Center
110 Fort Douglas Boulevard
Salt Lake City, UT 84113
Sales Have Ended
Ticket sales have ended
Please contact us to register. josh.hensley@cherubs.org
Description
Join us for the annual CHERUBS Family Conference in beautiful Salt Lake City, Utah! The conference will begin the eveing of Thursday July 27, 2017 with a pizza party. The following days of the conference will include speakers in the medical and research fields as well as round tables for families to discuss caring for survivors and also the grieving process. Each conference day will end about 1 pm to allow families to sight see and vacation.
Guest Speakers:
Gabrielle Kardon, University of Utah CDH Lab

David Kays, MD - John Hopkins All Childrens

Julia Wynn, MS - DHREAMS

Here is a link to a city pass for Salt Lake City: http://www.visitsaltlake.com/things-to-do/connect-pass/

Most atttractions can be reached by this sight seeing bus: http://usbusutah.com/

Public transit information can be found here: http://rideuta.com/

Depending on what attractions you are interested in seeing, you may want to rent a car. Some of the more popular things to do that may require a car: Antelope Island, Lagoon Amusement Park, Living Planet Aquarium, Park City, Mt. Timpanogos. If you want to visit any of Utah's five National Parks or seven National Monuments you will need a vehicle to travel.

*************************HOTEL INFORMATION****************************
To book your hotel room for the conference you can either go to https://res.universityguesthouse.com/V1WebControls/GroupLogin.aspx. The group ID is 10838 and the password is 37000948. Or contact the University Guest House reservation team directly at 888-416-4075, be sure to tell them you are part of the CHERUBS Conference. The room rate is $109/night for a double occupancy. If you need a different room type or any extended dates, you MUST call the reservation line and speak with them directly. Breakfast, parking, and wifi are included in the room rate.

Please note these event rules:
This conference is free to attend (travel expenses not included).
All members of CHERUBS in good standard are allowed to participate.
CDH Research will take place there and you will learn.
Everything said at the conference stays at the conference. Families are free to talk in a safe, confidential environment.
This is a CHERUBS and CDHi sponsored event. Only ACDHO charities are allowed a presence. We ONLY allow those organizations to be mentioned, have logos, have items, be promoted, acknowledged, recruit, ask for donations, advertise, etc. There are no exceptions. No professional charity would crash another charity's event so this shouldn't be an issue.
You are not permitted to wear charity attire, awareness bracelets, hats, etc of non-ACDHO charities. You will be asked to change or leave.

Children are welcome to attend.
This is a positive, encouraging, educational conference. There is no drama allowed.
We do not bend these rules.


**For confidentiality reasons you must be a member of CHERUBS to attend the conference**
If you have any questions, please reach out to Josh Hensley at josh.hensley@cherubs.org
Date and time
Location
University Guest House & Conference Center
110 Fort Douglas Boulevard
Salt Lake City, UT 84113