Description
Join Slow Food Seattle, Cherry Valley Dairy and The Grange at the table and on the farm Saturday, April 27th from 12-4pm in the Snoqualmie Valley, located 25 miles east of Seattle. Celebrate a small-scale artisan producer and environmental steward, and enjoy the pleasure of taste in Duvall, Washington!
We will begin this
eco-gastronomic extravaganza
at The Grange with a family-style brunch from 12-1:45pm showcasing Cherry Valley Dairy's products. Brunch will feature:
Sno-valley mushroom and herb fritatta with Cherry Valley Formage Blanc
Leafy green salad with Cherry Valley Yogurt dressing
Biscuits with Cherry Valley Butter and housemade plum jam
Sides of potatoes
Sides of bacon/sausage
Fidalgo Bay Coffee

(Additional beverages are available for purchase but not included in ticket cost)
As we eat, we'll learn about the tradition of raw milk cheese production in Washington, as well as the opportunities and challenges for small, sustainable creamery operations today.
Brunch will be followed by a Farm Tour and Cheese Tasting at Cherry Valley Dairy from 2-4pm. The farmers will show us around their small farm and creamery, introduce us to their herd of Jersey cows, and end with a tasting of what they make on site. The tasting may include their Salted and Unsalted Cultured Butters, Fromage Blanc, Meadow Bloom, and their newest cheese Coho, named after the salmon that returned to their creek after their efforts to restore the creek bed (items in tasting subject to change due to seasonality). Creamery products will be available for purchase at the end of the tour.
A big, big thank you in advance to the farmers for making time to host us!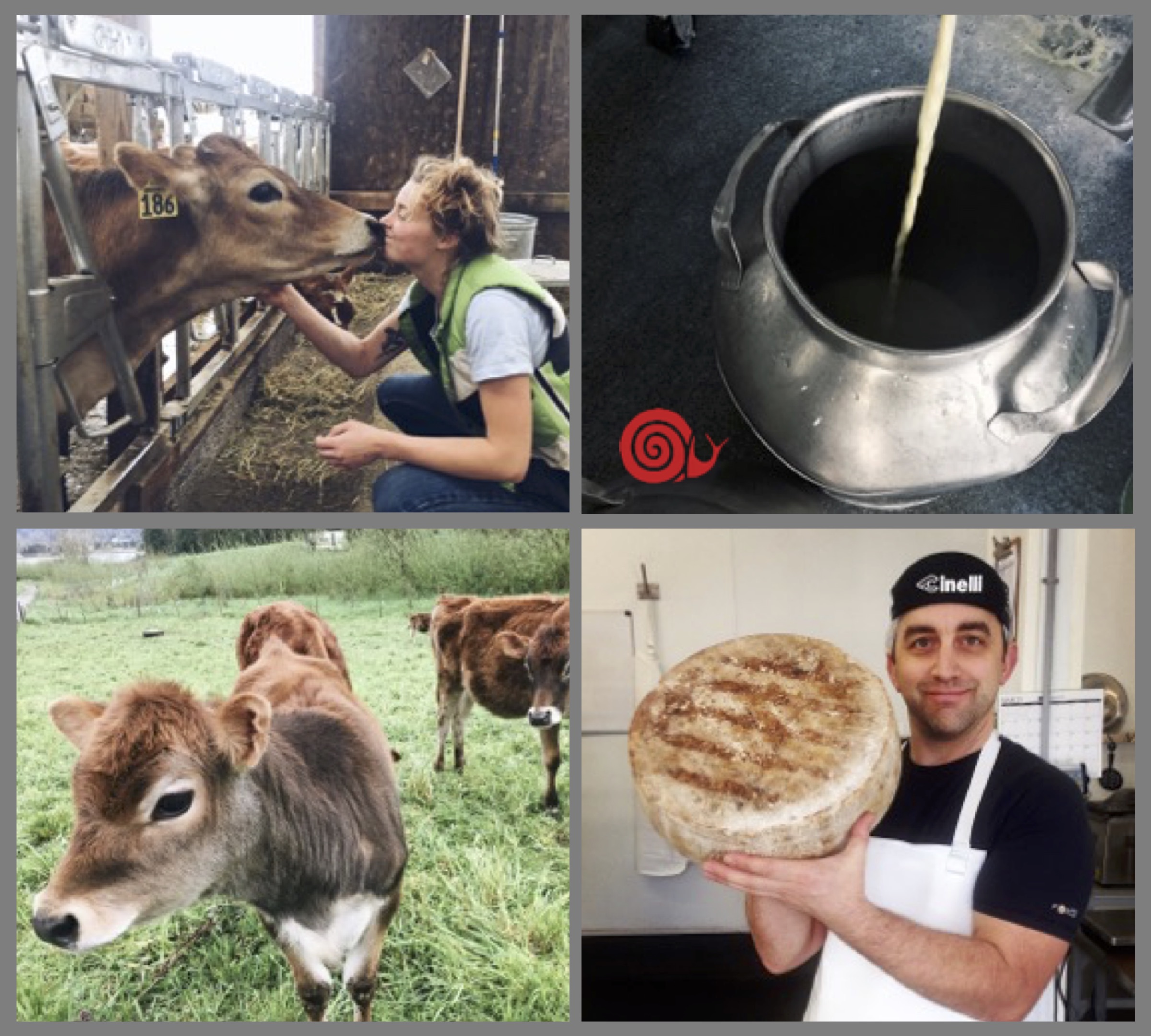 About Cherry Valley Dairy
Nestled in the vibrant Snoqualmie Valley, Cherry Valley Dairy is an artisanal dairy and creamery with fewer than 50 grass-fed Jersey cows run by five dedicated farmers. They pride themselves in keeping a healthy, meadow-grazing herd, crafting traditional, natural dairy products, and employing innovative, environmentally-friendly principles to manage the 80-year-old historic farmstead. They also produce raw milk cheeses.
The 122-acre farm exemplifies how artisanal practices and environmental stewardship can come together to nourish the community and respect the land. Cherry Valley Dairy has implemented Creek Bed Restoration since 2012, became a designated Salmon-Safe farm in December 2013, and works toward sustainability in all aspects of their dairy and creamery operations. The herd is fed natural food free of additives and chemicals and without the use of bovine growth hormones. Learn more about their farm here:
https://cherryvalleydairy.com/
About The Grange
Sarah Cassidy and her husband Luke Woodward are passionate about farming, food, and the beautiful Snoqualmie Valley. This past year, they reopened Duvall's historic Grange Cafe with a farm to table focus. The Grange features a local, seasonal, and sustainable menu that highlights the bounty of the Snoqualmie Valley, Washington State, and the Pacific Northwest. The couple also founded, farmed, and taught at Oxbow Farm from 1999-2015 and now run Hearth Farm in Carnation, WA in addition to owning The Grange. Learn more about The Grange here:
https://www.thegrangeduvall.com/
Itinerary
12:00pm
meet at
The Grange
15611 Main St NE
Duvall, Washington 98019
2:00pm
meet at
Cherry Valley Dairy
26900 NE Cherry Valley Rd
Duvall, Washington 98019
Please carpool if possible as parking in Downtown Duvall and at the Dairy is limited. We will be seated at 12:00pm at The Grange for our meal, please be prompt and arrive 5-10 minutes early. After lunch, we will reconvene at Cherry Valley Dairy, located 5 minutes (driving time) down the road from the restaurant.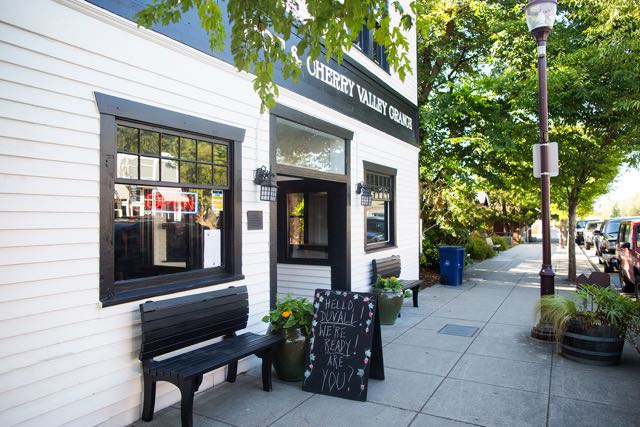 Photos courtesy of Cherry Valley Dairy and The Grange.