Cherry Noir - 2-Night event - Extreme BDSM on Thurs, Kinky-Sexy on Friday -...
Description
Mistress Zeneca Presents:
Cherry Noir, a sex-positive BDSM Club and Swingers Play Party
WOW - NOW A TWO-NIGHT EVENT!
Thursday, November 16th, 2017 - 8pm-1am (Pure BDSM focus, non-gendered pricing)
Friday, November 17th, 2017 - 9pm-3am (Kinky-Sexy Cherry Noir you know and love)
Starting in November 2017, Cherry Noir will open the 'Saints and Sinners Swingers Club' and CHANGE ALL THE RULES! Cherry Noir has been building to this point. The Swingers and BDSM community have been enjoying Cherry Noir events and they have grown to the point where BDSM play is getting difficult with the crowds. Too many people make it difficult to swing a flogger safely. We've just outgrown the 6,000 sq. feet play space. So, instead of finding a bigger place (because the Saints and Sinners location is just way too cool to ever leave) we're expanding it to a 2-night event. The guests interested in using the high-quality dungeon furniture for BDSM play can have the space they need with an extreme sense of inclusiveness towards everyone and everything you're into, and the guests interested in a more sexually charged experience can still come to dance and get their kink on without spoiling the things about Cherry Noir that they love.
Thursdays will be for the BDSM Community to really cut loose with all the things that they enjoy: Non-gendered pricing, BDSM Dungeon furniture on the dance floors, Dark-electronica and industrial music all night, warm welcomes to the LGBTQ community, lowered music volume from the typical nightclub decibel level, and enough free roaming space to spread out as much as needed.
NEW PRICING STRUCTURE FOR THURSDAYS (Day one of two):
Non-Gendered pricing - $20 per person. No memberships or fees. Just $20.
Fridays are the classic Cherry Noir that you know and love: Open area dance floor, Dinner served, Eclectic mix of music with some dark industrial selections mixed with dance beats of Hip-Hop, Rock, and Pop hits, Nightclub vibe that's loud and bumping, and enough kinky swinger action to make even the dullest Cherry Noir night seem like the most exciting nightclub experience you've ever had.
Pricing Structure for Fridays (Day two of two):
Couples - $40, Triads - $60, Single Females - $15, Single Males - $40
Come on out to the Saints & Sinners Swingers Club and enjoy a 6,000 sq. foot playspace with public and private rooms, perfect to get it on or take it off. Bring your toy bag and prepare to play. Mark your calendars for Thursday & Friday (Nov. 16th & 17th) for our very first 2-night event.
COME TO THURSDAY AND GET $5 OFF ON FRIDAY'S ADMISSION




(M

UST RSVP TO GET DISCOUNTS AND TO GET IN WITHOUT A MEMBERSHIP)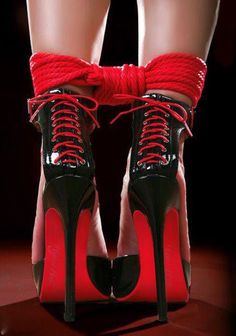 Must be 21 or over, BYOB, 6,000 sq. ft play space, Private rooms, Secured Parking Lot, Dinner served

2533 Emery Street Philadelphia, PA 19125
---
---
Check out the Cherry Noir FAQ for answers to many common questions.
---

General Event Description of Cherry Noir BDSM Parties:
Cherry Noir is a BDSM & Swingers play party held on select Thursday/Fridays (2-night events) and Saturday nights (1-night events) at the Saints and Sinners Swingers Club. Truly an upscale and hip lounge environment, with an intimate vibe that encourages new experiences and meeting new people. Play publicly or in private. Party in a 6,000 sq. foot playspace. Cherry Noir is proof that Kinksters and Swingers can come together in harmony for one heck of a good party!
Appropriate for newbies and experienced players age 21 and up. Cherry Noir events cater to couples, triads, and poly groups on Fridays, and open to all kinksters on Thursdays. Prices vary depending on the night, but range from $20/person non-gendered pricing on Thursdays, to $40-60 per couple for Fridays or Saturdays. Single folks have a different pricing structure on Fridays and Saturdays so singles are encouraged to bring a friend, a lover, a date, a wingman, a companion, a bro, a compadre, an associate, a human-pet, a dominant, a submissive, a bff, a bosom buddy, a comrade, a confidante, a friend with benefits, a pal, a fet friend, etc. to come to the event with. Check the particular event you're interested in attending for the correct pricing structure.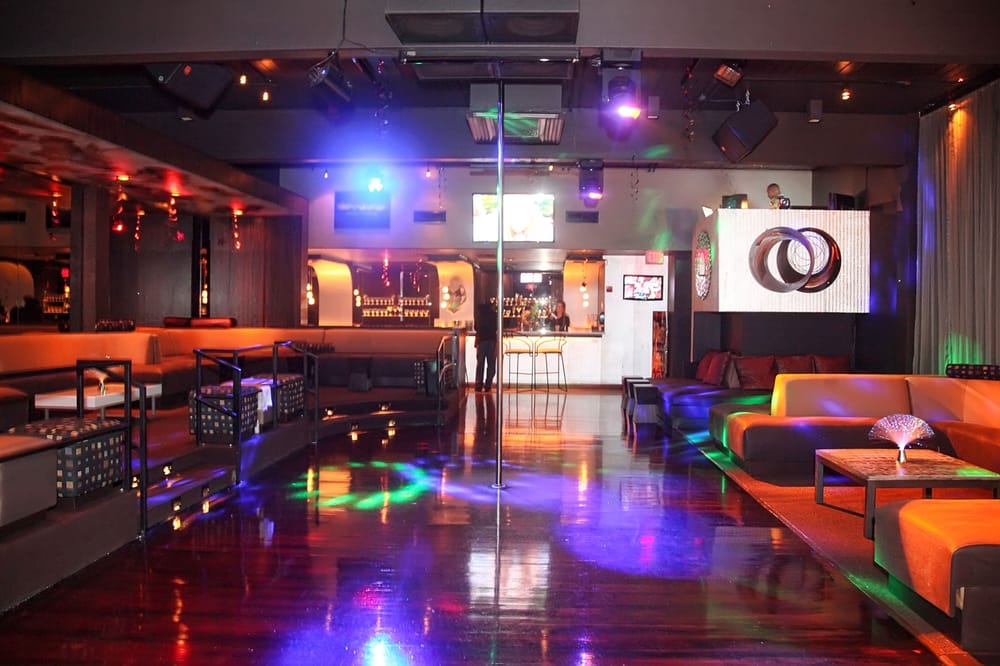 When you enter Cherry Noir for the first time, you might not notice the gorgeous cherry wood flooring or the murals of semi-nude beauties adorning the ceiling above the elevated seating area. But, you will notice the well crafted dungeon furniture, the clean and stylish couches, and the dance floor containing a stripper pole that will definitely get some action throughout the night. Directly to your right is the buffet and safety equipment tables. Cherry Noir opens at 8pm on Thursday events, and 9pm on Friday or Sat events and dinner is already ready for you when you walk in. The safety supplies include paper towels, bottled waters, Clorox wipes, band-aids, condoms, lubes, dental dams, nitrile gloves, a blanket, and a slew of other stuff nearby should you need anything. The entire nightclub feels posh and sleek with the main bar area adorned in a mood lighting that feels warm.
Mistress Zeneca has a host of people known as the 'Ambassadors of Love' identifiable by the large red heart badges they wear. These are the people who you can feel free to ask questions about the club, about the lifestyle, about skills, talents, etc. They secure scenes from intrusion and mingle around to make sure that everyone is having a good time. Ambassadors of Love can even make introductions or give you a person to hang with if you're on the shy side. Their job is to make everyone feel comfortable and to make sure that everyone's safety and security are managed. The Ambassadors of Love are an extension of Mistress Zeneca's hosting and each one displays the type of hospitality and warmth that she would like to extend personally to you. If you have any issues, problems, or concerns, grab an Ambassador and the issue will be addressed. The club staff is also top notch and will handle anyone that steps out of line.
The music is loud and bumping, featuring a combination of dark electronica, electroclash, pop songs that are more on the sensually erotic side, DJ created mash-ups of rock songs, and danceable industrial songs. It's a good mix for dancing or for beating someone to. The DJ takes requests as well, so you can feel free to add your own flavor to the night.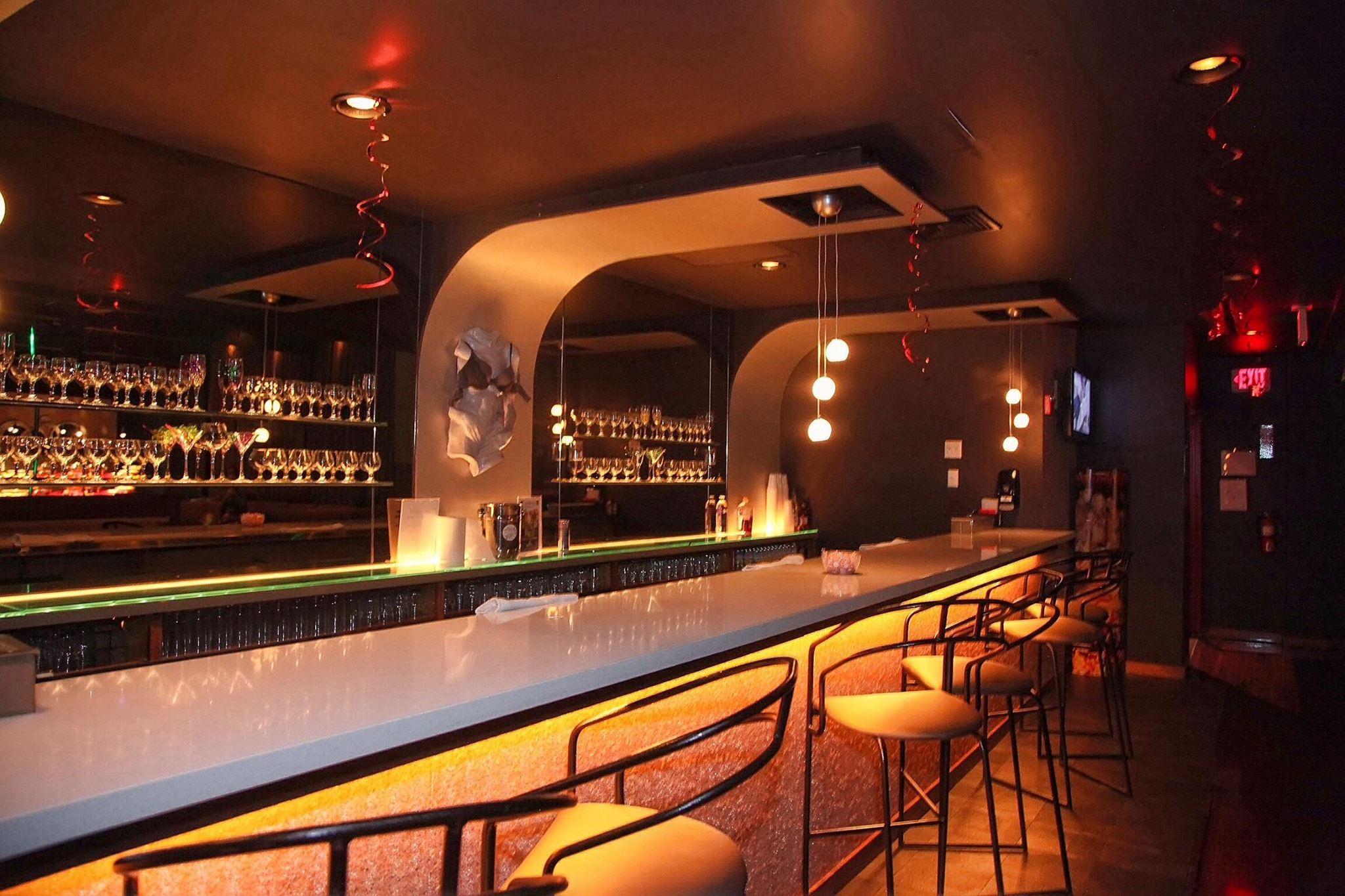 Around 10:30pm or so, a class will open up on the quieter Mezzanine level most nights. The teacher will teach some pre-arranged topic or have a discussion about what everyone would like to learn. It's always standing room only and very informative.
Usually by midnight, all around you are scenes of all sorts. People being sexually intimate with their partner(s), people in exquisite agony and ecstasy, and people trying out something new. Exhibitionists and voyeurs getting just what they came there for. Whatever you thought your night could be, it can be even better. The open minded vibe of the entire place just fosters that type of energy. The club stands by a NO means NO rule. So nothing is expected and you can feel free to do nothing or everything, with your partner(s) or with someone new. There is no pressure to ever engage with someone outside your relationship(s). Use the energy of the place to inspire you. The party ends at 1am on Thursdays and 3am on Fridays or Saturdays. Plenty of time to do whatever your heart desires.
Since Cherry Noir takes place at the Saints and Sinners nightclub, a BYOB establishment, you can bring whatever alcoholic beverage you'd like to drink for the night. Mixers, sodas, etc. are provided for free. Be sure to tip the bartenders. If you're drinking, we encourage you to partake lightly. The bartenders will stop serving someone that appears intoxicated.
There are 4 levels to the club: Locker room level with open shower area, Bedroom level with public and private bedrooms, Mezzanine level a quieter seating/play area with the second stripper pole, and the Main dance floor level. The levels are connected by staircases. The club provides towel service and coat check.
Tips: Bring a lock for the locker room. Dress to impress or Dress to undress - Dress up to go out. No fire, scat, or guns. All messy play keep to the shower area and clean up after yourself. Keep your scenes clean and safe. Mind your sharps and dispose of anything with bodily fluids/blood appropriately.
~~~~~~~~~~~~~~~~~~~~~~~~~~~~~~~~~~~~~~~~~~~~~~~~~~~~~~~~~~~~~~~~~~~~~
Another awesome event from http://www.ElegantlyKinky.com
Contact Mistress Zeneca with any questions - Fetlife.com username: ElegantlyKinky