About this Event
DOORS: 8:00 PM, SHOW: 9:00 PM
AGE RESTRICTIONS: 21+
GENERAL ADMISSION, LIMITED SEATING
Important Notice: All tickets are nonrefundable and nontransferable with the exception of event cancellation. Support acts are subject to change
----------------------------
About Cherry Glazerr:
One might think the 2 intense years since Cherry Glazerr released 2017's Apocalipstick would have driven the band toward even more topical commentary. But as Clementine Creevy began writing the first songs that would make up Stuffed & Ready, she found inspiration by turning inward.
Stuffed & Ready announces Creevy as a songwriter newly strengthened by coming to terms with her own uncertainty, confusion, and anger. "I am telling my story of how I feel and where I am in life," she says. "I'm exploring my own self-doubt. With Apocalipstick, I was an over-confident teenager trying to solve the world's problems. With Stuffed & Ready, I'm a much more weary and perhaps cynical woman who believes you need to figure your own self out first."
Each song had to speak for itself, and if it didn't, they'd scrap it. She made the album by eliminating anything that couldn't answer a single question: is this really me? The result is their most daring and intimate music yet.
"It felt like I was being more vulnerable than I wanted to be," she says. "I've been feeling the need to explain my feelings, not just state them, but search for why I feel the way I do. This is what separates this from Apocalipstick. I'm trying to stop myself from obfuscation. I'm writing with intent."
Clementine has always wanted to make music that connects with people, she says. On Apocalipstick, she did that by telling them her thoughts. On Stuffed & Ready, she's showing them who she is.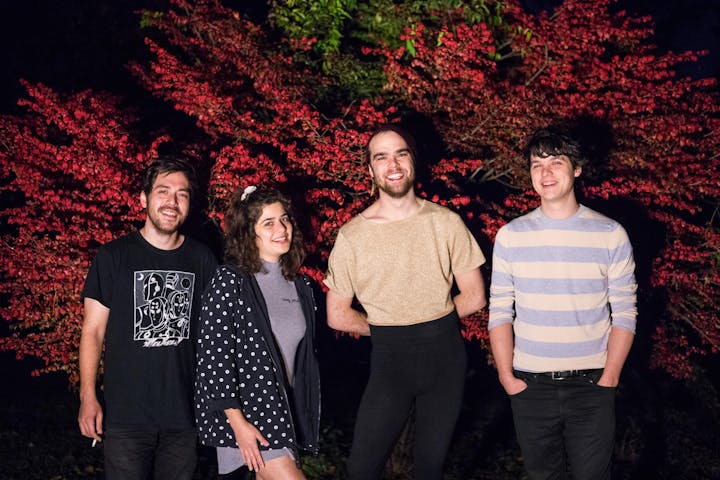 About Shady Bug:
Shady Bug don't just utilize contrast, they revel in it. Lemon Lime, the St. Louis four-piece's appropriately titled sophomore full-length, is a sweet and sharp sonic confection, each song a push and pull of jagged distortion and rich melodies. The album finds Shady Bug--comprised of guitarist/vocalist Hannah Rainey, guitarist Tom Krenning, drummer Aaron O'Neill, and bassist Chris Chartrand (Todd Anderson plays bass the on this recording)--twisting their brand of noisy, dynamic guitar pop into new directions.
Building on the promise of their 2017 debut, tbh idk, Lemon Lime further sharpens Shady Bug's sound. "Make It Up" opens the album with a wall of explosive fuzz that barely gives the listener time to acclimate before shifting gears to a shimmering verse of interwoven guitars and Rainey's warm voice. Her uniquely phrased melodies set the stage for the Lemon Lime's lyrical explorations of late night hangouts, existential angst, and the poignancy of mundane moments—like the reference to sharing a can of Sprite that lends the record its' title.