Description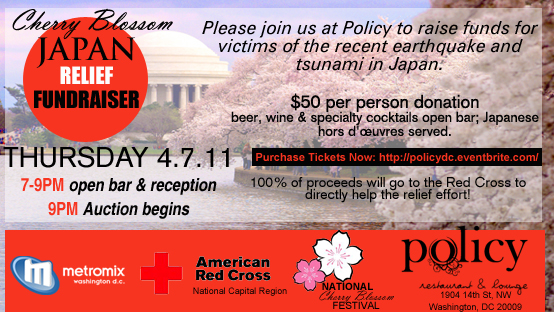 Policy and Metromix
Present
Cherry Blossom Fundraiser For Japanese Relief
Come and Join us as we raise money to provide relief for Japan. All proceeds will be donated to the Red Cross. Your $50 donation will include light Japanese style hors d'oeuvres and a 2 hour open bar to include beer, wine and specialty cocktails
**Cherry Blossom Sangria, Sweet Green Tea Vodka, and Spiked Lychee Lemonade**
To reserve a section for large groups of 6 people or more, please contact Chad Cortner for Table Service Call or email for details
T: (202) 387-7654
E: Chad@policydc.com.
Event and open bar will begin promptly at 7:00 P.M. and will end at 9:00 P.M.
Immediately following we will announce the winners of the Silent Auction
Silent Auction Packages include:
PINIC FOR TWO
Pinic Basket from Hills Kitcchen, Stockosky Charcuterie, Cherry Glen Cheeses and a Bottle of Champagne
BEER, BEER, BEER
Gift Certificates to local beer bars
ITS A PARADE
Tickets to the Cherry Blossom Parade
TAKE ME OUT TO THE BALL GAME
A pair of tickets to a Nationals Game
MAKE ME OVER
Teeth Whiting Kit, Bobby Brown make up kit
VIDA Fitness Membership (2 months) and One hour massage
....More to come and will be announced as confirmed!!!
Doors open at 6:30 P.M. and Policy will close at 1 A.M.
If you have any questions, please feel free to contact Policy
202-387-7654 or Info@policydc.com