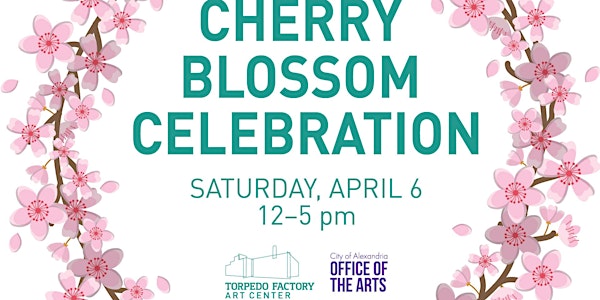 Cherry Blossom Celebration
When and where
Location
Torpedo Factory Art Center 105 North Union Street Alexandria, VA 22314
Description
Tracie Griffith Tso - Studio 22

Enjoy an indoor hanami in the Art Center and revel in all things cherry blossom. Artists show and make work inspired by the popular pink and white blooms. Find a bevy of activities and performances to enjoy this regional celebration in Alexandria.
FREE, ALL AGES
---
Taiko Drums - Opening Celebration
12 pm - 12:30 pm
Nen Daiko

Kick off the Cherry Blossom festivities with an opening performance by members of Nen Daiko, the taiko ensemble of Ekoji Buddhist Temple in Fairfax, VA. This dynamic group performs at events around the Washington DC area year-round, and have been thrilling audiences since 1994.
---
Artist Demonstrations
Stop by the following studios at the listed times for a Cherry Blossom-related artist demonstration:
Candace Edgerley - Studio 14

Marcia Jestaedt Demonstration
Studio 13 12:00 pm
Sermin Ciddi Hands-on activity
Studio 331 12:30 pm
Jamaliah Morais - Studio 25

Jamaliah Morais Demonstration
Studio 25 1:00 pm
Anna Yakubovskaya Demonstration
Studio 302 1:30 pm
Lisa Schumaier Hands-on activity
Studio 16 3:00 pm
Tracie Griffith Tso - Studio 22

Tracie Griffith Tso Hands-on activity
1st Floor Foyer 3:00 pm
Wei Liang Demonstration
Studio 324 3:30 pm
Jolande Goldberg Hands-on activity
Studio 326 4:00 pm
Ann Barbieri Demonstration
Studio 322 4:30 pm
---
Cherry Blossom Hands-on Projects
Cherry Blossom Wishing Wall
April 1 - April 6
Annemarie Feld - Cherry Blossom Wishing Wall

Studio 14 artist and Fiberworks member Annemarie Feld has designed a weeklong interactive art piece for visitors to the Art Center. Visitors are encouraged to stop by anytime between Monday April 1 and Saturday April 6 and add their cherry blossom wishes to the communal art wall in the North Hall by the spiral staircase. Write your wish, dreams, or inspirational message on the tag of an individual cherry blossom, and pin it to the wall. Come back for Saturday's Cherry Blossom Celebration to see the art tree in full bloom!
Annemarie Feld grew up in Switzerland and was always interested in design. When she moved to the United States, her interest in three dimensional design soon evolved and expanded to wearable art.The start and inspiration of all her designs are the materials, textures and colors. She describes her works as "wearable paintings," often experimenting with new and unexpected combinations. Her designs create tension by counterbalancing the soft, irregular shapes of natural leather or fabrics with hard-edged metal handles and clasps ordinarily used in farm equipment.
Cherry Blossom Tree Art
April 6 only (12 pm - 4pm)
Spring 2019 Art in Common Spaces artist Liliane Blom provides a hands-on art-making project all afternoon for kids and parents. Make your very own cherry blossom tree using paper, glue, and your imagination.
Liliane Blom - Cherry Blossom Tree Art

Liliane Blom is an award-winning photographer, classically trained painter and innovative installation artist. She describes her fusion of photography and painting as digital painting. In the last decade she has been transforming her photographic images into installations that have reached and touched a large and varied audience. Based in Rockville Maryland of French/Norwegian extraction she is a frequent exhibitor in the Washington region.
Her installations are interactive and immersive and often environmental in scope. They are multi-sensory experiences, that engage the viewer with sound/touch and light. The videos central to her installations are mostly animations created from her photographic artwork, which she rearranges to highlight a feeling - be it joy, grief or longing. Playful, they unapologetically appeal to our sense of wonder, and invite the viewer into a contemplative space.
---
Hand-Printed Lantern Demo and hands-on activity
April 6 only (3 pm - 5 pm )
Tracie Griffith Tso - Hand-Printed Lantern Activity

Studio 22 resident artist and Scope Gallery member (Studio 19) Tracie Griffith offers a hands-on activity and artist demonstration for visitors to the Cherry Blossom Celebration. Chinese paper lamps are traditionally associated with Buddhism and were adapted in Japan to promote businesses and festivals. The Japanese termed it Chouchin (Chou means hang, Chin means light). Sculptor Isamu Noguchi re-introduced the traditional 300-year-old utilitarian fixture into "light sculptures" in the 1950s. Visitors can take part in painting the lantern with the artist, while learning about the rich history of this art form.
Tracie Griffith Tso painted her first bamboo brushstrokes on rice paper at age 12 in a brushpainter's studio in California. She specializes in spontaneous Chinese flower-bird painting, with her growing repertoire focused on traditional subjects including red-capped cranes, pandas, golden carp, horses, bamboo, rabbits and flowers of all types. Each piece is an original composition on handmade high-fire stoneware.
A native Californian, Griffith Tso has taught and lectured about Chinese brushpainting nationwide. The artist and her husband reside in Reston, Va. along with her workshop rabbit, Cleo.
---
Cherry Blossom Art Displays in Studios and Galleries
Ann Barbieri - Studio 322
For the entire month of April, visit Cherry Blossom Art Displays in these participating studios and galleries:
1st Floor
Mina Hanig - Studio 7
Fiberworks - Studio 14
Lisa Schumaier - Studio 16
Scope Gallery - Studio 19
Jamaliah Morais - Studio 25
Tracie Griffith Tso – Studio 22
Val Proudki - Studio 30
2nd Floor
Marietje Chamberlain - Studio 225
3rd Floor
Anna Yakubovskaya - Studio 302
Chris Cardellino - Studio 313
Ann Barbieri – Studio 322
Guy Jones - Studio 337
Bev Andrews - Studio 342
Site 3 Project Gallery