Sales Have Ended
Ticket sales have ended
Congrats and we look forward to seeing you at the Cher'd Show at Navajo Live in San Diego on Friday, Sept 24th, 2021. Be sure to watch your emails for more details. Emails to come from: CherdMusicTribute@gmail.com and/or info@debbrasweet.com
Sales Have Ended
Ticket sales have ended
Congrats and we look forward to seeing you at the Cher'd Show at Navajo Live in San Diego on Friday, Sept 24th, 2021. Be sure to watch your emails for more details. Emails to come from: CherdMusicTribute@gmail.com and/or info@debbrasweet.com
Enjoy a night of powerful, passionate, high energy entertainment as Moonstruck & San Diego's own "CHER'D" showcase at Aztec Brewery.
About this event
Moonstruck & Cher'd.
This is a great Saturday night line up. Kick off your weekend entertainment with two bands that are high energy, mesmerizing and full of unexpected surprises!
Life. Love. Passion. Fun. That's the theme of Moonstruck.
Get on your feet, laugh, dance, sing to songs filled with bellissimo amore e passione (beautiful love & passion) for life!
Enjoy songs you know with amazing lead vocals, sax, flute, percussion, guitar, keys, bass and drums.
Love Cher? Then you'll love CHER'D!
CHER'D came to life in 2020. When everyone else was locking down, CHER'D was rising up. Backed by an amazing band of seasoned pro musicians, CHER'D moves through decades of music with songs you love, looks that captivate and a collaboration that creates lasting memories!
Enjoy the best of both Saturday, Nov 20th,2021 as Moonstruck & Cher'd showcase from 6:30 pm - 9:30 pm at Aztec Brewing Company.
This is special event show with general admission access. Tickets required for the show. Take an intimate look at CHER'D as you enjoy songs you know, discover new ones, and see what tenacity, passion and decades of talent have brought to life!
Get your tickets today and be ready to enjoy a great evening of music, dance, friends and fun!
Advanced General Admission for everyone is $10 per person. $15 at the door.
Doors open at 6 pm
Moonstruck takes the stage at 6:3O pm
Cher'd is featured in the second set
Moonstruck closes out the night at 9:30 pm
Photo Opps throughout the night.
Timeless. Trailblazing. Strong. Bold. Daring. Energetic. Fascinating. Powerful. Dynamic.
Those are words used to describe the original Cher.
Cher is larger than life in more ways than one. She made her mark on the male-dominated music industry for the past five decades. Rightfully referred to as the Goddess of Pop, she is a tireless champion for social issues and women's rights–as well as the power of love, imagination, and taking risks.
INSPIRATIONAL. TRAILBLAZING. STRONG. BOLD. DARING. ENERGETIC. FASCINATING. POWERFUL. DYNAMIC.
Those are words used to describe Debbra Sweet.
Debbra is a visionary trailblazer. She's San Diego's own "Cher".
Triumphing over extreme trauma, she takes risks and has built her brand on innovation, inspiration and helping others go from "I Can't to I AM."
A tireless champion for empowering others, she exudes the power of love, imagination, and tenacity.
Debbra connects to you with words, music and movement. When Debbra becomes "CHER'D" it's a blend of the best of Cher & Debbra!
NOTE: Professional Video recording & Photos will be also happening this evening.
Be sure to check out our sponsors who are helping to make this amazing event a POSSIBILITY
Advanced tickets here are only $10 per person.
At the Door: $15 per person.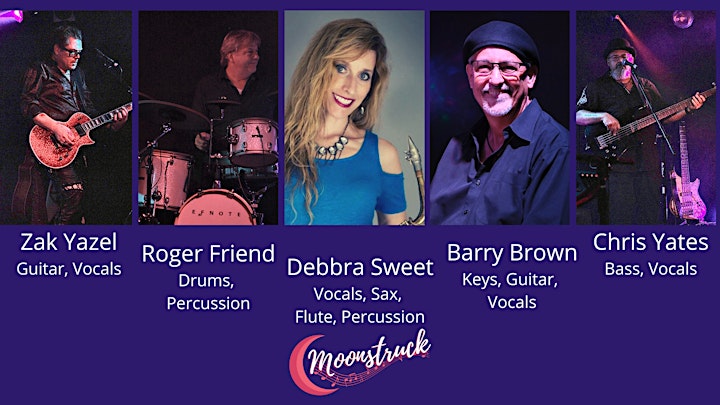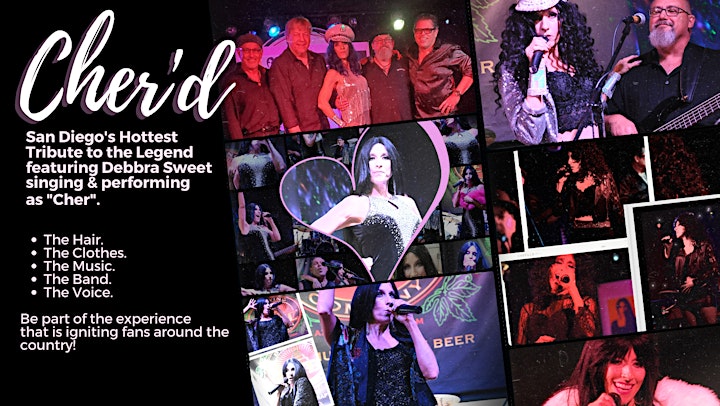 Organizer of Cher'd Special Performance along with Moonstruck at Aztec Brewing Company