Chen Taiji (Tai Chi) Seminar with Master Chen Bing 2017

Wednesday, May 24, 2017 at 7:00 AM

-

Friday, June 2, 2017 at 8:30 AM (EDT)
Event Details
SCHEDULES, CONTACT, THE SEMINAR PROGRAM, GUIDELINESS, REGISTRATION/PAYMENT, DISCLAIMER, SCHEDULES, PRIVATE LESSON, AND LOCATIONS.
This is Chen Taji (Tai Chi) Seminar event with Master Chen Bing, the living legend of Taiji.  See more information about Master Chen Bing here: http://ChenBingTraining.com. 
SCHEDULES: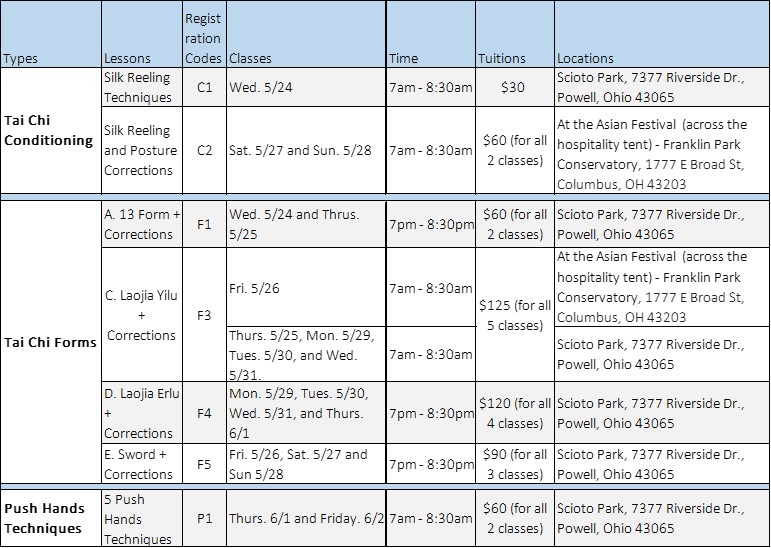 CONTACT: Please email all your questions to columbus@chenbingtraining.com or if urgent call Chilin Yu at 513-265-7784.
THE SEMINAR PROGRAM: Master Chen Bing will be directly teaching all the lessons and lead all classes offered in this seminar. Lessons offered are:
TAI CHI CONDITIONING
Silk Reeling. Silk reeling is a set of twisting and spiraling movements like the silkworm larva as it wraps itself in its cocoon; continuous, cyclic, spiraling patterns performed at constant speed with the "light touch" of drawing silk. Silk reeling is trained in solo forms and stances as well as in pushing hands with a partner.
Fajin. Explosive power
TAI CHI FORM (ORIGINAL)
A. 13 Form. Created by Master Chen Bing as introduction to Chen Style Taijiquan this form is simple and short and all the movements come from the original (Laojia) form. It is recommended for first timers.
B. 19 Form. Created by Master Chen Bing's uncle, Chen Xiao Wang, this form introduces the principles of Taichi, important moves and provides good bases to the other forms. It is recommended for first timers.
C. Laojia Yilu*. Laojia Yilu is the original form (old frame) first set of the Chen style form.
D. Laojia Erlu*. Laojia Erlu is the original form (old frame) second set of the Chen style form with vigorous empty hand routine, punctuated throughout with fa jing; the relaxed, explosive release of energy characteristic of Chen Taijiquan (Tai Chi).
E. Sword*. The original Chen Style Taiji Single Sword form.
*Created by Master Chen Bing's ancestor who was the founder of the Chen Style Taichi, Chen Wang Ting (1600-1680).
PUSH HANDS TECHNIQUES
Push-Hands*. Push-hands is an integral part of Tai Chi training that is practiced in a pair with other practitioner to teach the body to effectively yield to force and redirect it. 
Application. Application of Tai Chi for health, life, day-to-day activity and self defense.
GUIDELINES: Beginners as well as advanced participants are welcome. Please wear comfortable clothes. All participants shall give upmost respect  and courtesy to one another, conduct training in the manner that is conducive to everyone's health and well-being. No violent behavior will be tolerated. Beginners and first timers shall emphasize on the relaxation techniques, postures and alignments. Laojia Erlu will be a little challenging for participants with no prior experience.
THERE ARE TWO WAYS TO REGISTER AND PAY:
1. PAY ONLINE. See 'The Seminar Programs' above. You just need to select the lesson registration codes you want to attend and pay online.
2. PAY OFFLINE. See the lessons below. To RSVP please pick and email the lesson/s you want to attend to columbus@chenbingtraining.com. To pay, please bring cash or check payable to Chilin Yu at-the-door before your lesson started. 
Please register above to reserve and pay online for all your preferred lessons and get the latest updates about the program. Or email columbus@chenbingtraining.com to reserve and pay offline.
DISCLAIMER: Tai Chi exercises are known to be gentle and safe for most people. However, as with any exercise program, there are risks. A physician's examination is recommended for all participants with any exercise restrictions, including any heart problems, high blood pressure, chest pain dizziness, relevant surgeries, diabetes, asthma, epilepsy, arthritis, or significant injury to any part of the body.
By registering to participate in this exercise program, you agree that, to your knowledge, you have no limiting physical conditions or disability that would preclude an exercise program. If you engage in this exercise program, you agree that you do so at your own risk, are voluntarily participating in these activities, assume all risks of injury to yourself, and agree to release and discharge the event organizers, program coordinators, facilitators, volunteers, teachers and sponsors from any and all claims or causes of action, known or unknown, arising out of your participation in this program.
PRIVATE LESSON: 
Private lessons are available by appointment only. 
For 1 (one) person -> $100/hour/person
For 2 (two) people -> $150/hour/2 people

LOCATIONS: 
Primary training and Private Lesson location (May 24, 25, 26, 29, 30, 31, June 1 and 2, 2017)
Scioto Park, 7377 Riverside Dr., Powell, Ohio 43065.
Secondary and Private Lessons during Asian Festival on May 27 and 28, 2017 :
At the Asian Festival (across the hospitality tent) - Franklin Park Conservatory, 1777 E Broad St, Columbus, OH 43203.
Additional training (if any) location: Canzani Center at CCAD, 60 Cleveland Ave. Columbus, Ohio 43215.
After the first $150, you may request at 15% cost reduction if you wish for each additional session (this is optional).
Please contact Chilin Yu at cyu@ccad.edu or call 513-265-7784 to request your optional cost reduction and/or schedule your Private Training Session/s.
When & Where

Scioto Park
7377 Riverside Dr.
Dublin, OH 43016


Wednesday, May 24, 2017 at 7:00 AM

-

Friday, June 2, 2017 at 8:30 AM (EDT)
Add to my calendar