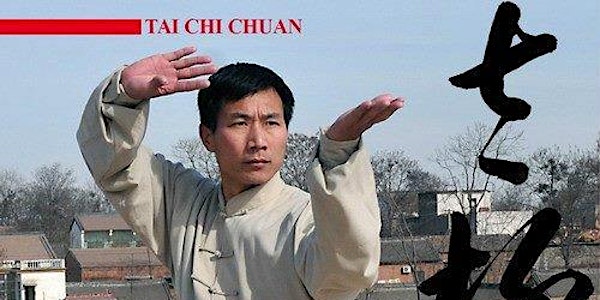 Chen Bing International Taiji (Taichi) Seminar 2019 in Columbus, Ohio, USA
When and where
Location
Scioto Park 7377 Riverside Drive Dublin, OH 43017
Refund Policy
Refunds up to 7 days before event
Description
****NOTE*** We use Eventbrite.com for this online registrations and payments processing system. They charge an additional fee on top of the tuition fee for these online registrations and payments processing services. If you don't want to pay for any additional fee, please register via email to columbus@chenbingtraining.com (tell us your full name, phone numbers and which lessons you like to attend), we will confirm your registration (first come first serve), and you may pay with cash or check at the event.

SCHEDULES, CONTACT, THE SEMINAR PROGRAM, GUIDELINESS, REGISTRATION/PAYMENT, DISCLAIMER, SCHEDULES, PRIVATE LESSON, LOCATIONS, and ACCOMODATION
This is Chen Taiji (Tai Chi) Seminar event with Master Chen Bing, the living legend of Taiji. See more information about Master Chen Bing here: http://ChenBingTraining.com.
SCHEDULES: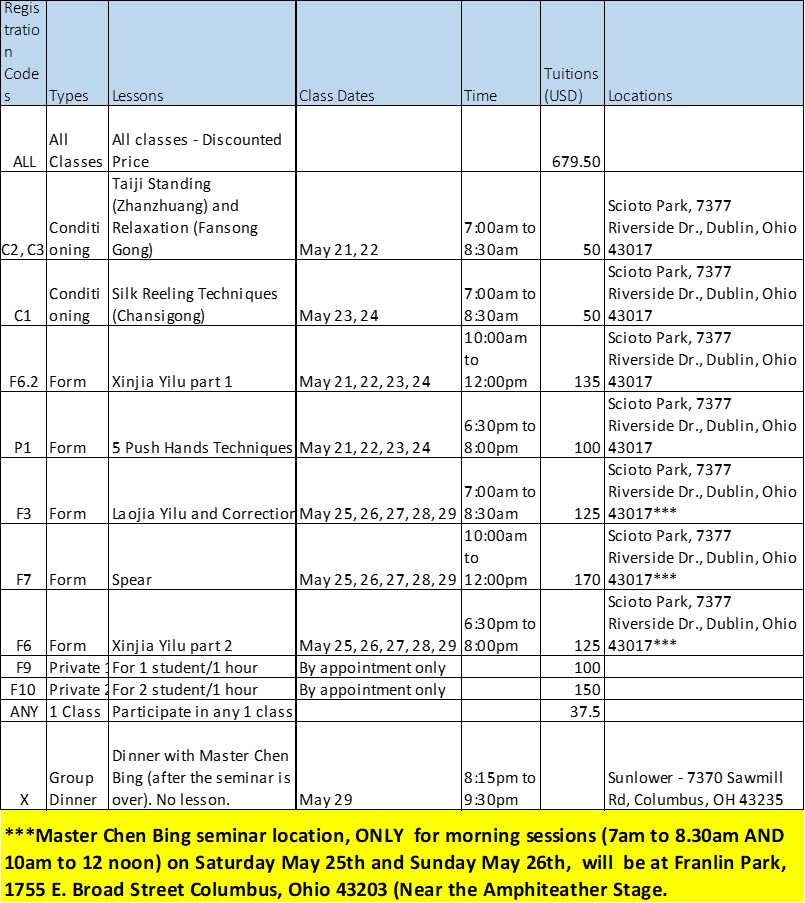 CONTACT: Please email all your questions to columbus@chenbingtraining.com or if urgent call Chilin Yu at 513-265-7784 or Andi Sie 614 778 0648
THE SEMINAR PROGRAM: Master Chen Bing will be directly teaching all the lessons and lead all classes offered in this seminar. Lessons offered are:
TAI CHI CONDITIONING
Taiji Standing (Zhanzhuang). Taiji Standing is the very first and most important foundational step in Taiji. It is the key is to Taiji; calming your mind and finding your body and the stillness inside which is where movement comes from.
Silk Reeling Techniques (Chansigong). Silk reeling is a set of twisting and spiraling movements like the silkworm larva as it wraps itself in its cocoon; continuous, cyclic, spiraling patterns performed at constant speed with the "light touch" of drawing silk. Silk reeling is trained in solo forms and stances as well as in pushing hands with a partner.
Fansong Gong (Taiji Relaxation). Unique Taiji relaxation techniques created by Master Chen Bing.
TAI CHI FORM (ALL ORIGINAL FOUNDED BY CHEN FAMILY)
Laojia Yilu*. Laojia Yilu is the original form (old frame) first set of the Chen style form.
Xinjia Yilu. Xinjia Yilu is the newer form (new frame) first set of the Chen style form based on Laojia Yilu form with more overt spiraling.
Spear. Authentic Chen Style Taiji Spear form.
*This form was created by Master Chen Bing's ancestor who was the founder of the Chen Style Taichi, Chen Wang Ting (1600-1680).
PUSH HANDS TECHNIQUES (FOUNDED BY CHEN FAMILY)
Push-Hands*. Push-hands is an integral part of Tai Chi training that is practiced in a pair with other practitioner to teach the body to effectively yield to force and redirect it.
GUIDELINES: Beginners as well as advanced participants are welcome. Please wear comfortable clothes. All participants shall give upmost respect and courtesy to one another, conduct training in the manner that is conducive to everyone's health and well-being. No violent behavior will be tolerated. Beginners and first timers shall emphasize on the relaxation techniques, postures and alignments. Laojia Erlu will be a little challenging for participants with no prior experience. Maximum numbers of student per class is 20. However, we might make exceptions based on our discretions.
THERE ARE TWO WAYS TO REGISTER AND PAY:
1. PAY ONLINE. See 'The Seminar Programs' above. You just need to select the lesson registration codes you want to attend and pay online.
2. PAY OFFLINE (PREFERRED). See the lessons below. To RSVP please pick and email the lesson/s you want to attend to columbus@chenbingtraining.com. To pay, please bring cash payable to Chilin Yu at-the-door before your lesson started.
Please register above to reserve and pay online for all your preferred lessons and get the latest updates about the program. Or email columbus@chenbingtraining.com to reserve and pay offline.
DISCLAIMER: Tai Chi exercises are known to be gentle and safe for most people. However, as with any exercise program, there are risks. A physician's examination is recommended for all participants with any exercise restrictions, including any heart problems, high blood pressure, chest pain dizziness, relevant surgeries, diabetes, asthma, epilepsy, arthritis, or significant injury to any part of the body.
By registering to participate in this exercise program, you agree that, to your knowledge, you have no limiting physical conditions or disability that would preclude an exercise program. If you engage in this exercise program, you agree that you do so at your own risk, are voluntarily participating in these activities, assume all risks of injury to yourself, and agree to release and discharge the event organizers, program coordinators, facilitators, volunteers, teachers and sponsors from any and all claims or causes of action, known or unknown, arising out of your participation in this program.
PRIVATE LESSON:
Private lessons are available by appointment only.
For 1 (one) person -> $100/hour/person
For 2 (two) people -> $150/hour/2 people
Contact Chilin Yu at cyu@ccad.edu, ph: 513 265 7784 for any questions and/or to schedule your Private Training Session/s.
LOCATIONS:
Scioto Park
7377 Riverside Dr. Dublin, Ohio 43017
We will be training in the park the river. If it rains, we will be in one of the shelters around the park.
https://www.visitdublinohio.com/listing/scioto-park/383/
PLEASE NOTE:

Master Chen Bing seminar location ONLY for morning sessions (7am to 8.30am AND 10am to 12 noon) on Saturday May 25th and Sunday May 26th will be at Franlin Park, 1755 E. Broad Street Columbus, Ohio 43203 (Near the Amphiteather Stage.
FOOD AND ACCOMODATIONS:
The tuition price does not include any food and/or accommodation. There are plenty of places you can get foods within 2 miles radius. We will most likely go together carpooling to have lunch nearby daily. If you are from out of town, please search for hotel and/or car rental online using websites such as hotels.com and expedia.com. You may also search for places using Airbnb.com. Please look for a hotel or Airbnb room in Dublin, Ohio area. There are plenty of hotels within 5 miles radius (5 minutes drives) around the park. If you like us to help you find a roommate, need a ride from the park to the hotel and back, or need additional help with accommodation please don't hesitate to contact us. We will try our best to accommodate.
Note: We will plan to have a group dinner with Master Chen Bing on May 29, 2018 at 7:00pm until 9:00pm after the seminar is over. Plan to spend around $20 and pay at the restaurant (TBD). Please RSVP via email to columbus@chenbingtraining.com no later than 48 hours before the dinner time if you want to join the dinner to secure your seat and have some fun! :)
Hope to see you soon!