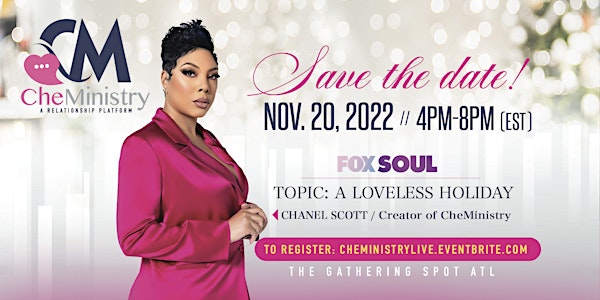 CheMinistry, a relationship platform LIVE on FOX SOUL!
CheMinistry, a relationship platform will be filming LIVE for Fox Soul at The Gathering Spot Atlanta!
When and where
Location
The Gathering Spot ATL 384 Northyards Blvd NW Atlanta, GA 30313
About this event
CheMinistry, a relationship platform LIVE on Fox Soul at The Gathering Spot!
CheMinistry will be filming LIVE on Sunday, November 20, 2022 at The Gathering Spot ATL, 384 Northyards Blvd., NW, Atlanta, GA 30313. Doors open at 4:00 pm.
The series topic will be, "A Loveless Holiday".
CheMinistry is a relationship platform created to bridge the gap between purpose-driven men and women who desire to progressively move their love life to the next level.
CheMinistry is also comprised of panelists who are represented by some of pop culture's most prominent celebrities and influencers who possess the ability to articulate the male and female perspectives in the context of romantic relationships.
The celebrity panel is comprised of AJ AKUA JOHNSON @theajzone, RICH DOLLAZ @richiedollaz, ANTHONY O'NEAL @anthonyoneal, CEASER EMANUEL @ceaserblackink, SKY DAYS @flyyytattedsky, ANGEL LOVE @iloveangel2 and DREA KELLY @officialdreakelly.
GRITZ & JELLY BUTTER @gritzandjellybutter will be PERFORMING LIVE as the exclusive entertainment for the CheMinistry Pre-Show!
The evening will be filled with great energy, excitement, food and beverage, cash bar, live entertainment, Blue Carpet interviews, audience engagement and so much more!
Purchase your TICKETS today as they will sell out FAST!
For more information about CheMinistry...
Please visit us at www.CheMinistry.com
***CheMinistry Image and Likeness Release***
Be advised that your ticket purchase to CheMinistry, grants the producer of the footage, CheMinistry, a relationship platform, and its successors, assigns, carrier stations, network station(s), program sponsor(s), and marketing and advertising agents the right to record, photograph and use your name, voice, and likeness worldwide in perpetuity for any purpose whatsoever.  You also agree to comply with all rules and regulations set forth by CheMinistry, a relationship platform, and its parents, partners, subsidiaries, and related companies, and you release Chanel Scott, CheMinistry, a relationship platform, The Gathering Spot, Fox Soul and any other participating party from any and all liability for loss or damage to person or property while on or around the premises. Any purchase of a ticket enters the purchaser into a binding agreement and grants CheMinistry, a relationship platform all privileges herein outlined.
Where you may see yourself:
As a studio audience member, your reactions to the conversation and any time on-screen during the Q&A period are subject to use in production.
Any time on the blue carpet in solo, group shots, with our hosts, or with interviewers
In the pre-show portion of the filming, in the lobby, with the band present, or at check-in.