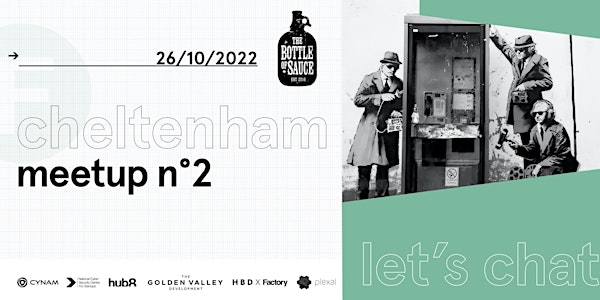 Cheltenham: meetup no. 2
An intimate networking event for the tech & creative community. Join us in Cheltenham for new content, exciting updates & meet great people.
When and where
Location
The Bottle of Sauce Ambrose Street Cheltenham GL50 3LH United Kingdom
About this event
The same format as our first meetup, but this time we're twisting things up a bit. Join fellow shakers & movers from the tech & creative scenes. Enjoy some curated content by NCSC for Startups and meet the Factory Cheltenham and the Golden Valley team to hear about their exciting plans and next steps. This is an evening you won't want to miss.
Join us for an evening of optimism.
Run of show:
17:30 - 18:00: Doors open – earlybird networking
18:00 - 18:30: Fireside Chat – an intimate discussion with Chris Wood from Synack and Bec McKeown from Immersive Labs on NCSC's challenge around Better Engagement, hosted by Rich M. from NCSC
18:30 - 18:40: Launching Factory Cheltenham – an intro and thank you from Factory co-founder Jeremy Bamberg
18:40 - Late: Networking session – connect, collaborate, and meet the CyNam, HBDxFactory, Golden Valley, NCSC & Plexal teams
It starts with a Fireside Chat.
Great news, we've teamed up with the NCSC for Startups squad and proudly announce Chris Wood from Synack and Bec McKeown from Immersive Labs who will join us to discuss the power of gamification and immersive learning in driving better engagement with cyber security guidance and training. The session will be hosted by Rich M from NCSC.
Better Engagement is one of the challenges being tackled by the latest group of start-ups on the NCSC programme. This exciting Fireside Chat aims to shed light into a fascinating area ahead of showcase and engagement events later in the year when you'll be able to hear first-hand from the start-ups themselves about how they are addressing the problem.
Get ahead of the curve and join in the conversation.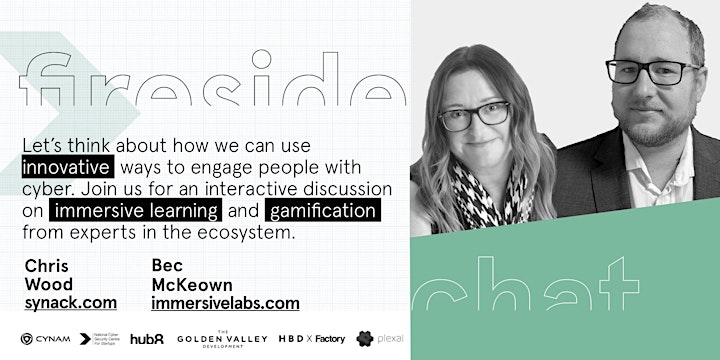 Launching Factory Cheltenham.
Factory Cheltenham will be the first builing of the Golden Valley Development and is poised to be one of the largest innovation spaces in the region. We're excited to launch to the ecosystem and share a bit about ourselves, the model, and our upcoming plans to support the exciting activities locally here on the ground.
Join and let us know how we can work together to advance the ecosystem. We're here to help.
Location:
The Bottle of Sauce: Ambrose St, Cheltenham GL50 3LH, United Kingdom
Drinks?
Thirsty? Long day at work? Enjoy a fresh, tasty set of craft beers on draft! No beer, no problem. Soft drinks and other offerings will be available in the evening.
*We'll be setting up a bar tab until it runs out. After this, drinks will be sold separately. So make sure to come early and enjoy the Fireside Chat!

Some quick words from us – your partners.
About Cynam:
CyNam is the UK's largest cyber security cluster focused on the development and growth of the regional ecosystem. Acting as a voice for an active community of over 3,000 individuals and nearly 200 organisations, CyNam has delivered a regular programme of engagement events covering key topics such as HealthTech, Skills & Diversity and Cyber Crime.
About HBDxFactory:
HBD X Factory is a joint venture between UK property developer HBD and international tech campus developer Factory. We work to support the acceleration of dynamic technology, innovation, and cultural communities around the UK. Our first project The Golden Valley Development, in collaboration with the Cheltenham Borough Council, highlight's the partnership's ambition for forward-thinking, globally relevant, innovative projects of scale.
About Hub8:
Hub8 brings together best-in-class start-ups, SMEs and global tech companies in its network of innovation spaces in and around Cheltenham with the mission to develop and grow the burgeoning tech scene in Cheltenham.