About this Event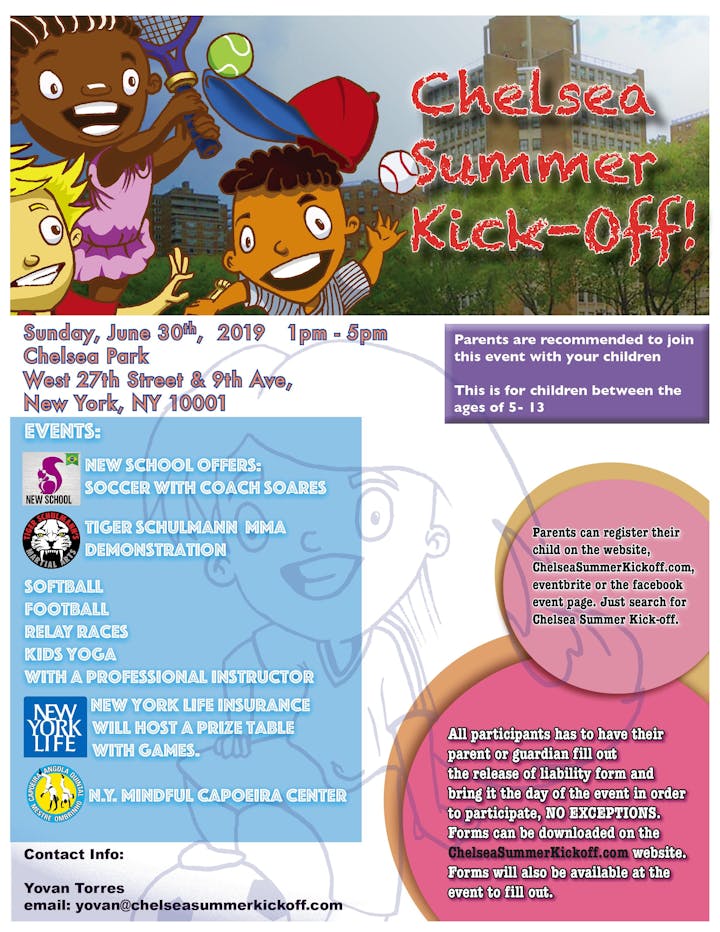 We are creating a... wait for it... A children sports BLOCK PARTY!.. But in a park, so it's more like a children sports park party, so let's try this again...
         Welcome to our children sports PARK PARTY!!!..   We are trying to kick off this summer in Chelsea with a bang!..
         Children should be outside playing and having fun. Did you know that in the United States, the percentage of children and adolescents affected by obesity has more than tripled since the 1970's? Data show that nearly 1 in 5 children  and young people in the United States suffers from obesity. So...
          On Sunday, June 30, 2019 we are launching Chelsea Summer Kick Off, it's an event where children can be more active. In one event children will have access to play football, softball as well as partake in relay races. NY Mindful Capoiera will have one of their talented Sensies present in order to bring us an interactive and safe demonstration. NY Mindful Capoeira will create a demonstration for all viewers. New School will have a professional children soccer coach to show kids some techniques, tricks and games. We will also want to introduce a Yoga Station with an experienced kid yoga instructor. These activities will create an all in one encompassing event. We are re-introducing children to ways to have fun that is also healthy. It will help with their confidence and social skills. 
          We as a community, that come from different backgrounds, can unite and support children's mental and physical growth. They say, "It takes a village to raise a child," I say we dont need a village when our community is strong enough. So bring your children, prepare to have fun and to meet your local neighbor, and lets Kick Off this Summer off RIGHT!!
In order to participate, all children must have a parent or guardian fill out the release of liability form, and bring it the day of the event. THERE WILL BE NO EXCEPTIONS. The form can be downloaded on the website: www.ChelseaSummerKickoff.com. There will be forms at the event to fill out as well.
Via email, yovan@chelseasummerkickoff.com you can register your children for the event or feel free to contact me if you have any questions or concerns.....