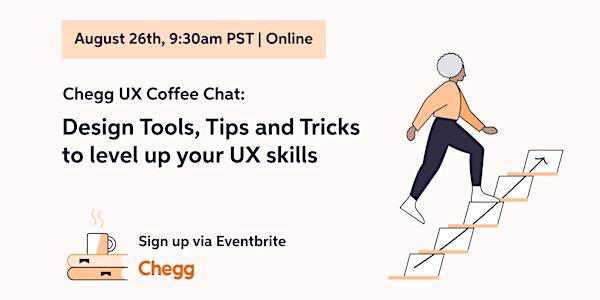 Chegg UX Coffee Chat: Design Tool Tips and Tricks
Stop by to meet and chat with the Chegg UX team!
About this event
Learn something new and chat with members of the Chegg UX team at our monthly UX Community Coffee Chat!
Every month, we'll invite the larger UX community to join our conversations. It's a great opportunity to find out what we do, experience Chegg's culture, and ask questions about current openings in UX.
This month, our theme is Design Tools: Tips and Tricks — join to hear from a panel of Chegg UX team members on what tools and tricks they use that make them better and more efficient UXers.
Welcome & Intros (5 mins)
Presentation (20-30 mins)
Breakout discussions: Multiple rooms to hop around, listen in, and talk more about the month's theme or working at Chegg
Wrap up (5 mins)
Who we are
The Chegg UX team creates user experiences that help students succeed.
Our team includes UX Design, UX Research, UX Content Strategy, Consumer Insights, and Creative Marketing. We collaborate closely to create the best user experiences to help students succeed. Learn more at Chegg UX.