About this Event
Presented by Tamara Robertson of Royal T's Event Planning...
Meet, Greet & Mix with Texas raised Chef Honeeii... Known for her kind words of encouraging , strategic plans of action, mouth- watering cuisines,Infused Cooking Oils & Seasoning... Chef Honeeii has now wrote her very own Cook Book!! You may recognize her from catering some of livest events and social meetings in Dallas,guest appearances and features on Power214 Radio,Dallas Voyage Magazine, Master Chef Contestant & Blogs...
This event is open and free to the public. There will be free refreshments (while available), a variety of Local Vendors and Businesses to check out, Music & Motivational Speakers..
Cook Books go live for sale September 7th, 2019 at Barnes & Noble
Signing Date September 22, 2019 from 2PM-6PM at the DeSoto Civic Center
MESSAGE FROM CHEF HONEEII
Hello to All!!! I look forward to see and meet each and everyone of you... I am excited to release my very first Cook Book filled with recipes, motivational sessions and comical events.. Grab your copy Sept 7th. at Barnes & Noble.. This is kind of a big deal for me, because of that I am celebrating by having a Signing/Mixer/Pop Shop...This will be a Mixer/Pop Up like no other.. I highly encourage all business owners no matter the status to come out celebrate with me.. Even if your are still in the process, thinking about starting up or just getting started... So come on Texas let's turn up!! This will be a great opportunity to meet other business owners , set up collaborations and recruit new potential clients/customers... There will be Vendors, Inspirational Speakers, Food, Fun, Music, Give A-Ways and Promotion Teams recording... Special Guest Promotion by The Royal Scoop..
I will also open the floor for 12 business owners like your self to introduce their businesses and services.. This will be on a first come first come basics.. Contact me if you are interested at 24-749-8839..
Follow me on Instagram:Honeeii_With_The_Spatula
Facebook: Chef Honeeii
Website: ChefHoneeiii@wix.com/SpeakEatz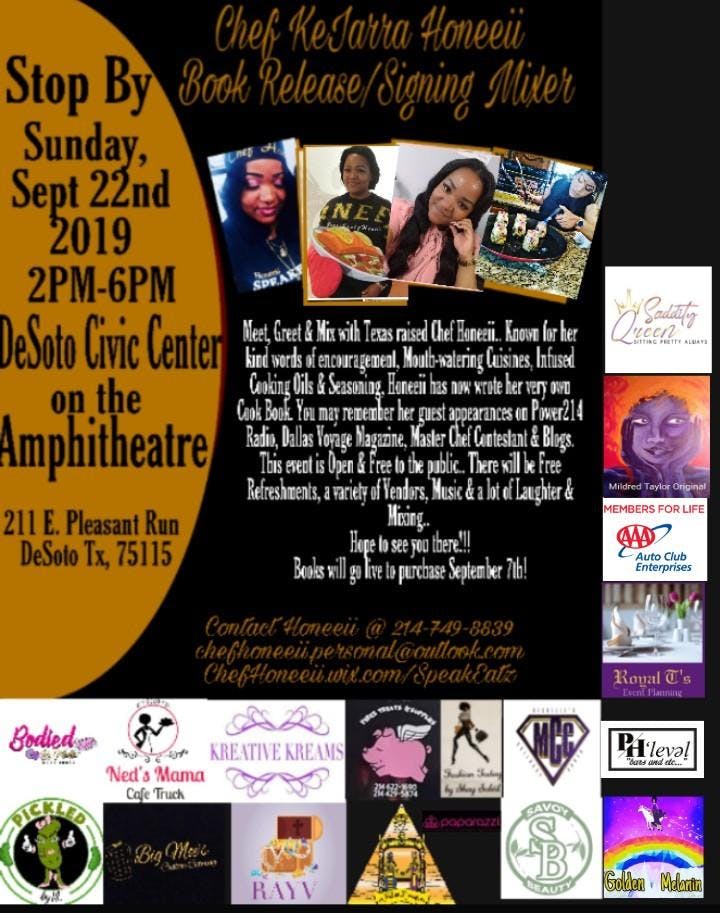 Here is a list of the Local Vendors attending:
Kreative Kreams (Custom Homemade Ice Cream)
Pickled By Ke (Flavor Infused Pickles)
Neds Mama Food Truck (serving Brisket Nachos & More)
Big Moes Custom Catering (serving Seafood Pasta & More)
Bodied By Maddie
Curly Cook Fitness
Mildred Taylor Original (Art Showcase)
Perez Treats & Supplies (serving SnoCones & Cotton Candy)
Sweet As Can Bri ( serving CupCakes & More)
Rayv
Paparazzi
Golden Melanin
P/H Level
Teresa's Dill-icious Pickles
Chelle Creative Canvases
Epik Creations
Fashion Today by Shay Soilel
AAA Auto (Auto Care Packages)
Saddity Queen
Nubian Dynasty
Dae Howard Piercings and Tattoos
Blynk of Time Lashes
and MANY MORE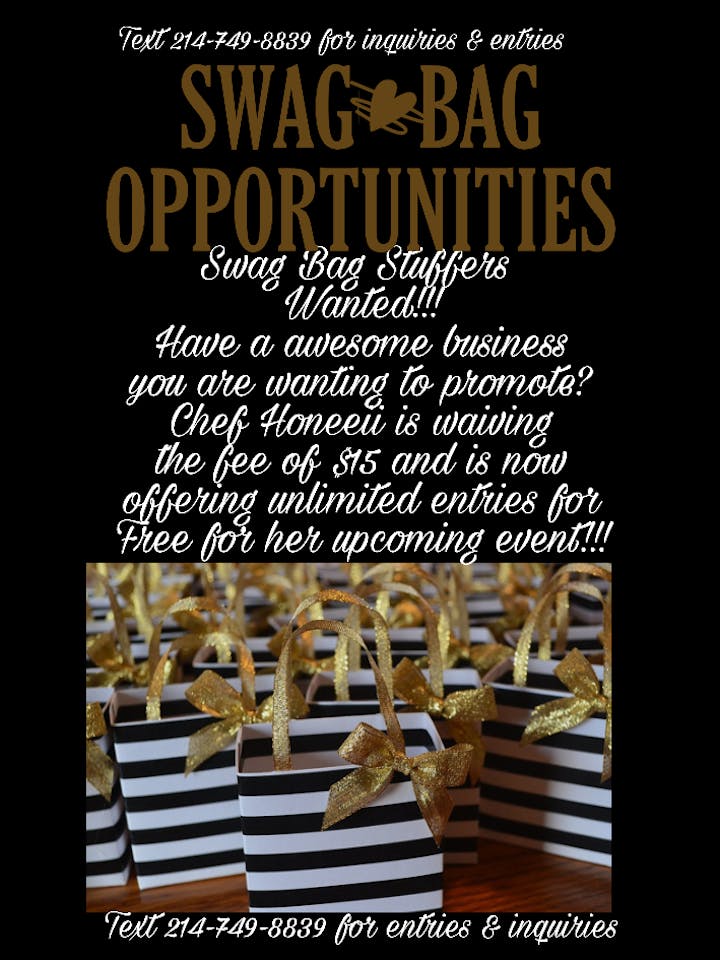 If you are interested in adding your business cards, products or samples as Swag Bagg fillers, totally free of charge please send them to:
Chef Honeeii
P.O. Box 1802
104 East Ovilla Road
Red Oak, Texas, 75154