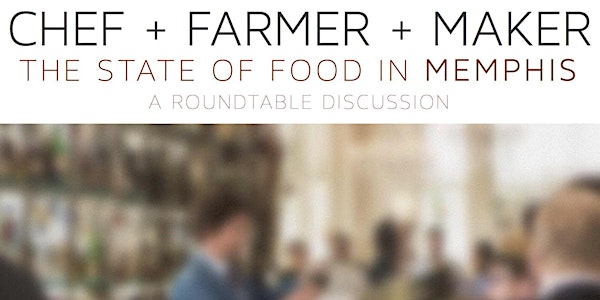 CHEF + FARMER + MAKER
When and where
Location
387 S Main St 387 South Main Street Memphis, TN 38103
Refund Policy
Contact the organizer to request a refund.
Description
Friday, February 5th, 2016, The 387 Pantry will host a roundtable discussion on the current state and the role of the food industry in building Memphis as a capital of culinary innovation and exploration. If cities are judged by their food, how is our gritty little city by the river being represented? The conversation will feature the voices of a selection of local culinary figures spanning several roles in the culinary world. Panelists will include Michael Hanna (Hanna Farm,) Jonathan Burlison (Pigasus Cured Meats,) Leslie Wolverton (Wilson Gardens,) Marshall Bartlett (Homeplace Pastures,) and two chefs to be named soon. These players, the farmers who grow and tend to the ingredients, the makers who preserve and believe in a unique application of an ingredient, and the chefs, who present creative, beautiful, and thoughtful culminations of all three, will discuss, for example, the dishes that best represent our city, the missing pieces to our culinary industry, the changes that we have seen over the past half decade, and, Memphis' role in the broader context of the southern food renaissance.
The event will take place at 387 South Main Street in downtown Memphis. Doors will open at 6:30 pm and the discussion will begin promptly at 7:00 pm. Space is limited to 60 tickets and are available for $15.00 each at the 387 Pantry or online. Following the discussion, Shawn Mitchell will host a cocktail reception for 30 participants. Tickets to the reception are $20.
The public is encouraged to submit questions they would like to have answered by emailing Josh@387Pantry.com.
Questions will include:
"What role do you think a thriving, independent food scene plays in the overall health and the life of a city?"

"What dish defines Memphis?"

"Food Trends and their place/role in building a meaningful food culture"

"What is/has been Memphis' role in the Southern Food renaissance?"

"What growth have we seen in the local food culture over the last five years?"
Andrew Ticer & Michael Hudman

A M Italian Kitchen/Hog and Hominy/Porcellino's

Chef

Jon Burlison

Pigasus Cured Meats

Maker

Shawn Mitchell

Iris, Etc.

Chef/Reception Host

Marshall Bartlett

Homeplace Pastures

Farmer

Leslie Wolverton

Wilson Gardens

Farmer

Michael Hanna

Hanna Farm

Farmer/Maker/Chef