Description
DESCRIPTION

The Chef Curated Dinner Show - Cocina Teatro:
ALL INCLUSIVE: POP-UP BY CELEBRITY TELEVISION PERSONALITIES - FIVE COURSE DINNER TASTING MENU - 5 WINE PAIRINGS - COOKING WORKSHOP FARM TO TABLE - COMEDY

FIGAT takes over local restaurants - with imported chefs - to present to you cross-cultural gourmet flavors, preparations, and techniques in our Stage-Performed-Workshop Chef Curated Dinner Show!

This is only the first of the many upcoming events from the Federation of International Gastronomy, Art, and Tourism.

These events are all part of our Boutique Gastro-Series of pop-ups, events, workshops and foodies certificates. In this program, Taste to Travel and Travel to Taste, we will experience different cuisines from around the World; one Dinner-Show and at a time. The more Dinner Shows you attend the more knowledge and points you accumulate to qualify for International Foodies Passports/ Certificates and points to earn Gastro-Tours to any of the nine countries participating in FIGAT.

The Gastro-Tours are exclusive food-tasting experiences with private chefs, the best restaurants in the city, agriculture, history of cuisine and heritage, fishing, boating and many more amenities and activities according to each sector visited. Guests stay at local private mansions or hostels and enjoy immersive experiences with local people and cuisines.

At this upcoming presentation on September 23, 2017, we are showcasing the flavors of the Caribbean featuring the island of Puerto Rico; several times winner of best cuisine in the competition Taste of the Caribbean hosted every year in Miami. Our guest chefs, both puertorrican arrive to Miami to Pekaditos Resto Theatre to highlight the island's culture and raise awareness of its unique features and attributes. Figat showcases restaurants that serve authentic cuisine from the country, guest chefs that share knowledge of the country's customs, and artists that delight us the local featured culture.

The five course tasting menu, wine pairing, cooking workshop, and comedy theater by a celebrity comedian are all included in the price. There will be an optional cash bar to taste exotic cocktails.

Celebrity Chef Ventura Vivoni from the WIPR Channel show Travesìas con Sabor will be cooking on stage and teaching us the best of the Farm-to-Table concept. Chef Pablo Antonio from the Shingle Creek Resort in Orlando will be preparing delicious desserts and hand made chocolate truffles. Noris Joffre renowned actress of puertorrican television and theatre will be conducting the show and making us cry with laughter.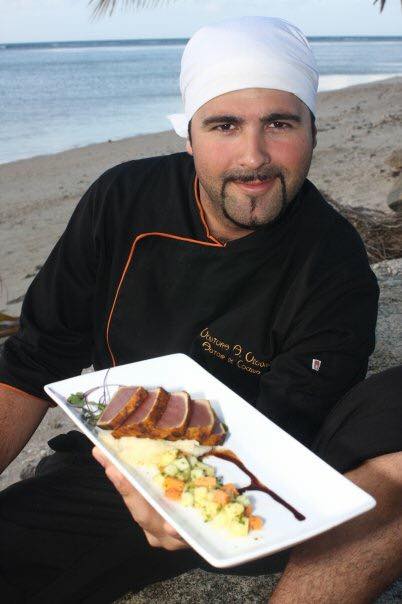 CHEF CURATED DINNER SHOW COCINA TEATRO

You can't miss the first of the series of events and this one-time presentation's Passaport collectible badge. Next event, we will bring the Flavors on Macondo to your table! Collect them all!

Hope to see you there!






PROXIMOS EVENTOS DE COCINA TEATRO:

33 SABORES AMAZONICOS Y 100 ANOS DE SABOR A MACONDO

EL MEDITERRANEO EN EL PALADAR

MEJICO LINDO Y QUERIDO PUEBLO A PUEBLO / PALADAR A PALADAR
https://www.facebook.com/pekaditosmiviejosanjuan/videos/457516727953309/