Chef Craig Deihl Culinary Tour of Croatia...A Charcuterie Adventure...
Actions and Detail Panel
Chef Craig Deihl Culinary Tour of Croatia...A Charcuterie Adventure...
Sat, Dec 3, 2016, 6:00 PM – Sat, Dec 10, 2016, 9:00 PM CET
Description
Captivating Croatia cordially invites you to join us on a fun and festive culinary experience unlike any other alongside the renowned chef, Craig Deihl, in exotic Croatia, just in time to also enjoy the holiday festivities. Craig is best known for his restaurants shaking up the Charleston food scene, including Cypress Restaurant, The Magnolia, and Artisan Meat Share. Now Chef Craig is ready to lead you on this one-in-a-lifetime, exotic culinary adventure in Croatia!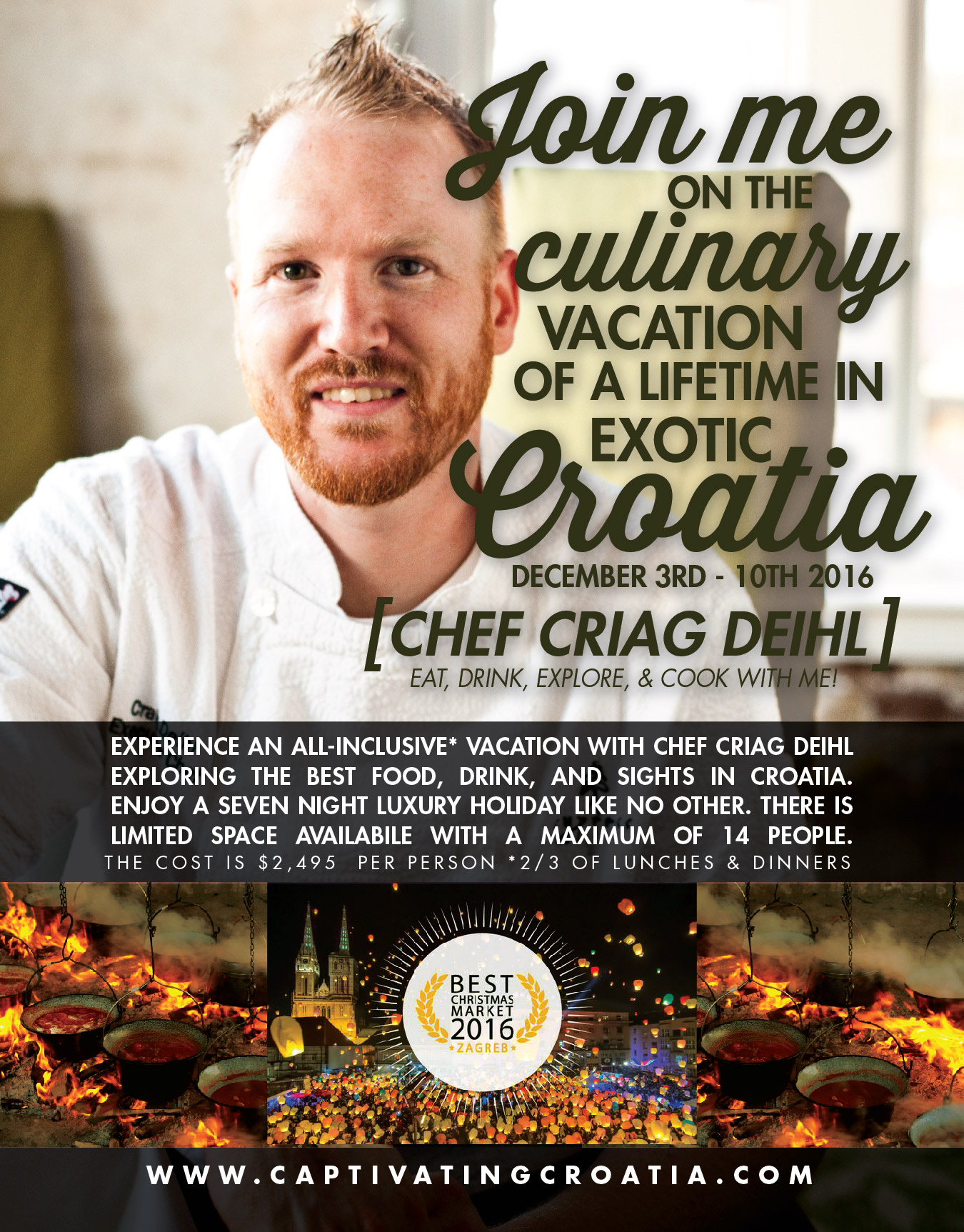 Get ready to interact, explore, cook, drink, eat, and learn with Chef Craig on this 7-day excursion from December 3rd– December 10th, 2016. The tour kicks off in Zagreb, the capital of Croatia, and from there you'll travel through several of Croatia's most storied regions, brimming with culinary history.
During the tour, you will be able to try your hand at making Croatia's signature sausage, Kulen with Chef Craig during an exclusive cooking class in the ancestral region of origin, visit exquisite wineries, attend a Gypsy Table dinner, which is Croatia's 1st pop-up dinner series in a secret location and enjoy a collaborative dinner with Chef Craig, several of Croatia's top Chef's and your food tour host, Richard Gruica, take part in several cooking classes and education sessions, experience Zagreb's world-renowned Christmas market, which won the best Christmas Market in Europe in 2015 and much more!
So strap on your aprons and get ready for adventure! Book your spot today for this once in a lifetime, exclusive chef-led tour! The tour will include airport transfer, luxury hotel accomodation, private luxury coach transportation, all excursions, all tastings, all breakfasts and 2/3 of all lunch and dinners. The cost is $2,495 per person or a discounted pair price of $4,495 or $2,249 per person. There are a VERY limited amount of spots for this tour in order to keep it totally intimate and to our standards. We will have a total of 12 guests, so don't wait as this tour will sell out quickly. We will assist will any questions and offer advice for airfare. (Airfare is not included in the price)

For more information, go to www.captivatingcroatia.com or call 980-272-1973