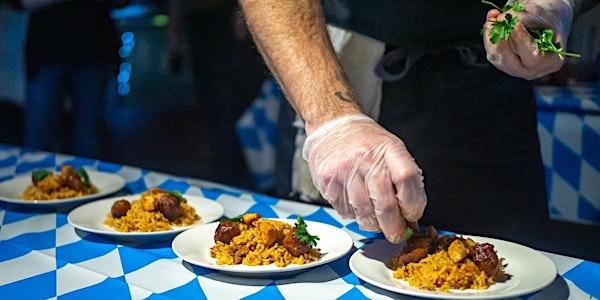 Chef Battle: Midwest Regionals
When and where
Location
STK Chicago 9 W Kinzie St Chicago, IL 60654
Description
We're thrilled to host the Chef Battle: Midwest Regionals at STK Chicago. The competing chefs have all won a local competition from across the Midwest, including Chicago, Kansas City, St. Louis, Quad Cities, Cedar Rapids, Des Moines, Sioux Falls, Milwaukee, Cincinnati, Detroit, and Western Michigan. Now, they will compete at Midwest Regionals.
We will have qualifying events during the day and you'll have the opportunity to see the top 3. Chefs will have 1-hour to create their best dish. Chefs are allowed 1 sous chef to help them.
General Admission tickets include admission to the event only to watch the chefs battle live. A cash bar will be available. STK will have food and drink specials for the event.
VIP tickets receive live entertainment, tastes from the chefs, voting ballot for crowd's choice, gift bag with Chef Battle swag and partner items and access a VIP STK Chicago sponsored bar (select wine and beer only, while supplies last).
Sponsors include STK Chicago and Food + Travel. The event benefits the Golden Rule Charity.
The Chefs:
Frequently Asked Questions
Am I guaranteed a seat?
No. Our events are meant to be interactive, so we encourage guests to visit the different stations. Most chefs are stuck in the kitchen and we rarely get to see them, so take this opportunity to watch their skills and ask questions about what they are doing!
Will I have to wait in line?
Yes. The chefs are preparing tastes for you to have the best experience, so expect to wait. Most chefs are stuck in the kitchen and we rarely get to see them, so take this opportunity to watch their skills and ask questions about what they are doing!
How should I get in line?
Chefs samples will be provided in our VIP bar area.
What time should I arrive?
Please arrive at the start time. We won't open doors before that.
Should I eat before?
The event isn't meant to be a full meal, but to provide you with a live event/show experience. STK will have food available for purchase.
How will I know what's going on?
We have a host that makes announcements through the event to guide your experience. Please make sure to pay attention because he/she may be saying you won a prize, and you certainly don't want to miss that or he/she will be giving safety instructions.
What chefs are participating?
We'll add participants to this page and/or social media, as we receive them. Please take a look at our past participants and types of food to give you a sense of the event. Chefs are subject to change without notice.
How many chefs will compete?
Our final round will have up to 3 qualified chefs.
How big is my sample?
Chefs are only giving you a taste, so one bite.
Will I receive samples from all the chefs if I have a VIP ticket?
Most of the time, yes. Since it is a timed event, there may be some chefs that crack under pressure and can't deliver, which is why we have plenty of chefs. If they can't make the samples in time, then they won't get your vote, so they try their best!
What types of food are served?
Due to the nature of the event, the chefs decide what dish to make. We advise that you ask the chef about the dish before sampling if you have any dietary or allergy restrictions.
Are children allowed?
No, this is a 21+ event only.
Are their discounts for seniors?
No. We do not offer discounts for age groups.
How do the chefs know what's going on and how they are being judged?
The chefs receive a competitor's kit that includes the rules and judging criteria before the event. In addition, we have a conference call to review the event details, including the timing and quantity of samples to be made. The chefs agree to competitor terms when they register.
What's the refund policy?
All sales are final. Promotions & discounts don't apply to previously purchased tickets.
How can I contact the organizer with further questions?
info@socialpowerhour.com
DISCLAIMER: Items may be served raw or undercooked. Consuming raw or undercooked meats, poultry, seafood, shellfish, or eggs may increase your risk of foodborne illness. The attendee assumes all risks by consuming samples and Social Power Hour, and competing chefs, sponsors, and partners are not responsible for any illness. Due to the safety of our all guests in a live cooking environment, we require all attendees to follow our staff's instructions. We have the right to ask you to leave if you are not following instructions, harassing or being disrespectful guests or staff, disrupting the event, intoxicated, and refuse to comply with our production of the event without any refund of any kind.