Description
Cheesemaking and Home Dairy,
with Alana Chernila and Margaret Roach
Update: WE HAVE A WAITLIST FOR BOTH SESSIONS, BUT WILL OPEN ANOTHER SECTION IF THERE IS DEMAND. ADD YOUR NAME TO WAITLIST FOR DECEMBER 6 EVENT TO BE INFORMED. We'll ask waitlisters for preferred dates when we get ready to schedule.
(Choose either Saturday November 15, or Saturday December 6, 9:30 AM to 4:30 PM, when you add your name!)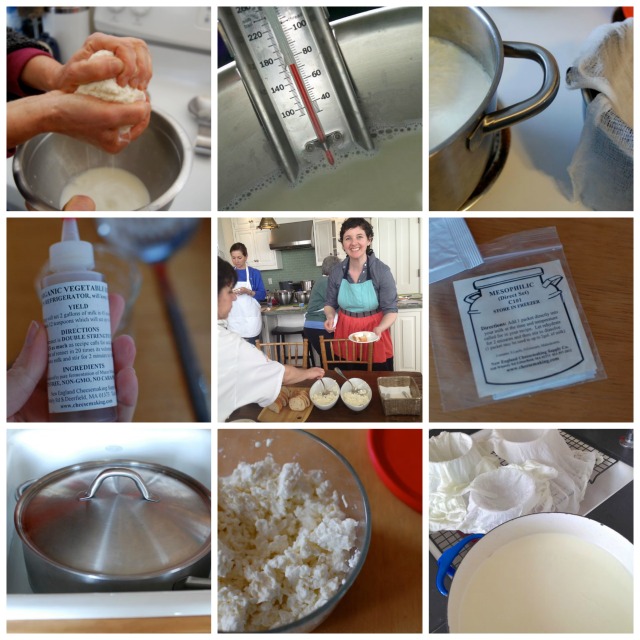 Come join Alana Chernila and Margaret Roach for a day of cheesemaking, plus an overall introduction to home dairy. In this full-day workshop, you'll learn how to make creamy ricotta, quick mozzarella, feta, yogurt, creme fraiche, and cream cheese. You'll go home with all the skills you need, and you may never go back to store-bought cheese or yogurt again!
Classes are held at Margaret's office/guest house in Copake Falls, New York (directions will be sent to registrants ahead of time).
The $160 workshop price includes a full day of "classroom" learning, as well as breakfast and lunch, with the additional option to purchase a cheesemaking kit to bring home so you have all you need (except the milk!) to whip up a batch right away. This is a hands-on class, so come prepared to roll up your sleeves and be part of the magic!
Contents of the optional kit (a $25 additional charge; retail value, about $30):
1 package of butter muslin (like cheesecloth, but better)

1 bottle vegetable rennet

1 bag citric acid

2 packages mesophilic starter cultures

1 package creme fraiche starter culture

small dairy thermometer

gloves
Alana Chernila writes, cooks, sells fresh vegetables, and teaches preserving and cheesemaking. She is a graduate of St. John's College in Santa Fe, and lives with her husband and two young daughters in western Massachusetts. Her first cookbook, "The Homemade Pantry: 101 Foods You Can stop Buying & Start Making," was published by Clarkson Potter in Spring 2012 to great acclaim. Her second, The Homemade Kitchen, will be published by Potter in fall 2015. Visit Alana online at Eating from the Ground Up.
Margaret Roach is former EVP Editorial Director of Martha Stewart, the author of three books, and publisher of the popular garden website A Way to Garden. Her Copake Falls, NY, garden has been open on select days as part of the national Garden Conservancy visiting program.
(Choose either Saturday November 15, or Saturday December 6, 9:30 AM to 4:30 PM)
Organizer of Cheesemaking, yogurt and more, with Alana Chernila
Margaret Roach, former editorial director of Martha Stewart, has been writing about gardens for nearly 30 years. She is the creator of the acclaimed A Way to Garden website and podcast, and the author of "A Way to Garden," "And I Shall Have Some Peace There," and "The Backyard Parables." Her garden in the Hudson Valley (NY)/Berkshires (MA) region has been open for Garden Conservancy Open Days for 20-plus years.