Sales Have Ended
Ticket sales have ended
Thanks for your interest! We'll have more cheese classes available soon!
Sales Have Ended
Ticket sales have ended
Thanks for your interest! We'll have more cheese classes available soon!
About this Event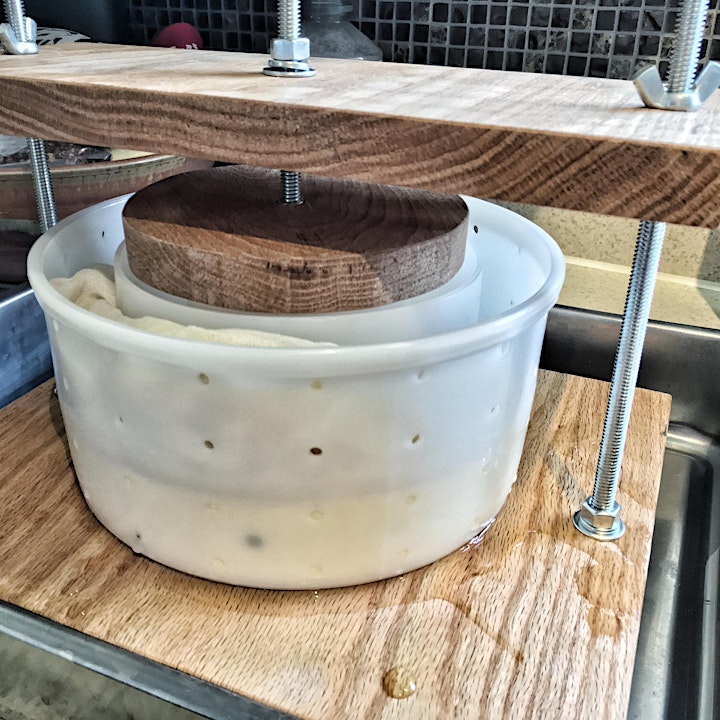 Turning milk into cheese is not only delicious but actually easier than you might imagine. This month we're learning how to make Asiago Pepato! A sweet and nutty cow's milk cheese that gets a kick by layering the curd with pepper kernels. And since we're smack in the middle of holiday season, we're going with red pepper kernels!
Sara Szymanski leads this fun and interactive class - she's the co-owner of Threshold Brewing & Blending and has been making a variety of cheeses at home for nearly 4 years.
Sara will talk you through the science of cheese making while giving you hands on experience making a real batch.
We're also looking forward to having a special guest for December's class: Sommelier Manuel Mederle of Vino Veritas wine bar fame. He'll bring his vast knowledge of wine to our cheese table and offer some expert pairings throughout the class.
In addition, the folks from F.H. Steinbart will be on hand to share their inventory of cheese making supplies for purchase after the class. Steinbart has been Portland's premier supplier for all things fermented since 1918 and offers everything you need to start making cheese on your own. How easy is that!
This 3-hour course will definitely leave you prepared to take what you've learned and start making cheese on your own.
Class registration includes the following:
3 hours of instruction and hands-on cheese making experience from start to finish.
Asiago Pepato cheese recipe and detailed step-by-step instructions to take home with you.
Invite to a winter cheese pick-up party - we'll try the aged cheese that we made during class!
Ample charcuterie and cheese to snack on during class.
Wine pairings by Vino Veritas
10% discount on F.H. Steinbart cheese making supplies, available in house after class.
Threshold's cheese making class series is proud to partner with F.H. Steinbart, Portland's premier supply shop for all things fermented.
F.H. Steinbart now offers a variety of cheese making supplies, cultures, rennet and equipment. It's your one-stop shop for cheese making!
Cheesecloth
Cheese cultures
Rennet
Calcium chloride
Bamboo cheese aging mat
Curd knife
Stainless steel ladle
Cheese making thermometer