Description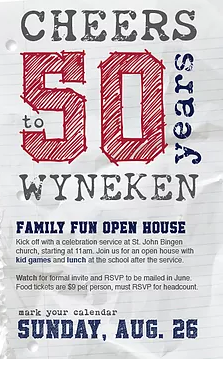 Join us Sunday August 26th as we kick off our year long celebration of the 50th Anniversary of Wyneken School!!
11:00 am- Pastor Brock, Pastor Dahling and Pastor Brege with special guest Semanarian Kyle Brown (Germann Scholarship recipient) celebrate service at St. John Bingen!
12:00 pm- Lunch and Open House at Wyneken. Nine Mile is catering! Pulled Pork sandwich, baked beans, potato salad, chips and a drink for $9! Kid friendly 12 and under menu includes Chicken Strips, mac and cheese, fruit and a drink for $9! YOU MUST PURCHASE FOOD TICKETS WHEN YOU RSVP, NO ADDITIONAL LUNCH FOOD SALES SOLD THE DAY OF THE EVENT.
Until 3:00 pm- Enjoy Kid Games, Dunk Tank, Whip & Chill ice cream and 25 flavors of shaved ice for sale at the event, and Open house at the school!
Have any Wyneken Memorabilia? We'd like to show it off at the Open House! Contact Abby Wilder, Abby_Wilder@outlook.com