Description
Join Bobbye & Tonilee for a New Bible Study-Fridays @6pm
---


As the year comes to a close, it's time to "Check Your Motives" as described in the Book of Malachi.
This five-lesson study in the book of Malachi is designed to challenge us as Christians regarding our motives today. This short book addresses relevant topics influencing our lives.
Who's your Master?


How's your mouth?

Where's your marriage?

What gets your money?

Who me, His messenger?
When God challenged the people and the priests on their treatment of these specific issues, they did not understand what they had done wrong. God's message is the same for us today, asking us to reconsider our motives. Your life will change as you allow the Lord to speak to you and see clearly the true motives of your heart.
WHERE: The Daily Disciples Center
Address: 701 West St. Oceanside CA 92054
WHEN: Begins Friday October 13 @6:15PM
Dinner is served at 5:30PM (FREE)
PRICE: $15 (Donations Accepted)
**You can join us WITHOUT purchasing the Bible Study book! Just come, listen and have fellowship
with a group of caring, kind women in a loving, safe environment.
Come as you are...and bring a Friend!
You can get a copy of the Bible Study onsite or you can order from Amazon HERE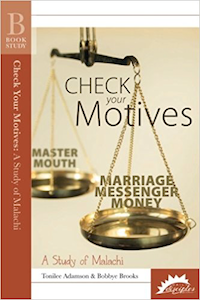 To Order from Amazon, we are asking for your participation in the SMILE.AMAZON.com program where Amazon donates to the charity .... Daily Disciples Ministries. Click HERE to oder. Call 800-992-0369 for assistance.