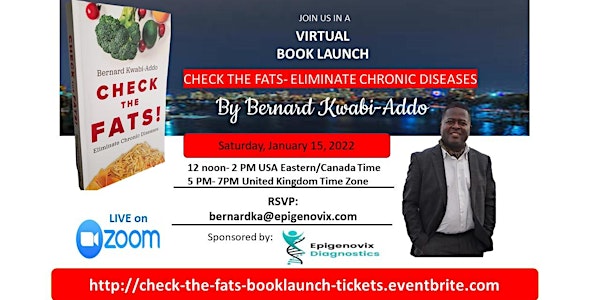 Check The FATS book launch
Making a new year resolution to improve health; this timely book "Check The FATS" provides a wealth of information to achieve optimal health
About this event
" I want to lose weight."
" I don't know the right foods to buy."
" I don't know why this diet is not working."
"How can I exercise to lose weight"
" This year I will look after myself better."
Maybe you have said all or some of the above. Maybe you have already made new year's resolutions and you are determined to finally do something about your health.
The PROBLEM
Putting on weight seems so easy these days. Working from home has replaced those water-cooler chats and we eat more when we are lonely or bored.
Overweight and obesity are associated with hundreds of diseases and until we can solve the underlying causes of obesity we will never get ahead of diabetes, hypertension, kidney failure, cardiovascular diseases, and cancer.
It is important to reduce excess weight to lower the risk of many chronic diseases. In the quest to accomplish this, we face a bewildering range of advice particularly, about diet and good health.
The SOLUTION
You need to' Check the Fats'.
Join us for a Book Launch not to be missed!
DATE: 15th January 2022
TIME: 12pm EST ( USA/CANADA) 5pm (GMT)
LOCATION: Live via Zoom- meeting access will be sent out nearer the date
Questions:
How is' Check the Fats' different to other books?
The overarching goal of "Check the FATs" is to provide evidence of the biological basis for the roles of diet and physical activity and overall health. This book provides case and control scientific evidence of different dietary components and physical activity on health and chronic diseases and the role of non-pharmaceutical dietary intervention to prevent, reverse and even eliminate chronic diseases.
There are numerous reports of individuals shifting from poor to healthy dietary patterns with remarkable improvement in health. Ultimately the aim of this book is to empower individuals to adopt healthy lifestyle.
What will happen on the book launch?
*It will be an opportunity to meet the author- Bernard Kwabi - Addo
*Be educated on a better lifestyle so that you start 2022 the right way
*Put forward questions and get instant practical advice from doctors
*Meet with others who having similar lifestyle issues and be part of a community
=================================
We look forward to helping you with your journey to a healthier lifestyle. 2022 is your year for change!
In the meantime please help us by sharing this event with friends and family.
Check the Fats Launch Team