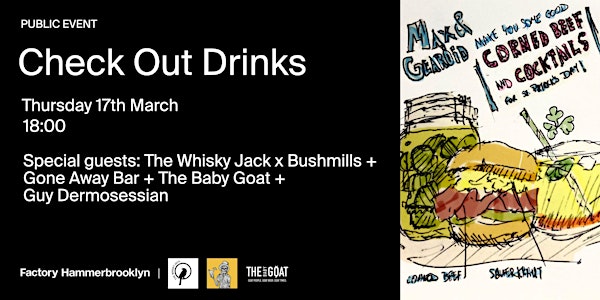 Check Out Drinks: Let's celebrate St. Patrick's Day
Check Out Drinks at Factory Hammerbrooklyn: Let's celebrate St. Patrick's Day.
When and where
Location
Factory Hammerbrooklyn Stadtdeich 2-4 20097 Hamburg Germany
About this event
It's that time again. We're very much looking forward to our second Check Out Drinks of this year at Factory Hammerbrooklyn. We want to celebrate St. Patrick's Day with you! And: We'll have many special guests this time.
Max & Gearóid's Corned Beef & Cocktails powered by Bushmills (food and drinks)
It's St. Patrick's Day and we want to celebrate! Join Max and Gearóid for some corned beef and cocktails like you've never had before. Max of Gone Away Bar and Gearóid from the The Whisky Jack have teamed up again and come up with some funky fermented beer brined corned beef sandwiches and creative cocktails powered by Bushmills Irish Whiskey. There'll be pickles, there'll be sauerkraut, there'll be a party in your mouth. But wait there's more: Because of the day that's in it there'll also be some single malts to try too. Happy St. Patrick's Day!
Bushmills Irish Whiskey is crafted with care at The Old Bushmills Distillery in the village of Bushmills, County Antrim, Northern Ireland. As the world's oldest licensed whiskey distillery, the unmatched malt is at the heart of all Bushmills Irish Whiskeys and creates a unique combination of smoothness and richness.
The Baby Goat (drinks)
The Baby Goat is a craft beer brand founded in Hamburg, spreading it's love of good beer and pub culture around the city through it's own Pub(s). Started by friends Thomas and Chris, The Baby Goat is a beer brand that focusses on more than just the beer: It's about bringing people together.
Their first pub, The Baby Goat House, opened in August 2020 in Grindelhof, and the team is set to open their second pub, The Baby Goat Barn, a craft beer and craft pizza concept, in spring this year. Craft beer doesn't have to be strong, scary or off-putting, that's why all of The Baby Goat's beers are brewed with a view to drinking a few in one sitting. Enjoy a beer or two, and come and say hi in the Pub(s) some time.
Guy Dermosessian aka Abu Kareem (music)
Guy Dermosessian aka Abu Kareem grew up in Beirut. He's a DJ, record collector and founder of the music label Kalakuta Soul Records. With bags filled with lovely records, Guy has been traveling the world's clubs and venues questioning their mostly western musical canon for more than fifteen years. He enjoys playing Lebanese pop music and mix it with Nigerian Boogie, Musica Popular Brasileira, Cameroonian Makossa, Cuban Guaracha and capeverdian coladeras.
Together with Özlem Avcı, Gîn Bali, Monita Wagma und Kübra Sekin, he founded Amalopa - a BIPOC Plattform for the promotion and production of music, knowledge and art in North Rhine-Westphalia.
Please note that this is a 2G+ event! Furthermore, it's super important that all guests are checked in via our main entrance - the only way to access the event is the QR code.