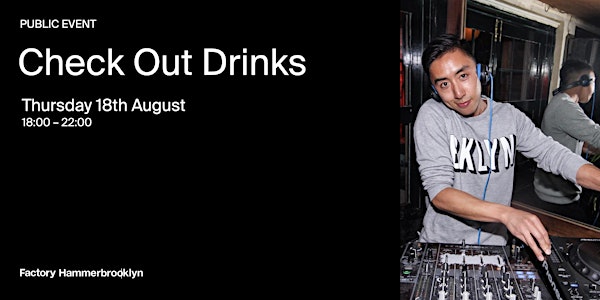 Check Out Drinks August
Save the date! Check Out Drinks August is on its way ;)
When and where
Location
Factory Hammerbrooklyn Stadtdeich 2-4 20097 Hamburg Germany
About this event
As summer approaches its warmest peaks, so do we with our summery Check Out Drinks.
This time we are networking and dancing over the tunes of DJ Nate. Originally from Vancouver, Canada, Nate has been residing in Hamburg since 2018 and is still very much enjoying every minute of it. He's been making mixtapes for friends since the age of 10 and started DJing while in university. Nate spins music in-keeping of the mood of the party, though mostly he enjoys old school hip hop and R&B, as well as throwing in some hidden gems from the 70s, 80s, and 90s.
There are Cocktails by The Whisky Jack
The Whisky Jack aims to take the snobbery out of (not only!) whisky, and make it accessible to everyone who is interested. Gearóid can turn every cocktail in a full experience.
and Beers by The Baby Goat
The Baby Goat is a craft beer brand founded in Hamburg, spreading its love of good beer and pub culture around the city through its own Pubs. Started by friends Thomas and Chris, The Baby Goat focusses on more than just the beer: It's about bringing people together. After the success of their first pub The Baby Goat House at Grindelhof, the duo recently opened a second pub in St. Pauli under the name The Baby Goat Barn, mixing beer and pizza in a unique experience by the Reeperbahn. Craft beer doesn't have to be strong, scary or off-putting, that's why all of The Baby Goat's beers are brewed with a view to drinking a few in one sitting.
Soft Drinks and Water: Help yourself from one of our fridges! Delicious snacks will also be provided.
It is important that all guests be checked in at our Front Desk - the only way to access the event is through the eventbrite QR code. If you're a member already using the space at the time, we ask that you check out and then re-enter with your eventbrite QR-code.